Free Teacher Worksheets for Spelling Fun!
You won't find free teacher worksheets this much fun anywhere else! Whether you have one student or thirty, we are sure they won't mind spelling lessons like these.
On each worksheet, students need to find spelling mistakes. On the printable version, students are asked to circle the mistakes on the package, and write the misspelled words correctly in the blanks.
(In the title alone, there are 3 mistakes!)
Printable version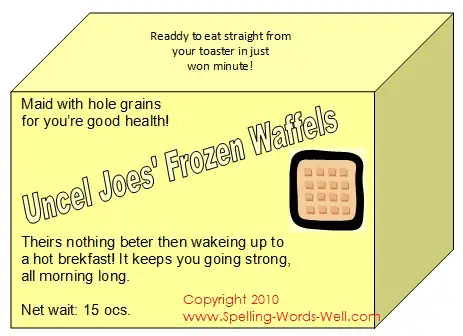 Correctly spelled words are: 1. Ready 2. one minute 3. Made
4. whole 5. your 6. Uncle 7. Joe's 8. Waffles 9. There's
10. better 11. than 12. waking 13. breakfast 14. weight 15. oz.

Bored Game
Printable version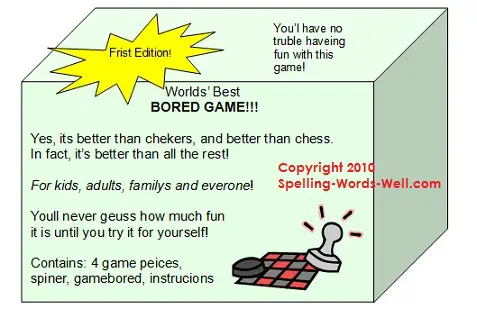 Correctly spelled words are 1. First 2. You'll 3. trouble 4. having
5. World's 6. Board 7. it's 8. checkers 9. families 10. everyone
11. guess 12. pieces 13. spinner 14. gameboard 15. instructions
Have your tried our
Spelling Swap Sheets?
These free spelling worksheets are another way to put some pizazz into your classroom spelling lessons!
---
Go to more Free Teacher Worksheets
Go to home page for Spelling Words Well