Find the Spelling Bee Word List
You Need Here!
Whether you're a parent preparing a spelling bee word list for your student to study at home, or if you're a teacher looking for a word list to use in our next classroom competition, we think you'll like the handy lists of grade-level words we've compiled.


A Spelling Bee Word List by Grade Level
Each spelling bee list contains 100 - 120 words, arranged generally from easiest to most difficult.
100 Difficult Spelling Bee Words
Our eBook of 100 Difficult Spelling Bee Words contains brand new words, not used in our other resources. It includes pronuncations, languages of origin, parts of speech, definitions, and sentences. Great for the final rounds of your spelling bees or for adult bees. Learn more here>>>.
The Spelling Bee Toolboxes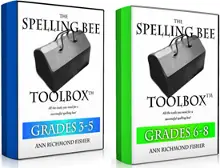 Our
Spelling Bee Toolbox eBooks
are comprehensive resources for anyone who wants a simple way to put together a classroom, all-school or multi-school spelling bee.
Each eBook contains
600 words and sentences
, rules, award certificates, organizational tips, student helps and much more.
We also offer additional sets of
600 spelling bee words and sentences
for those who don't need all the other resources.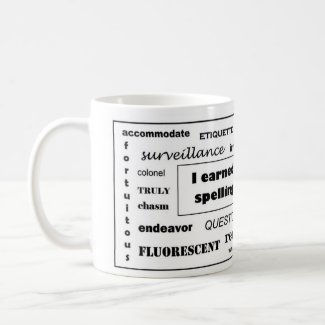 If you're looking for a really memorable reward for your spellers, consider one of our exclusive Spelling Words Well
mugs, buttons or T-shirts!
Dictionaries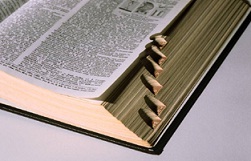 Dictionaries are a great source of spelling bee words! Check out
this page
I've written about the history of Merriam-Webster. It includes links to some of the most popular--and important-- editions for teachers, parents and students.
If you're looking for a different twist on the conventional spelling bee, try one of these fun games. They provide a good way to practice any spelling bee word list, which is the whole point, right?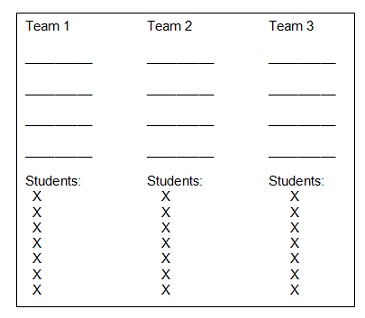 Step Up is a fun spelling bee team game. When all the team members spell correctly, the team moves ahead. It can be used with any set of spelling words and can be used with most grades.
Silent Spelling Bee Games It's a whole different game when students are working silently! We think you'll like this twist.
Other Spelling Bee Resources
Here are some very helpful resources available through Amazon.
The Scripps National Spelling Bee
Did you ever wonder how those brave spellers make it the final round and spell in front of millions of viewers on national television? Read our summary of The Scripps Spelling Bee to learn more.
For more information on grade-level spelling, click on the appropriate nav bar at the left. For each of these grades, we have longer lists of spelling words, classroom practice ideas, games and spelling worksheets.
---