Spelling Words Well

Spelling Words Well equips professionals, teachers, and learners of all ages to become impeccable spellers.
What spelling resources do you need? Use the tabs on the left or the links below to find just the right thing. We offer lots of word lists, games, worksheets, and spelling lessons for teachers and parents. Don't miss these homework ideas!
Featured Pages

Looking for something specific? Visit our Site Map!


Download your favorite eBooks today!
Everything you need for a simply successful spelling bee!  620 words w/sentences and LOTS more!   Grades 3/5 or 6/8
Don't miss our newest spelling bee word lists!

---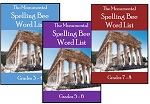 Try our Monumental Spelling Bee Word Lists! Available for grades 3-4, 5-6 and 7-8. Each list has 400 words plus definitions, parts of speech, sentences and language of origin. Each list contains words not found in any of our other eBooks.
Visit our STORE to see our complete selection!
Additional Resources at Spelling Words Well
Please check out our growing collection of grade level word lists, seasonal bulletin boards, phonics games and activities and brain teasers, at two different levels.
There are so many great ways to teach and reinforce spelling skills! Be sure to poke around our site for awhile to find just what you need. 
If you'd like to receive my newsletter, you may sign up here. I send out a batch of fun spelling ideas, word plays, and articles about once every month or two. 
If you can't find something, please contact us and let us know what you'd like to see.
Take Our Spelling Quiz

Take this quick quiz to test your spelling skills:
How many seperate words are mispelled in this single pargraph? Its no exageration to say that you may have all ready found as many as six or seven errers. But don't quite looking yet. Their may be a few more. But then agian, whose counting?
Scroll down to the bottom of this page for the answers!
Newsletter Sign-Up

Please sign up to receive our

free
newsletter.

You'll receive a bunch of Spelling Bee helps and other freebies when you sign up. The newsletter includes teaching ideas and free resources for teachers and parents. Learn more!
We promise not to share your information with anyone!
Answers to Quiz:

How many separate words are misspelled in this single paragraph? It's no exaggeration to say that you may have already found as many as six or seven errors. But don't quit looking yet. There may be a few more. But then again, who's counting?