Spelling Words Well

Spelling Words Well equips professionals, teachers, and learners of all ages to become impeccable spellers.
What spelling resources do you need? Use the tabs on the left or the links below to find just the right thing. We offer lots of word lists, games, worksheets, and spelling lessons for teachers and parents. Don't miss these homework ideas!
Another Fun New Word Detective Book!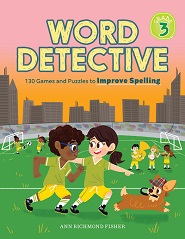 First there was Word Detective for Grade 2, and very soon there will be Word Detective for Grade 3! My latest book will be available on Amazon beginning March 10. Pre-order yours or learn more today!
In this book, students will solve "The Case of the Missing Mascot" as they practice 200 grade-level spelling words and complete 130 fun word puzzles.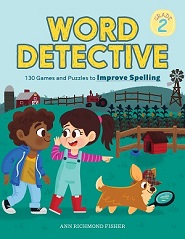 Word Detective for Grade 2 is also available at Amazon. Second graders solve a different mystery with the same engaging characters. Pick up your copy today!   (As an Amazon affiliate, I earn a commission on sales.)

Featured Pages


Download your favorite eBooks today!
Everything you need for a simply successful spelling bee!  620 words w/sentences and LOTS more!   Grades 3/5 or 6/8
For students and parents: Boost your spelling bee performance with these word lists, tips, tricks and quizzes

Looking for something specific? Visit our Site Map! There you will find links to every page on our site, organized by topic or grade level.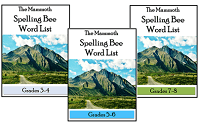 Try our Mammoth Spelling Bee Word Lists. Available for grades 3-4, 5-6 and 7-8. Each list has 400 words plus definitions, parts of speech, sentences and language of origin. Each list contains words not found in any of our other eBooks.
Visit our STORE to see our complete selection! We have lots of spelling worksheets and spelling bee resources.
Take Our Spelling Quiz

Take this quick quiz to test your spelling skills:
How many seperate words are mispelled in this single pargraph? Its no exageration to say that you may have all ready found as many as six or seven errers. But don't quite looking yet. Their may be a few more. But then agian, whose counting?
Scroll down to the blue button for the answers!
Additional Resources at Spelling Words Well
Please check out our growing collection of grade level word lists, writing prompts, spelling worksheets, seasonal bulletin boards, phonics games and activities and brain teasers, at two different levels.
There are so many great ways to teach and reinforce spelling skills! Be sure to poke around our site for awhile to find just what you need. 
If you'd like to receive my newsletter, you may sign up here. I send out a batch of fun spelling ideas, word plays, and articles about once every month or two. 
If you can't find something, please contact us and let us know what you'd like to see. We do respond to your questions and comments. 
Sign Up Here for Our Free Newsletter

1. separate
2. misspelled
3. paragraph
4. It's
5. exaggeration
6. already
7. errors
8. quit
9. There
10. again
11. Who's