4th Grade  Vocabulary Words

Use these  4th grade vocabulary words to enhance your students' written and spoken vocabularies. Follow the suggestions at the bottom of the page to give students practice in using the words on this list. You're sure to find many more ways to incorporate them in your language learning activities all year long!
This first list contains 200 words in alphabetical order. Below the big list, you'll find 100 of the words arranged in ten categories. I've created an engaging printable page for students' use. They can refer back to this shortened list throughout their fourth grade year for extra words to include in their writing. 
4th Grade Vocabulary Words
Printable list of 200 4th Grade Vocabulary Words
accurate            
adaption
afford
agriculture
alert
ancestor
annual
apparent
arena
assist
attempt
attentive
attorney
bamboo
basic
benefit   
blossom
border
boundary

burrow
cactus
calculate
capable
cardboard
carefree
caregiver
carnivore
cent/scent/sent
century
chamber
circular
coax   
colony
column
communicate
competitor

computation
concentrate
concern
conclude
confuse 
contribute
convince
crafty
create
democracy
demonstrate
descend               
develop
disaster
distract
eager
earthworm
ecosystem
entertain
entrance
envy
equation
essential
executive
exploration     
fair/fare
fairground
feat/feet
fern
fingerprint
flexible
focus
frantic
frequent
frontier
furious
garbled
garment
gavel
gazebo
generosity
gesture
giddy
global
gondola
guest
hardship
herb
herbivore
hole/whole
host
humble
idle/idol
immigrant
impact
increase
independence
infant
inspire
invertebrate
invisible
isosceles
jagged
jaguar
jaunt                      
javelin
jaywalk
jersey
jostle
judicial
kayak
kimono
kindling
knead
lacrosse
lagoon
laminate
landlord
leaflet
league
lecture
legendary
legislative
lighthouse
limb
locate
locomotive
lukewarm
manufacture
maximum
meadow
mean
median
metamorphic
minimum
mode
mushroom
noble
obvious
omnivore
orchard
pain/pane
parallel
patient
peninsula
perpendicular
plaza
population
practice
prepare
queasy
recent
recommend
recognize
represent
request
right angle
road/rode
scalene
scene/seen
seam/seem
sedimentary
seedling
severe
soar/sore
source
sprint
sprout
sturdy
surface
surgeon
teammate
thistle
tidy
tightrope
toothpaste
tradition
ultimate
umpteen
undeniable
undernourished
unhurriedly
unidentified
unify
unique
upholstery
urgent
usable
vacant
valiant
variety
venture
vertebrate
weary
weathering
weekend
wildflower
windshield
yearn
yew
yonder
yucca
zesty
zucchini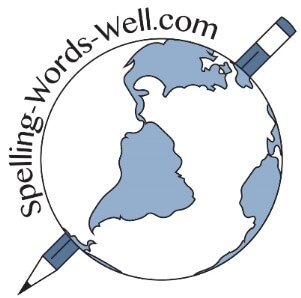 Teacher's Tips:
As a former classroom teacher and former homeschool mom, I know the importance of a rich vocabulary. Words open doors to better writing and speaking, now in elementary school, later in high school, and all through adult life. Don't wait any longer to build your students' vocabularies!
It's a bit daunting to present fourth graders with a 200-word list and say, "Learn these!" It's much better to follow these guidelines:
Introduce these new words naturally, in subject matter lessons and/or in normal conversations.
Give students small batches of 8-10 words to study.  Teach the words in context, and encourage students to use words in sentences or short stories to show they understand word meanings and correct usage.
Begin with the illustrated printable list below in which the words are sorted into meaningful categories.
Shorter List of 4th Grade Vocabulary Words
I've arranged 100 words from the big list into useful categories that will help kids quickly understand their meanings. Students can keep their own copies of this list in their notebooks or desks. Or they can take them home to review frequently.
Here's a peek at the printable page. The full version also appears below. 

Remember, these are words that students in fourth grade should be comfortable using orally. They may not be able to read and write them at first. But you can help them work on those skills, too!  Use the words frequently in home or classroom discussions. Write the words on the fridge or on the board to encourage their usage. 


Places: arena, fairground, orchard, meadow, frontier, entrance, burrow, border, peninsula, plaza
Math: equation, computation, parallel, perpendicular, isosceles, scalene, right angle, mean, median, mode

Science: adaption, carnivore, omnivore, herbivore, vertebrate, invertebrate, ecosystem, weathering, metamorphic, sedimentary

Social studies: boundary, exploration, agriculture, democracy, independence, judicial, legislative, executive, population, colony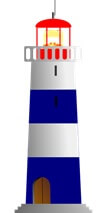 Compound words: lighthouse, toothpaste, tightrope, hardship, teammate, windshield, fingerprint, cardboard, weekend, earthworm
Homophone sets:   feat/feet, seam/seem, cent/scent/sent, scene/seen, hole/whole, idle/idol, soar/sore, pain/pane, fair/fare, road/rode

Adjectives:  maximum, minimum, obvious, invisible, basic, capable, humble, sturdy, tidy, weary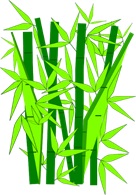 Verbs: sprint, convince, demonstrate, prepare, create, practice, assist, recommend, inspire, request
People: ancestor, infant, host, guest, competitor, patient, surgeon, caregiver, immigrant, attorney

Plants: seedling, sprout, blossom, wildflower, thistle, fern, mushroom, herb, cactus, bamboo

Extension Activities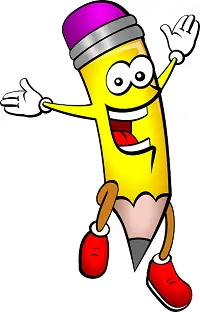 Choose from these extension activities to give your child/students extra practice using words from the 4th grade vocabulary list. Add more activities of your own. 
1) Find two pairs of adjectives on the list with opposite meanings. Add three more pairs of new adjectives of your own that also have opposite meanings.
2) List two examples each of a carnivore, herbivore and omnivore.
3) Write a sentence or two about some of these topics:
4) Work with a partner or family helper to write a story using at least 10 words on the list. Draw at least one picture about the story. 

More Fourth Grade Resources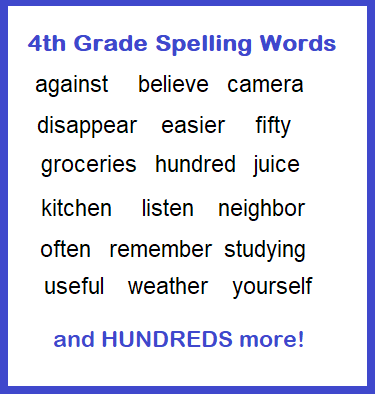 Fourth grade spelling words - Our list of 300 words most fourth graders should know or learn this year.
 4th Grade Lesson Plans - 25 spelling dictation sentences and full instructions. Use a few of these each week to provide students with extra practice in writing, spelling and using spelling words in context.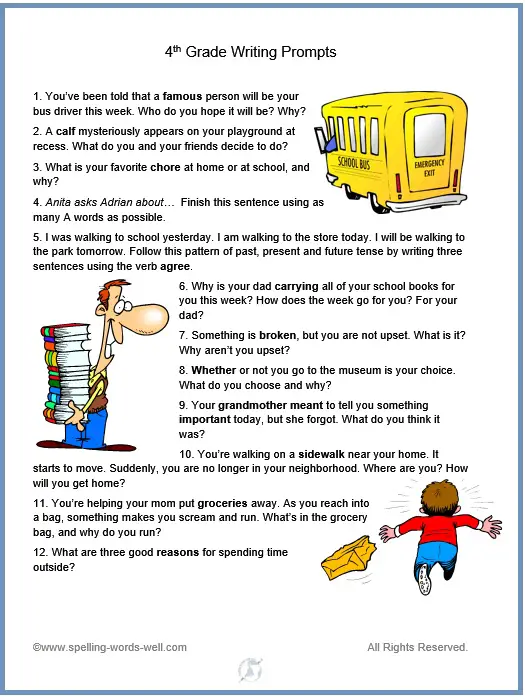 4th Grade Writing Prompts, Set 1 - Here's a great assortment of 4th grade writing prompts! Your students will like to write about some wacky, and also some fairly realistic situations. While their creativity is flowing, they'll also be practicing important language skills and spelling words! These are great prompts in which to use the 4th grade vocabulary list!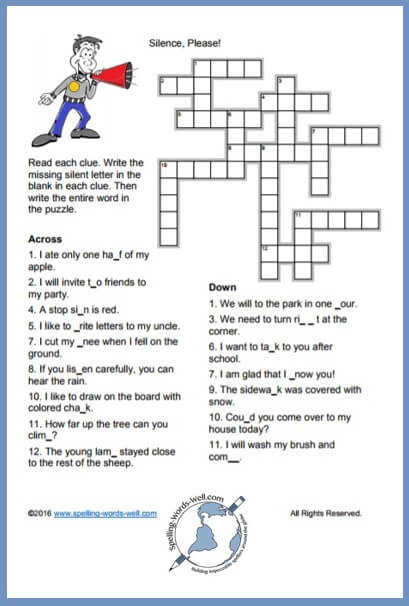 Silence, Please! - Kids supply the missing silent letters in frequently-used words in this kids' crossword puzzle. Fun spelling practice!

Fourth Grade Worksheets
Our free fourth grade worksheets provide fun spelling practice! Teachers, use these pages to supplement your classroom instruction. Parents, print them out for your kids to get some fun extra practice with important word skills.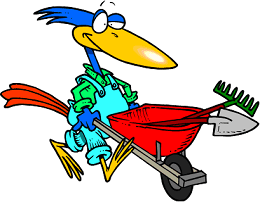 Compound Confusions! - This woodpecker  introduces your students to a great compound word challenge!  Students need to match word parts to form new compound words. Extra activity and spelling tip included.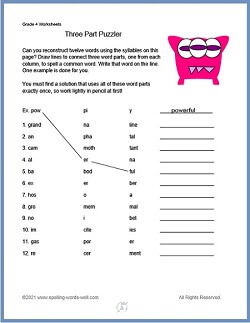 Three Part Puzzler - Students must reconstruct 12 familiar words, syllable by syllable, one from each of three columns,  in this challenging page. 
 A Snowy Situation - Give students valuable spelling AND vocabulary practice with this engaging worksheet.

Find lots more Spelling Worksheets for Grade 4 on our website!
All Vocabulary Lists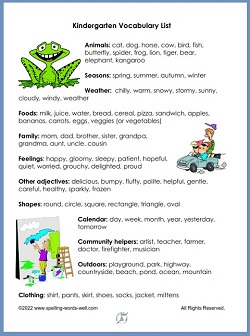 Kindergarten Vocabulary Words - 175 engaging, empowering vocabulary words, in alphabetical order, that every kindergartner should be learning. Use our convenient printable page. A second list features 100 of the words in helpful categories such as shapes, feelings, community helpers and more. 
First Grade Vocabulary Words - 175 great vocab words on a variety of topics for 1st grade students to learn to use in conversation, along with suggested activities. 100 words appear in meaningful categories including sports, animals, compound words and more. 
Second Grade Vocabulary Words : 200 words for 2nd grade students to learn and enjoy! 100 of the words are arranged in helpful categories and are arranged on an engaging printable for your students. Challenge your second graders with more words to use in their speaking and written vocabularies.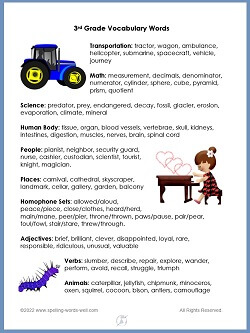 3rd Grade Vocabulary Words - 200 words to boost your child's spoken and written language skills, arranged alphabetically!  Print the complete list from the web page for best results. 100 of the words also appear in an engaging printable, arranged by helpful topics. 
4th Grade Vocabulary Words - 200 4th grade vocab words to keep your students on track all year long! Half of the words are also arranged in meaningful categories to help students with word meaning.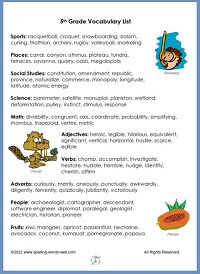 5th Grade Vocabulary Words - Boost your fifth graders' spoken and written vocabularies with this BIG list of 200 words, arranged in alphabetical order. I've also selected 100 of these words to put into 10 engaging topics. Try the extension activities for best results!
6th Grade Vocabulary Words - Improve your students' understanding of LOTS of areas of learning by covering these 200 important words! I've included many ways to put these words into use, and I have links to other related pages, too!
7th Grade Vocabulary Words - Here are 240 challenging words to stretch your upper grade students this year! Follow all the tips and extra activities listed to get the most out of this mega list of vocabulary words!
NEW! 8th Grade Vocabulary Words - Stretch your own vocabulary as well as your students' with this challenging list of 250 words! Lots of extension activities are also included. 
FAQs
A: By 4th grade, students are able to associate different spellings with different word meanings. Since incorrect homophone usage can be a life-long spelling error for many, many adults, it makes sense to start as early as possible to TEACH the CORRECT USAGE of these special words! If you've every mistakenly used the wrong to/too/two or sent/cent/scent, you know exactly what I'm talking about. If we allow students to use homophones incorrectly until they are in upper grades, we've given them several years to reinforce bad habits NEEDLESSLY!
A: Fourth graders are encountering many interesting words in their science, social studies and math classes, so good vocab lists should include words from these areas of study, as well as common usage areas such as people, places, plants, animals and more. 
A: Here are twenty of my favorites: immigrant, ancestor, adaption, ecosystem, independence, democracy, population, frontier, peninsula, parallel, perpendicular, demonstrate, recommend, maximum, minimum, teammate, cardboard, thistle, mushroom, and cactus. 
These are lists of spelling words that you may wish to explore with your student. 

Ann Richmond Fisher is a longtime published educational writer, a former classroom teacher and a former homeschool teacher. Ann's spelling bee resources, graded spelling word lists, spelling games, worksheets, and other language arts resources have become respected around the globe since she launched Spelling-Words-Well in 2010.
Ann is also the creator of www.word-game-world.com.
---
4th Grade Vocabulary Words