175 Kindergarten Vocabulary Words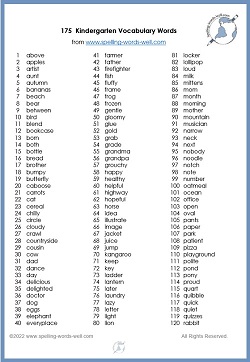 Use this list of 175 kindergarten vocabulary words to build your child's language skills. Talk about these words together. Add these words to your everyday conversations, and soon your child will be consistently using these words, too!
This big list is arranged in alphabetical order. The printable list of 175 kindergarten vocabulary words is designed for students, parents and teachers. Below this list, find 100 of the words arrange in twelve meaningful categories on a second illustrated printable page. 
175 Kindergarten Vocabulary Words
All vocabulary lists on this page and throughout this website were compiled using multiple textbooks and online resources. 
Printable list of 175 Kindergarten Vocabulary Words
above
apples
artist
aunt
autumn
bananas
beach
bear
between
bird
blend
bookcase
born
both
bottle
bread
brother
bumpy
butterfly
caboose
carrots
cat
cereal
chilly
circle
cloudy
crawl
countryside
cousin
cow
dad
dance
day
delicious
delighted
doctor
dog
eggs
elephant
everyplace
farmer
father
firefighter
fish
fluffy
frame
frog
frozen
gentle
gloomy
glue
gold
grab
grade
grandma
grandpa
grouchy
happy
healthy
helpful
highway
hopeful
horse
idea
illustrate
image
jacket
juice
jump
kangaroo
keep
key
ladder
lantern
later
laundry
lazy
letter
light
lion
locker
lollipop
loud
milk
mittens
mom
month
morning
mother
mountain
musician
narrow
neck
next
nobody
noodle
notch
note
number
oatmeal
ocean
office
open
oval
pants
paper
park
patient
pizza
playground
polite
pond
pony
proud
quart
quibble
quick
quiet
quizzes
rabbit
railroad
raisin
rectangle
round
route
sandwich
shirt
shoes
sister
skirt
sleepy
snowy
socks
sparkly
spider
spring
square
stormy
summer
sunny
teacher
tiger
tomorrow
towel
triangle
trunk
tunnel
twice
twirl

twist
tying
umbrella
uncle
upset
upstairs
useful
valley
vegetable
vest

visitor
warm
water
weather
week
welcome
wheel
whisper
windy
winter
worried
wriggle
year
yell
yesterday
zipper
Teacher's Tips
As a former classroom teacher and home school teacher, here are my suggestions for using this huge word list for kindergarten students:
Show children what words mean.  For instance, label pictures around the classroom with appropriate vocabulary and spelling words. It's straightforward to label pictures of a dog, fish

and

elephant. But with a little imagination, you can also draw or find images for adjectives such as grouchy, quick

and

quiet, particularly if you talk about the words and pictures together. 
Use a LOT of repetition. Write two of the words on the board at the beginning of the week. Use those words again and again while giving directions, making announcements, and even while saying hello and goodbye to your students! 
Place students in groups of 2 or 3. Ask them to make a picture together to illustrate one of the vocabulary words. 
See more ideas for using these words for individual students.
Shorter List of 100 Kindergarten Vocabulary Words
Here's a peek at the printable page. The full version also appears below.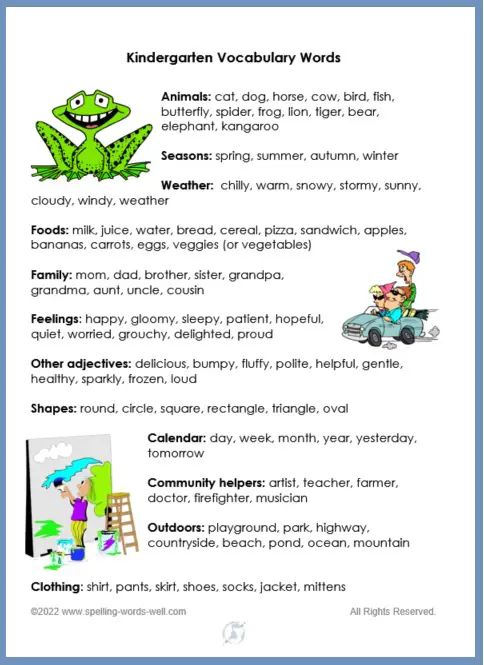 Remember, these are words that students in kindergarten should be comfortable in using orally. They may not be able to read and write them at first. But you can help them work on those skills, too!  Does your child already know some of these words? That's great! Have fun using the words frequently in family discussions.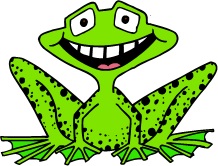 Animals:  cat, dog, horse, cow, bird, fish, butterfly, spider, frog,   lion, tiger, bear, elephant, kangaroo
Seasons:  spring, summer, autumn, winter     
Weather:  chilly, warm, snowy, stormy, sunny, cloudy, windy, weather
Foods:  milk, juice, water, bread, cereal, pizza, sandwich, apples, bananas, carrots, eggs, veggies (or vegetables)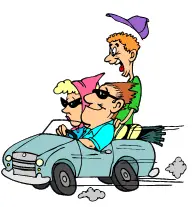 Family: mom, dad, brother, sister, grandpa, grandma, aunt,  uncle, cousin   
Feelings: happy, gloomy, sleepy, patient, hopeful, quiet, worried, grouchy, delighted, proud  
Other adjectives: delicious, bumpy, fluffy, polite, helpful, gentle, careful, healthy, sparkly, frozen  
Shapes: round, circle, square, rectangle, triangle, oval      
Calendar: day, week, month, year, yesterday, tomorrow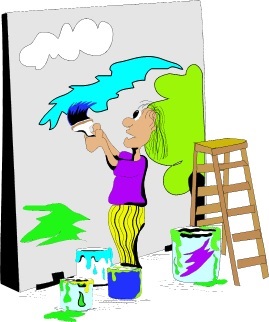 Community helpers: artist, teacher, farmer, doctor, firefighter, musician
Outdoors:  playground, park, highway, countryside, beach, pond, ocean, mountain
Clothing: shirt, pants, skirt, shoes, socks, jacket, mittens

Do you want MORE words?
Of course, this is not a complete kindergarten vocabulary list! Be sure your student is also familiar with a wide variety of colors and color words. It's not too early to teach your child to spell and write number words, either!
If your child is at the very beginning of language learning, be sure to teach these preprimer and primer sight words. 
Extension Activities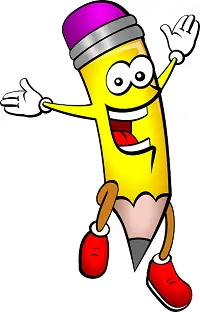 Copy one word on a piece of lined paper. Then, ask your child to do one or more of these things:
Write the word again three times
Draw a picture for the word
Cut the letters that spell the word from a newspaper or magazine, and glue the letters onto the page
Type the word into in a message on your phone
Think of a word that rhymes with your word. Write a poem using both words
More Kindergarten Resources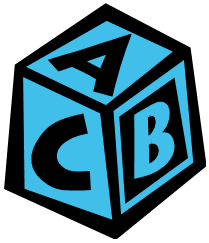 Try some of these preschool and Kindergarten learning games with your favorite youngster(s)! When learning is fun, learning is easier. You'll find letter matching games and ABC games, as well as more challenging activities for this age group.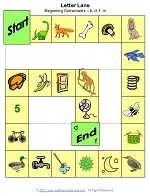 Letter Lane  A phomenic awareness board game that features beginning consonant sounds for the letters b, d, f and m. No reading is necessary. 
A Pickle or a Tickle  Fun game for young children! Your students will need to listen carefully to initial consonant sounds as they play these entertaining games.
Kindergarten Worksheets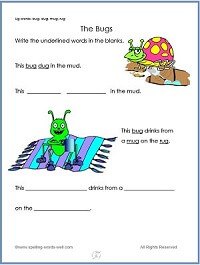 The Bugs   If your kids like the BUG on this page, they're sure to LOVE the BUGS on this word family worksheet! One bug dug in the mud. Another bug drinks from a mug on the rug. Learning IS fun!
The Big Pigs   This whimsical page features a muddy pig with a wig, and pig that does a jig.  What a fun way to learn the IG family of words! All types of activities, including games and worksheets, will help to reinforce the words on this kindergarten vocabulary list, and your child's vocabulary in general!
All Vocabulary Lists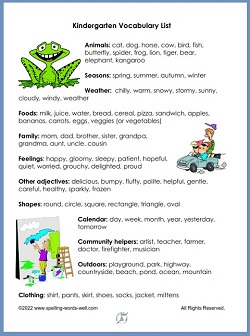 Kindergarten Vocabulary Words - 175 engaging, empowering vocabulary words, in alphabetical order, that every kindergartner should be learning. Use our convenient printable page. A second list features 100 of the words in helpful categories such as shapes, feelings, community helpers and more. 
First Grade Vocabulary Words - 175 great vocab words on a variety of topics for 1st grade students to learn to use in conversation, along with suggested activities. 100 words appear in meaningful categories including sports, animals, compound words and more. 
Second Grade Vocabulary Words : 200 words for 2nd grade students to learn and enjoy! 100 of the words are arranged in helpful categories and are arranged on an engaging printable for your students. Challenge your second graders with more words to use in their speaking and written vocabularies.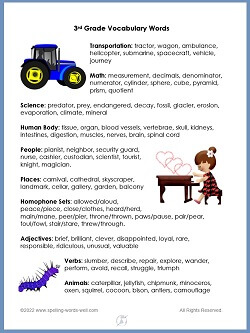 3rd Grade Vocabulary Words - 200 words to boost your child's spoken and written language skills, arranged alphabetically!  Print the complete list from the web page for best results. 100 of the words also appear in an engaging printable, arranged by helpful topics. 
4th Grade Vocabulary Words - 200 4th grade vocab words to keep your students on track all year long! Half of the words are also arranged in meaningful categories to help students with word meaning.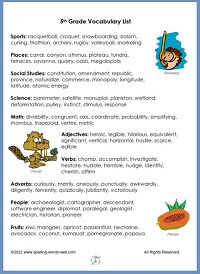 5th Grade Vocabulary Words - Boost your fifth graders' spoken and written vocabularies with this BIG list of 200 words, arranged in alphabetical order. I've also selected 100 of these words to put into 10 engaging topics. Try the extension activities for best results!
6th Grade Vocabulary Words - Improve your students' understanding of LOTS of areas of learning by covering these 200 important words! I've included many ways to put these words into use, and I have links to other related pages, too!
7th Grade Vocabulary Words - Here are 240 challenging words to stretch your upper grade students this year! Follow all the tips and extra activities listed to get the most out of this mega list of vocabulary words!
NEW! 8th Grade Vocabulary Words - Stretch your own vocabulary as well as your students' with this challenging list of 250 words! Lots of extension activities are also included. 
---
FAQs
A: Here are just a few from our list of 175 kindergarten vocabulary words: artist, autumn, between, bumpy, carrots, cousin, delicious, elephant, farmer, firefighter, gentle, grouchy, healthy, hopeful, idea, image, jacket, juice, laundry, lollipop, mittens, mountain, next, nobody, oatmeal, open, patient,  polite, quick, quiet, raisin, round, sandwich, spider, tiger, tomorrow, umbrella, upstairs, vegetable, warm, welcome, yell, yesterday, zipper
A: Not yet! These are words that students should be learning to use orally. They should be comfortable using these words in conversations, and they should understand the meanings of these words when they hear them in stories and texts. As students grow in language skills, they will eventually learn to spell them, too. 
These are lists of easier sight words and spelling words that you may wish to explore with your student. 

Ann Richmond Fisher is a longtime published educational writer, a former classroom teacher and a former homeschool teacher. Ann's spelling bee resources, graded spelling word lists, spelling games, worksheets, and other language arts resources have become respected around the globe since she launched Spelling-Words-Well in 2010.
Ann is also the creator of www.word-game-world.com.
---
Kindergarten Vocabulary Words