Spelling Words Well Products

Click on the category of eBooks you need:
Spelling Worksheets
Fun New Word Detective Book for Grade 2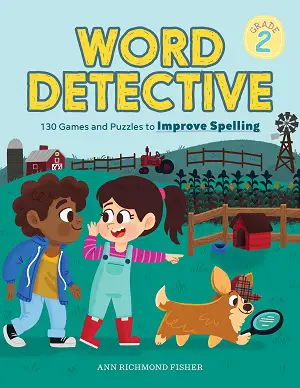 Word Detective (Grade 2):  130 Games and Puzzles to Improve Spelling. This is my newest book, and possible my most fun one, too! Kids practice 200 second grade words, complete lots of fun puzzles AND solve a great mystery, all in one book!  Available in hard copy from Amazon. (As an Amazon affiliate, I earn a commission on sales.)
Spelling Bee Resources for Teachers & Administrators
Word lists in these three products contain words and sentences:
Spelling Bee Word Lists with definitions, sentences and languages of origin:
List with Words, Sentences and Definitions
Spelling Bee Resource for Parents & Families
Brain Teasers & Puzzles for Everyone!
---
Go to Spelling Words Well Home Page