Basic Sight Words

and Fun Ways to Learn Them!
We all know how important it is for young learns to master reading, writing and spelling basic sight words. Here are links to two of the most frequently used word lists:
Why not try these spelling activities for fun ways to learn these words at school and at home?
Activities for Practicing Basic Sight Words

At School: Sight Word of the Day
At the beginning of the day, write one sight word in a special place at the front of the room. Read it and spell it together with your students. Ask several students to give oral sentences using the word.
Ask each child to tape an index card or small piece of paper to the corner of her desk.
At appropriate times throughout the day, set a timer. Tell students everytime the timer rings, they are to neatly write the sight word of the day on the index card or paper. Keep track of the number of times you ring the timer.
At the end of the day, walk around the room to see if students followed directions. Give a sticker, a star on a chart or other small reward to each child who wrote the word correctly the proper number of times.
If you like, on Fridays write all four sight words from the week on the board. Instruct students that when the timer goes off, they can write any one of the four words on their card.
At Home: Hide-and-Spell
We all know the game of hide-and-seek, right? Could it possibly be used as a way to practice spelling? We think so!
Ask your child to write 5 basic sight words (or any of his spelling words) on 5 index cards. He hides these word cards in 5 different places around the house.
Encourage the entire family to try to find the word cards. Every time a word card is found, your child makes a new card (i.e., he writes his words again) and hides it in a new place.
If your child doesn't want to keep writing his words over and over, he'll start finding harder and harder places to hide the cards. So your family will have to become more and more observant! You can also play this with a longer list of spelling words.
You may not want to use this idea every week, but it will sure be fun when you do!
Other Resources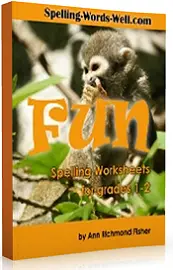 We also recommend these eBooks:
Fun

Spelling Worksheets for Grades 1 - 2
50 All-new worksheets to practice basic sight words and other important words for early learners
AnywordTM Spelling Practice Series
3 volumes of unique spelling worksheets, games and activites that work for almost
any spelling words!



---
Go to home page for Spelling Words Well