Spelling Words Well
Here at Spelling Words Well, we love to provide teachers and parents with all the tools they need to build confident, competent spellers.
We also seek to provide resources for English learners of all ages and business professionals to be impeccable spellers.
Quick Links:
Test Yourself
Already a good speller? That's great. But before you leave our site, read this:
How many seperate words are mispelled in this single pargraph? Its no exageration to say that you may have all ready found as many as six or seven errers. But don't quite looking yet. Their may be a few more. But then agian, whose counting?
If your answer was not eleven misspelled words, you might want to consider practicing your spelling words with us.
separate, misspelled, paragraph, It's, exaggeration, already, errors, quit, There, again, who's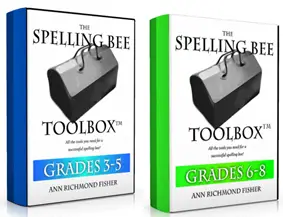 Finally, the ONE resource for all your spelling bee needs!
You'll find 600 words with spelling words, sentences, rules, new award certificates, record-keeping tools and checklists, worksheets for student practice and much more. There's no other resource like this!
For grades 3-5 or grades 6-8. Learn more!
Something new!
We've designed our own
COFFEE MUG
for all
those students who are spelling words well!
It makes a great
spelling bee award
.
For Final Rounds and Adult Bees: 100 Difficult Words with pronunciations, definitions, parts of speech and
sentences. Learn More.
---
Try these innovative AnyWordTM eBooks!
Our
AnyWord
TM
Spelling Practice series
is the resource you've been wanting! Finally, here are worksheets, games and activities that will give your students practice with almost
any spelling word
! Activities will supplement any curriculum and give your students extra practice that's fun and different!
Learn how you can download your copies today.
---

Fun
Spelling Worksheets for early grades
Who says spelling practice has to be boring? Not us! This eBook contains 50 all-new worksheets you won't find elsewhere on this site, or anywhere else,
These entertaining worksheets give early learners important spelling practice without using repetitive drills. Now available in a hard copy from Amazon.com. Learn more!
Please sign up to receive our free newsletter. It includes teaching ideas and free resources for teachers and parents. You'll also receive a bunch of freebies when you sign up. Sometimes you'll even receive special offers on our eBooks. Learn more!
We promise not to share your information with anyone!


---
Please contact us with any questions or suggestions.
Remember, our goal is see everyone Spelling Words Well!