Find the Spelling Bee Word List You Need Here!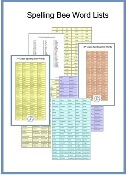 Each spelling bee word list here will be helpful for students to study at home, and for teachers to use in their classroom competitions. I think you'll really like the handy lists of grade-level words I've compiled.
So take your time, scroll through all the possibilities, and choose the lists that you most need. Feel free to print and use as many as you like! Don't miss my eBooks of longer spelling bee word lists for longer competitions. 
NEW! Spelling Bee Words List - 25 Challenging Spelling Bee Words with Pronunciations and Meanings! Teachers, use these for classroom warm-ups or competitions. Students, learn these before your next competition! 
You may also enjoy this list of 25 Hard Spelling Bee Words and Definitions.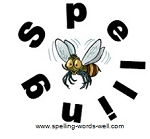 A Spelling Bee Word List by Grade Level

Each spelling bee list contains 100 - 120 words, arranged generally from easiest to most difficult. 

Here are a few words from our longer lists of 100 grade-level spelling bee words. Find the web page and full, printable version for each one by clicking on the link.

Here's a sample from our 2nd grade spelling bee list:
bake, must, fried, rip, sea, chase, bee, seven, counting, write, steer, tenth, they, fight, birthday

Here's a sample from our 3rd grade spelling bee list.

flies, crawl, happen, I've, build, raised, smiling, merry, voice, finish, heard, Saturday, suit, school, stretch
This is a sample from our 4th grade bee list.
earth, fever, useful, zebra, cottage, evening, copying, usual, pioneer, noise, terrible, surprise, libraries, quarter, discover
This sample comes from our 5th grade spelling bee list.
different, language, mammal, dessert, favorite, stomach,  probably, neither, numeral, million, message, except, laughter, inventor, journey
These are words from our 6th grade bee word list.
especially, league, ancient, nationality, vault, honorable, acquire, vacuum, persuade, mechanic, requirement, disastrous, scissors, vegetable, accidentally
Our 7th grade word list contains these 20 words, plus 80 more.
authority, consequently, quotation, celery, phantom, statistics, endurance, competent, influence, courtesy, havoc, parallel, advantageous, souvenir, questionnaire

Finally, here's a sampling from our 8th grade spelling bee word list.
deficiency, outrageous, rectangular, honorary, vertigo, malady, parliament, necessity, recurrent, ominous, ubiquitous, potpourri, vivacious, vacillate, permeate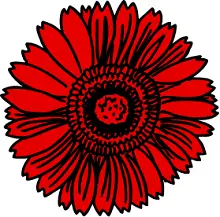 chrysanthemum
Try this new list of 25 Hard Spelling Bee Words and Definitions. How many of these do you know?


The Spelling Bee Toolboxes


Our Spelling Bee Toolbox eBooks are comprehensive resources for anyone who wants a simple way to put together a classroom, all-school or multi-school spelling bee.

Each eBook contains 600 words and sentences, rules, award certificates, organizational tips, student helps and much more.
100 Difficult Spelling Bee Words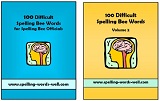 Our eBook of 100 Difficult Spelling Bee Words contains brand new words, not used in our other resources. It includes pronuncations, languages of origin, parts of speech, definitions, and sentences. Great for the final rounds of your spelling bees or for adult bees. Learn more here>>>.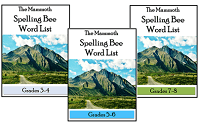 Try our Mammoth Spelling Bee Word Lists. Available for grades 3-4, 5-6 and 7-8. Each list has 400 words plus definitions, parts of speech, sentences and language of origin. Each list contains words not found in any of our other eBooks.
Spelling Bee Prizes

Reward your best spellers with one of these fantastic prizes!

These make a great prizes for spelling bee winners or any good spellers!  Prices vary by style and quantity. Products often go on sale, and we sometimes add new products, so check back often at our Zazzle store.


The Scripps National Spelling Bee
Did you ever wonder how those brave spellers make it the final round and spell in front of millions of viewers on national television? Read our summary of The Scripps Spelling Bee to learn more.
For more information on grade-level spelling, click on the appropriate nav bar at the left. For each of these grades, we have longer lists of spelling words, classroom practice ideas, games and spelling worksheets.
As an Amazon Associate I earn from qualifying sales.
---