The Correct Spelling of Words:  Lots of Tips & Lists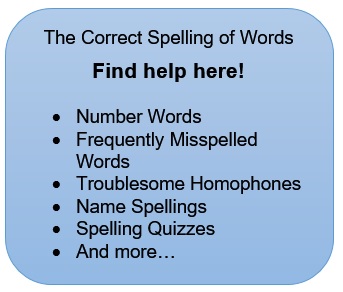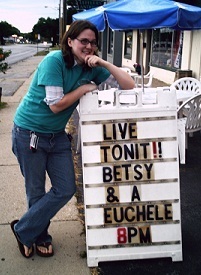 If you want to see what happens when you don't learn the correct spelling of words, take a look at this sign! f you're reading this page, chances are you want to improve your English. Or maybe you want to help someone else. That's why we're here!
Choose the tools that are most helpful for your specific needs. We have lists of homonyms, frequently misspelled words, and lots more. It's amazing how quickly you can improve your English skills just be mastering a few of these lists!
By the way, there are two correct spellings for Betsy's instrument: ukelele and ukulele. (You can also find Betsy Fisher and her ukelele/ukulele on YouTube.com.) 

Wacky Word Spelling - See more examples of misspellings. Share photos and examples of your own!

102 frequently misspelled words:  Study this list to boost your spelling abilities. Everybody has a few spelling glitches!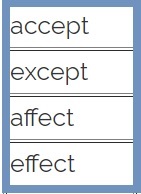 Spelling Demons - Sometimes the words that trip us up are those that are easily-confused with other words, like desert/dessert and allusion/illusion. Master this list to improve your spelling skills.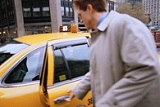 Will the fare be fair?
Troublesome Homophones Explained, Part 1:  Improve spelling skills by choosing the correct homonym. Definitions and examples included for homonyms beginning with A - P.  Free pdf.  

Troublesome homophones Explained, Part 2:  Here's more spelling help with homonyms. If your/you're ever to/too confused to use the correct homonym, print out this free, handy reference tool! Homonyms beginning with P - Y.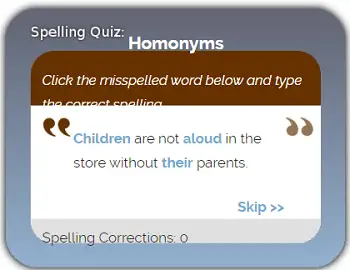 Online Spelling Games - Check your knowledge of correct homonym usage with this one. It's simple to play, and great for upper elementary, middle school, high school, college students, and anyone who needs to brush up on this important skill. 
Spelling numbers: Free printable chart makes spelling numbers a breeze. We've included helpful tips for numbers that are especially problematic, such as eighth, forty, and more. This chart is useful for all ages. See why it's one of the most popular resources on this website!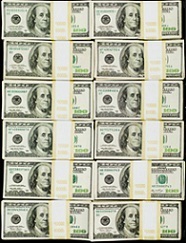 Everyday spelling skills: We cover 5 quick, but important, pointers for the correct spelling of words.
Correct name spelling: Learn how to find and remember the correct name spellings for important people in your life.

Spelling of first names: Here are some things to consider when choosing your unborn child's first name. Work through the best options for the spelling that he/she will use for his/her entire life! (No pressure, though!)  
About Dictionaries for the Correct Spelling of Words

Merriam-Webster Dictionaries - Read a brief history of this authoritative name in the world of dictionaries. Find links to the company's most popular editions.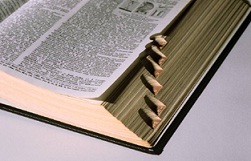 Dictionery or Dictionary?   A quick quiz to check your knowledge of the correct spelling for 25 words.
Dictionary Spelling:  We answer the question, "How can you find a word in the dictionary to check its spelling, if you don't know how to spell it?
You may also be interested in these Spelling Lessons.
---