Writing Prompts for Kids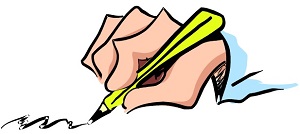 Looking for ways to motivate your students to write? These writing prompts for kids are for you!  These prompts will prime your writers' pumps with grade-appropriate language and ideas.
Be sure to read the suggestions for usage on each page of prompts. 
Our Newest Writing Prompts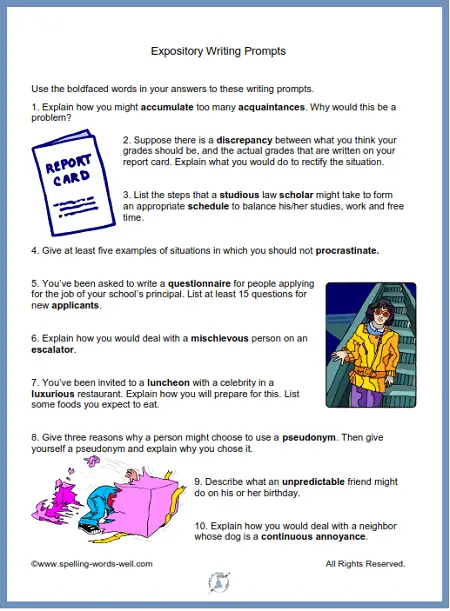 NEW! Expository Writing Prompts - New engaging expository prompts to help students reason, explain and make lists. These prompts also provide practice with some challenging 8th grade spelling words.
NEW! Fiction Writing Prompts for Kids - Your students will love making up some wacky scenarios using some of our 7th grade spelling words!
Grade Level Writing Prompts for Kids
The writing prompts listed here all contain specific grade-level words from our graded spelling word lists.  
Please note that many of these lists can work well for additional grades as well. For instance, if you're in need of 3rd grade writing prompts, you may also find the 2nd grade and 4th grade writing prompts to be useful.  Each set contains twelve prompts. 
1st Grade Writing Prompts
Set #1 - What would you like to ask a frog? What if one of your toys came to life? What would you say to someone who is sad to make them feel better? A total of 12 age-appropriate 1st grade writing prompts.
Set #2 - What would the cow see if he jumped over the moon? Where will the treasure map lead you? What part of the day do you like best? Find nine more similar writing prompts for kids. 

2nd Grade Writing Prompts


Set #1 - What will a lion say to a mouse? What's in the hole in your yard? What will you do about the panda in your pool? Assign these second grade writing prompts to your students and learn what they think!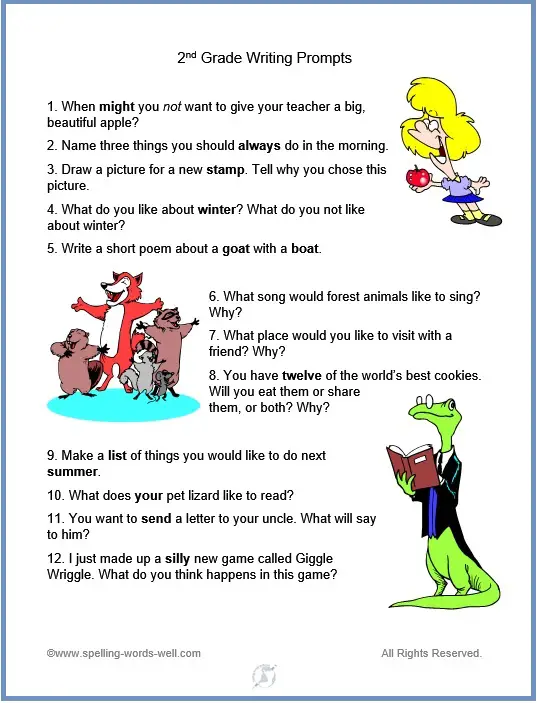 Set #2 - What does your pet lizard like to read? When should you NOT give your teacher a big red apple? What should always do in the morning? Your early learners will love these 2nd grade writing prompts!

A Zoo-y Day - Kids will enjoy personalizing this story about a fun day at the zoo. 


3rd Grade Writing Prompts


Set #1 - This list of twelve 3rd grade writing prompts include: What's the best way to spend one dollar? Write a short poem about a bear with a pear.  Why are you happy to hear someone's voice at your front door? Whose voice is it?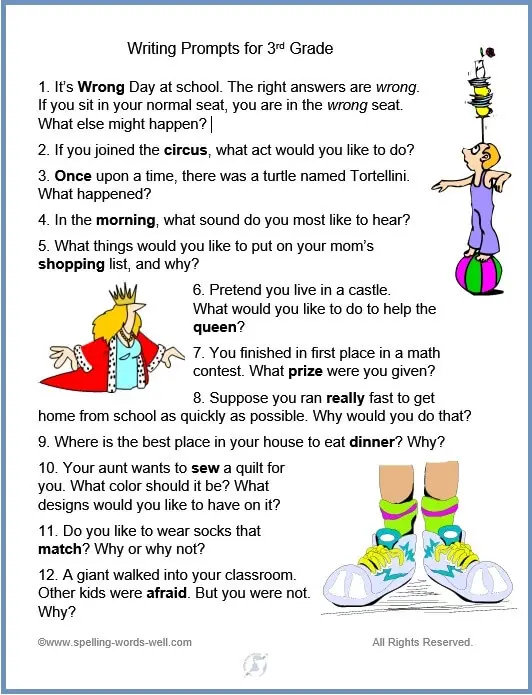 Set #2 - These writing prompts for 3rd grade ask:  If you joined the circus, what act would you like to do? Do you like to wear matched socks? Why or why not? Why were you not afraid of the giant who walked into your classroom? Set contains 12 prompts in all. 

4th Grade Writing Prompts


Set #1 - Some of the 4th grade writing prompts ask about a celebrity bus driver,  a moving sidewalk, and a scary grocery bag.  These fun prompts provoke vivid imaginations!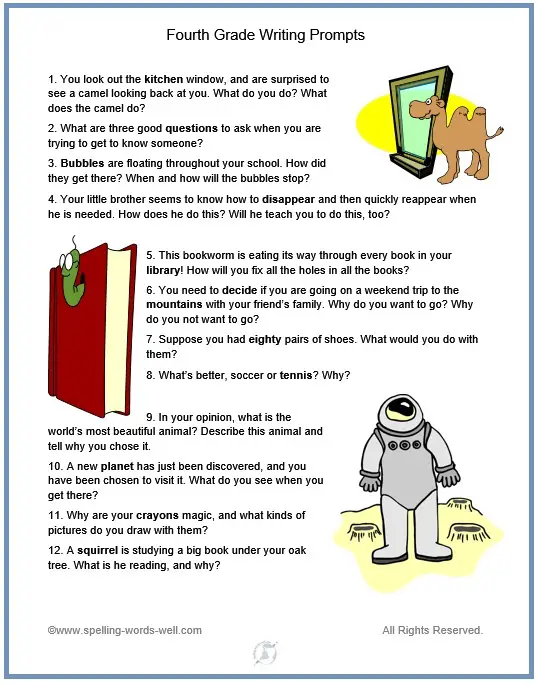 Set #2 - Why is a camel looking in your window? What will you find when you're exploring a new planet? What's better, soccer or tennis? Use these and nine other great fourth grade writing prompts.

5th Grade Writing Prompts


Set #1 - Tell us about your magic frog act. Tell us how to measure the number of grains of sand in a teaspoon. Tell us how to succeed in school.  Your students will enjoy responding to these fifth grade writing prompts!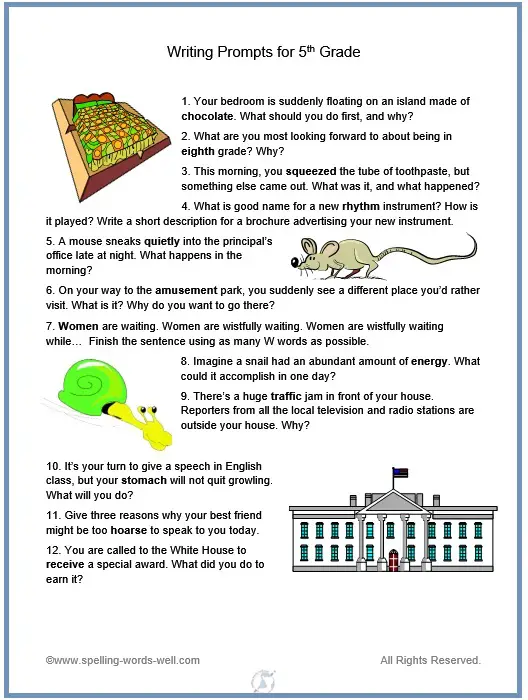 Set #2    What will your students say about a mouse that sneaks in to the principal's office? What will they do when they wake up on an island of chocolate? Why might they be summoned to the White House? Use these writing prompts for 5th grade and find out!
Writing Prompts for Middle School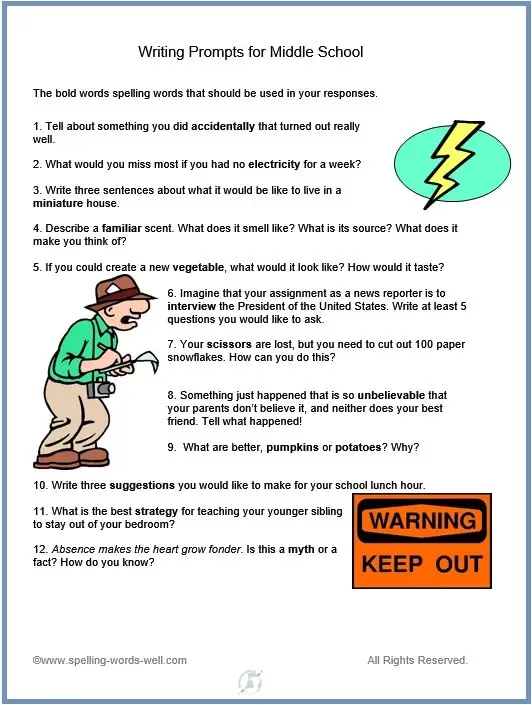 Set #1 What is the best strategy for teaching your younger sibling to stay out of your bedroom? What would you miss most if you had no electricity for a week, and 10 more writing prompts for middle school.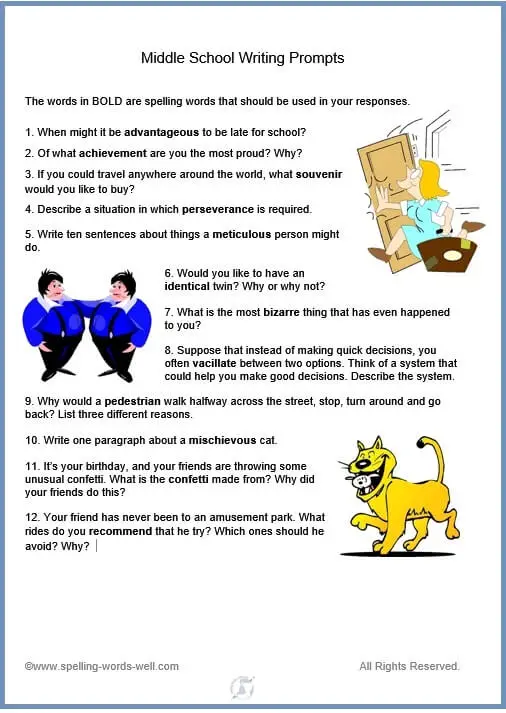 Set #2  Would you like to have an identical twin? Why or why not? When would it be advantageous to be late to school? When is perseverance required? Present these, and nine more terrific middle school writing prompts, to your students this week!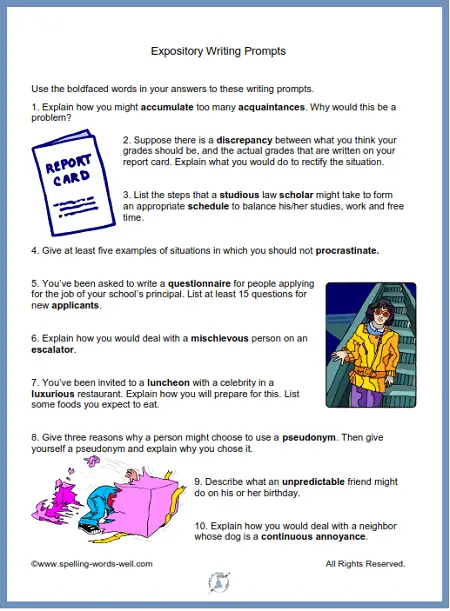 More Writing Prompts for Kids Are Coming Soon!
As an Amazon Associate I earn from qualifying sales.
---
Home
> Writing Prompts