High School Writing Prompts
These new high school writing prompts are sure to spark interest in even your most reluctant writers. These typical, and not-so-typical, high school scenarios will connect well with many high school students. Why not give them a try today?
High School Writing Prompts
Here's a peek at the printable page. The full text for these high school writing prompts also appears below for your convenience. 
The words in bold appear on our list of 10th grade spelling words. Encourage your students to use these words in their responses to the prompts.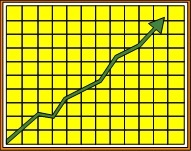 1. Suppose the rates of absenteeism have increased dramatically during the past month at your high school. In one paragraph, explain why this may have happened. Write a second paragraph with your solutions to this problem.

2. Fallacious rumors about your best friend have been spreading rapidly at your school. Write a paragraph explaining how you can encourage your friend at this time. Write another paragraph about how you hope to stop these rumors.  
3. Your graduation is a convivial event. What conversation will you have with your principal as s/he hands you the diploma?  
4. Make a list of at least five words that seem to be unpronounceable. Write the meaning and a sentence for each of your words. Also write the correct pronunciations. Then practice those words and say them correctly to a friend or teacher.
5. There was an eruption of ballyhoo after your high school principal made a special announcement. What was the announcement, and why did it create such an uproar?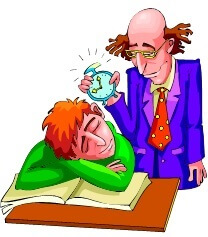 6. Do you believe the corollary of good sleep habits in a teenager is good academic performance? Why or why not?
7. If you could have any sobriquet, what would you like it to be? Why?

8. It's late at night and your little sister is surreptitiously creeping around the house. Why do you think she's doing this? Do you think you should join her? Why or why not?

9. One recalcitrant student in your history class is making it difficult for everyone to learn. What can you do? 
More Writing Prompts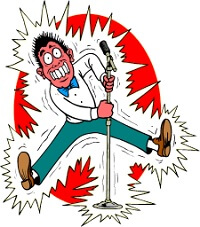 Creative High School Writing Prompts - Engaging scenarios combine with challenging vocabulary words in this new set of story starters. Are your students ingenious enough to complete this assignment?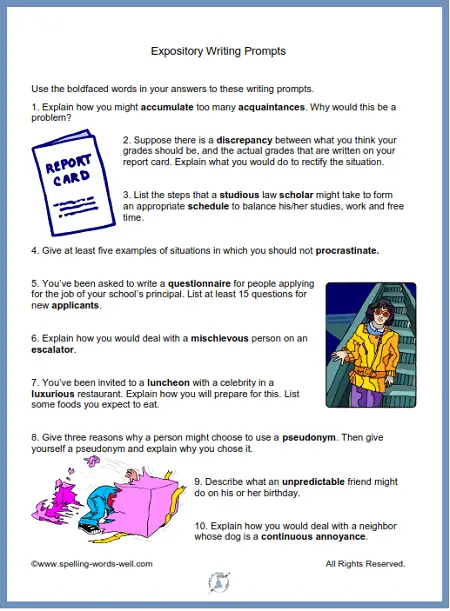 Expository Writing Prompts - New engaging expository prompts to help students reason, explain and make lists. These prompts also provide practice with some challenging 8th grade spelling words.

Fiction Writing Prompts - Your students will love making up some wacky scenarios using some of our 7th grade spelling words!
Middle School Prompts What is the best strategy for teaching your younger sibling to stay out of your bedroom? What would you miss most if you had no electricity for a week, and 10 more writing prompts for middle school. 

We have a wide assortment of writing prompts for kids of all ages. Check it out!
You May Also Enjoy...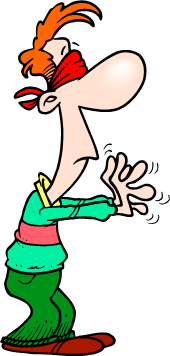 Which One Is It?  Don't try to solve this tricky puzzle while you're blindfolded. Instead, use what you know about correct spelling! Choose the one word that is spelled correctly and write it in the puzzle. It's great for 7th grade spelling through 12th grade spelling students. 

Cryptogram Worksheet: Puzzle page for upper grades. Includes instructions so students, parents or teachers can make more cryptogram puzzles with any word list. 
Here are some helpful lists of difficult spelling words for your high school students: 
---