4th Grade Spelling Words & Activities
Our lists of 4th grade spelling words, practice activities and fun worksheets are great resources for your  home school or classroom. Be sure to try them all!
By the fourth grade, students are being exposed to more words more quickly than ever before. They're learning bigger and trickier words, including sets of confusing homophones and words with silent letters. They need lots of practice (and encouragement) as they take on increasing challenges in spelling.
Lists of 4th Grade Spelling Words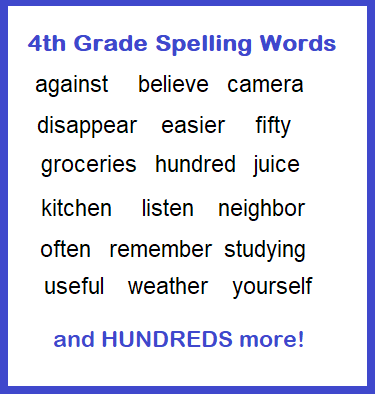 Fourth grade spelling words - Our list of 300 words most fourth graders should know or learn this year.  Learn to spell these words for reading, writing and spelling success, all through fourth grade and beyond!
4th grade spelling bee words - When you want some tougher words for spelling bees and other competitions, try this list of 75 challenge words.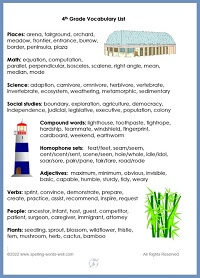 4th Grade Vocabulary Words - 200 words to help teach your students math, science, social studies and more! You'll find ten words in each of ten categories to interest your kids/students, plus 100 more! From earthworms to equations, this list is packed with fascinating words to help expand your child's vocabulary!

 4th Grade Lesson Plans - 25 spelling dictation sentences and full instructions. Use a few of these each week to provide students with extra practice in writing, spelling and using spelling words in context. 
Home Spelling Words - 100 Spelling Words of items commonly found in and around the home, along with some extension activities to help your kids master these important words. 

Tricky Elementary Spelling Words - Students in grades 2-5 sometimes need extra practice with these 100 common words.
Fourth Grade Writing Prompts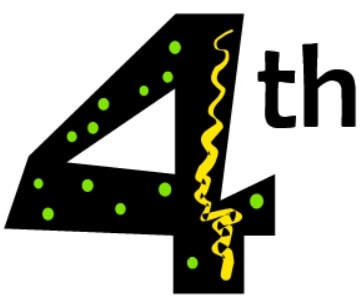 I've written two sets of engaging writing prompts, aligned with our 4th grade spelling word list.  Use these stimulating prompts anytime throughout the year for fun spelling and writing practice!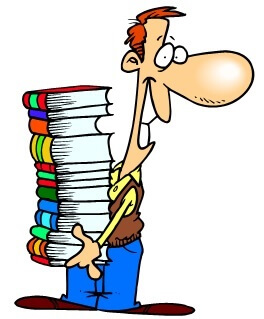 Set #1   Why is you dad carrying all your books at school? Who's the famous bus driver? What's so scary about the grocery bag?  Your fourth graders can let their imaginations run wild as they respond to these plus 9 more prompts.
Set #2  Students will explain why there's a camel at the window, why  their little brother keeps disappearing, and more. Fun, stimulating fourth grade writing prompts!
Fourth Grade Worksheets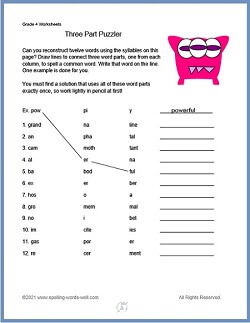 Three Part Puzzler - Students must reconstruct 12 familiar words, syllable by syllable, one from each of three columns,  in this challenging page.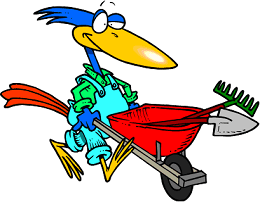 Compound Confusions! - This woodpecker  introduces your students to a great compound word challenge!
It Pay$ to $pell - Combine math and spelling fun!

More 4th grade worksheets - Fill-in crossword puzzles using fourth grade spelling words. Lots of fun!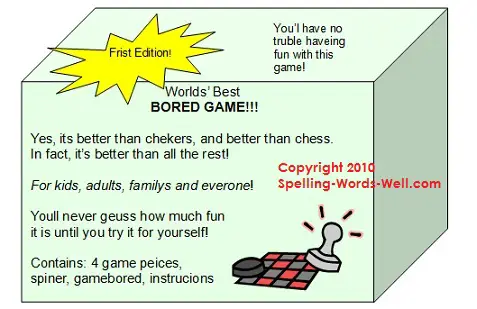 Wacky packages! - Find the spelling errors on these whimsical boxes.  One of our most popular pages!
Free Spelling Worksheets - Can You Spell Well?: If students correctly identify the misspelled words, they'll shade the page to reveal in interesting word.

Double Letter Animal Word Search:  Supply the missing pair of letters, then find each of the 40 animal names in the word search puzzle. Fun spelling practice for any age!
Brain Teasers and Riddles - Try Level One or Level Two!

Here are two fun ideas to put some pizzazz into your weekly spelling bee quizzes. Try these spelling test games this week!
More Spelling Activities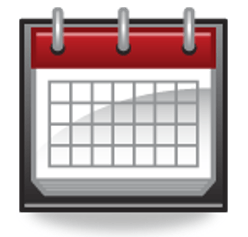 4th grade spelling practice ideas - Simple ideas that give students more practice in writing and learning their toughest spelling words.
Puzzle Partners - Classroom match-ups lead to meaningful, fun spelling practice!
Homonym Practice - 50 sets of important homonyms for your students to learn and practice. All are presented with definitions and sentences.
Fun fourth grade spelling practice ideas - Great ways for kids to help each other practice writing almost any 4th grade spelling words. Time saver for you!
Spelling Word Games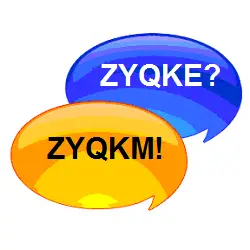 More Spelling Fun for Kids - New games to play on a Scrabble game board. Mumbo-Jumbo, anyone?
Free spelling activities for two players - "Shady Spelling"  Printable game boards for two players.

 Fifty-Fifty - Fun word game! Kids earn points as they engage in word play and spelling fun.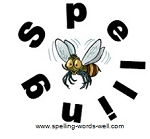 Spelling Bee Games - Try one of our new Silent Spelling Bee variations. A fun--and quiet--twist on  a classic game! 
Another Spelling Bee Game - Students step up to victory as they help their team advance in this fun new game.

Be sure to take full advantage of these free resources for your fourth grade spellers. Check out our spelling helps for third and fifth graders, too!

Sign Up Here for My Free Newsletter

---