Kindergarten Worksheets
These kindergarten worksheets are fun for early learners, and valuable for parents & teachers! Use this variety of free printables to teach and reinforce phonics skills, word families, the spelling of simple words and more!  Check back often, as this collection is growing. 
Skip to the type of worksheet you need:
ABCs and Phonics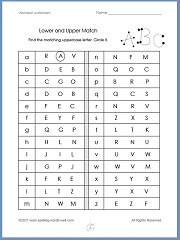 New! Alphabet Worksheets that help kids match upper and lowercase letters, for the entire alphabet! For those who are up to the challenge, these free printables provide great practice!

ABC Fill-In On each of these pages, students need to supply the missing letters of the alphabet. Then they will read and spell three kid-friendly words and find those letters in the alphabet path. One page features lowercase letters, the other page, uppercase ones.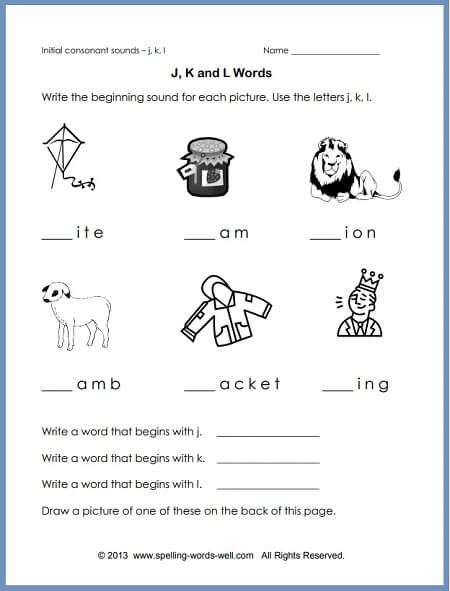 Phonics Printables - 2 super-simple worksheets for beginners, featuring the letters  b, c, d, f, g, and h as initial consonants   

Phonics Worksheet - Find more engaging  practice with initial consonants. This free page features the letters j, k and l.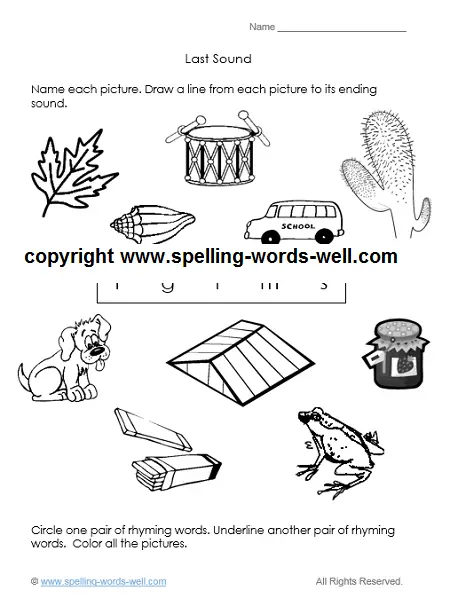 What's Last? Two cute pages in which kids need to say the names of some common objects and identify their ending sounds.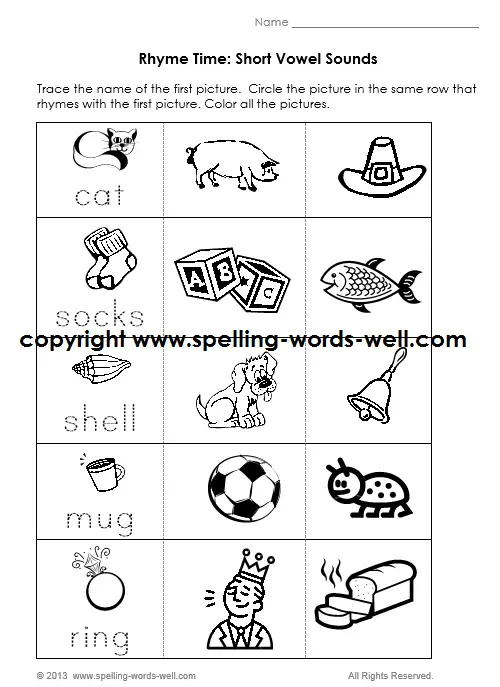 Rhyme Time! Kids will say the name of the first picture in each row, trace the word, find another picture in the same row that rhymes with the first picture, and then color all the pictures. This is FUN phonics practice! A second page features long vowel sounds.
Kindergarten Worksheets :
Sight Words and Simple Words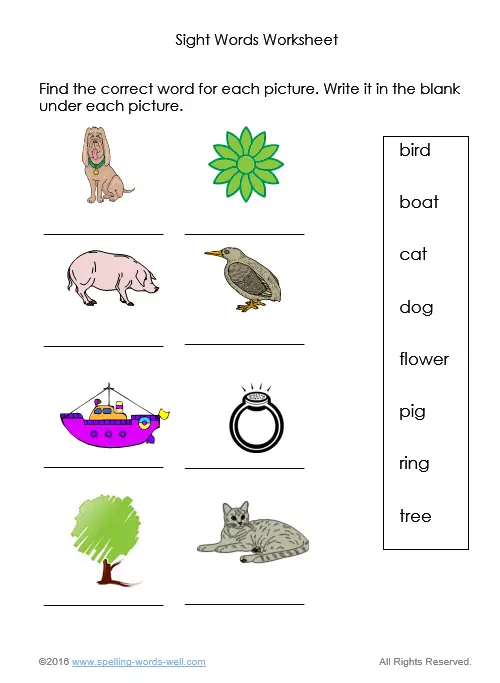 These sight words worksheets are simple, fun and ready-to-go!  Both feature easily-recognizable objects from the list of  Dolch nouns. Your early learner will choose the correct word, or the correctly-spelled word on these two printables.
For extra practice, make some Sight Words Flash Cards. 
Letter Lines - Two fun worksheets that ask kids to read, copy and spell some simple three and four letter words. Perfect for kids who are eager to learn to read!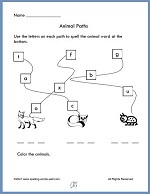 NEW! Animal Paths - Kindergartners follow three animal paths to find three animals. On each path, they'll find the letters needed to spell each animal name!
More Animal Paths with three new animals!

Literacy Worksheets for Early Learners: 3 fun reproducibles your kids can customize. 
Homework worksheets - 2 pages that are especially simple to do at home. String the letters to complete sight words, or find the hidden color words and write them correctly inside the crayons. Great for kindergarten or first grade.

Word Family Worksheets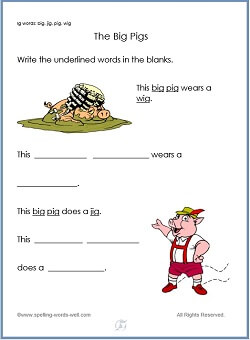 The Big Pigs - This whimsical page features a muddy pig with a wig, and another pig that does a jig!
This Man - This printable kindergarten worksheet features the AN words man, ran, fan and pan.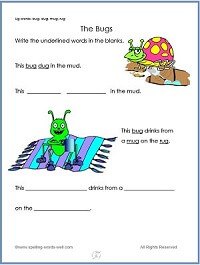 The Bugs - One bug dug in the mud. Another bug drinks from a mug on the rug. What better way to learn the -ug word family?
NEW! The Pet Jet - A kindergarten writing worksheet featuring words from the ET family. After a classroom discussion, kids can write or finish their own story about an interesting picture. 

NEW! Dots on Pots - One dot on a pot is hot. The other is not. Kids look at the pictures and finish the sentences with OT words.

Looking for More Worksheets?
---