Kindergarten Worksheets pdf
Kindergarten worksheets pdf are ready to go when you are! We have lots of simple, worthwhile printable pages here for early learners.
On this page, kindergartners follow three animal paths to find three animals. On each path, they'll find the letters needed to spell each animal name. 
Animal Paths
Help children to discover the three paths that each lead to a different animal. Point out the letters on the path that are used to spell the name of the animal. 
At the bottom of the page, students will need to decide the correct order in which to place the three letters on each path. All animals follow the same consonant-vowel-consonant pattern.
Other three letter animals include: cat, fox, bug, ant, cow, fly, bee, ape, owl, pig, yak, emu, eel, and others.
More Kindergarten Worksheets pdf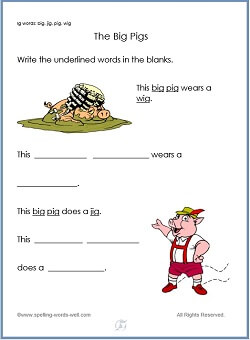 The Big Pigs - This whimsical page features a muddy pig with a wig, and pig that does a jig.  What a fun way to learn the IG family of words!

The Bugs - If your kids like the BUG on this page, they're sure to LOVE the BUGS on this word family worksheet! One bug dug in the mud. Another bug drinks from a mug on the rug. Learning IS fun!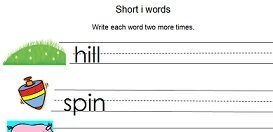 K-1 phonics worksheets - 5 free worksheets provide practice with simple short vowel words. Here's a peek at part of one of the pages. Each page is bit different. Students get lots of printing practice with easy words.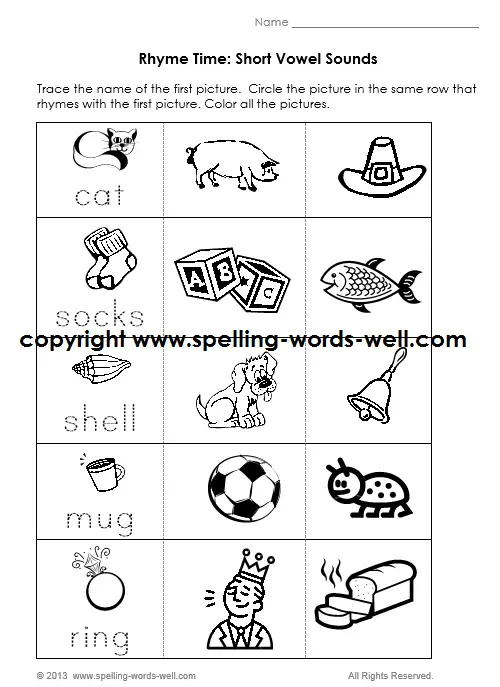 Kindergarten Phonics Worksheets Rhyme Time! Give your students fun practice in identifying rhyming words with long and short vowel sounds.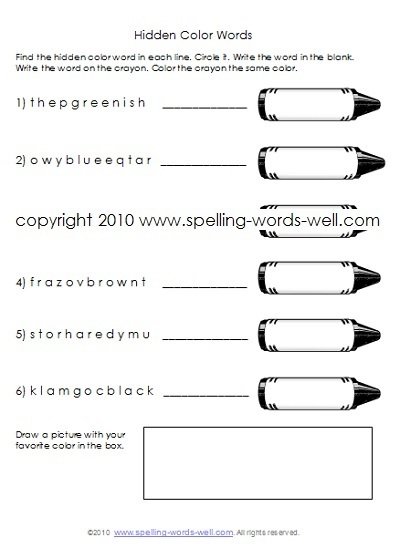 Homework worksheets - Here are more handy kindergarten worksheets pdf ready-to-go anytime! These pages that are especially simple to do at home. String the letters to complete sight words, or find the hidden color words and write them correctly inside the crayons. 
How About a Phonics Game?
Use worksheets when you want to gauge individual learning. But be sure to mix in some games and active learning, too!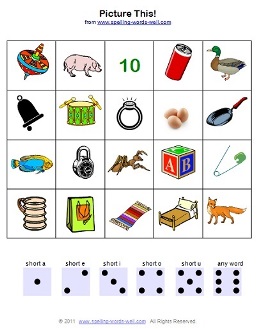 Picture This Phonic Game - We think your early learners will enjoy this activity featuring short vowel words. Which player can cover the most pictures?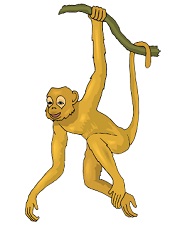 Who Wants It? - A great sing-song activity to help kids listen to match initial sounds to the correct letters.
Stand Up, Sit Down - You and your kids are sure to love this game that asks kids to listen to consonant sounds and to move! For PreK-K

Free Preschool Games for Phonics - 3 simple adaptations of familiar formats with a phonics twist. Try our versions of "I Spy," "Hide and Seek" and "I'm Going on a Trip." What fun ways to learn!

---