8th Grade  Vocabulary Words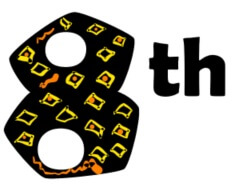 This challenging list of 8th grade vocabulary words is great for teachers, parents and students to use throughout the entire school year. Of this mammoth list of 250 words, how many do you think your child or your students already know? Why not test your theory with a simple pre-test? Take a random sampling and ask kids to informally define about 30 of the words (or use them correctly in a sentence). That will give you an initial impression.
If students already seem to know a lot of the words, that's great! They can start incorporating them into their writing immediately, and begin to work on correct spellings. If students do not know a lot of the words, then begin to teach them word meanings, at the rate of about 10 a week. See ideas below for how to do this. 
I've compiled this word list from many popular texts and online resources. Let's keep working together to challenge students to achieve more, and with more confidence!
8th Grade Vocabulary Words
Printable list of 250 8th Grade Vocabulary Words
abalone
abashed
abjure
accede
accolade
acquittal
acrimonious
affability
agrarian
algorithm
alumni
amorous
anecdote
antecedent
anthology
aperture
assimilate
augment
auspicious
axiom
barbaric
behemoth
bellicose
berserk
biodiversity
blatant
brachiate
cacophony
cadre
calibrate
camaraderie
candor
caucus
chicanery
chrysalis
clandestine
cognizant
collateral
consortium
conveyance
countenance
cynical
dais

dalliance
debonair
debunk
decelerate
deferential
defoliant
defray
defunct
deify
delineate
demarche
demeanor
demure
denizen
derision
despot
diabolical
didactic
dirigible
discomfiture
disingenuous
disparage
dyscalculia
dystopia
eclectic
ecumenical
effervescent
effusion
egregious
elite
elucidate
emblematic
emissary
enmity
ephemeral
expunge
extrapolate
fallacious
fallibility
fastidious
faux
felicitous
fissure
fledgling
foreboding
fortuitous
frenetically
furtive
gargoyle
governance
harangue
harbinger
harebrained
heatedly
hemorrhage
herbaceous
hiatus
hibachi
iconoclast
idiosyncratic
ignoble
illicit
immure
immutable
impecunious
impediment
imperious
implausible
importune
incandescence
incarnadine
incipient
indolent
infirmity
inherent
insipid
jettison
judicious
junta
jurisprudence
juxtapose
kaput
kleptomania
laconic
lassitude
leitmotif
lexicologist
libelous
loathsome
madrigal
maelstrom
mahatma
malfeasance
mercenary
meritorious
modicum
monolithic
montage
moratorium
nascent
nonchalant
nonentity
nouveau
nullify
obfuscate
olfactory
omniscient
opulence
oration
osmosis
ostensibly
oxymoron
palindrome
pallid
palpable
panache
panoply
paradigm
paraphrasable
pariah
parsimonious
pastiche
penumbra
perfunctory
portend
portmanteau
postulate
preemptory
preponderance
prescient
pseudonym
pugnacious
punctilious
quandary
quantify
quiescent
quixotic
rabid
radon
ramshackle
rancor
rapacious
reactive
rebuttal
recalcitrant
recapitulate
reconnaissance
recrimination
redundancy
relegate
relic
remit
replete
repugnant
resin
revere
rife
rudiments
rueful
ruminant
sacrilegious
sanction
sanguine
sarcastic
satiate
scrupulous
sectarian
seismic
specious
stratagem
stultify
stipulate
stymie
suave
superfluous
sustenance
symposium
tachometer
tautology
taxidermy
taxonomy
torque
truism
ulterior
umbrage
undulate
vacuous
vantage
variance
vehement
vellum
vendetta
veracity
verbatim
vilify
vitriolic
vociferous
weir
wily
wistful
wraith
wurtzite
xenophobia
xylem
yaw
ziggurat
Don't forget to get your printable list of these 8th grade vocabulary words. Here is a look at all three of the printable pages:

Teacher's Tips: 
Eighth graders are capable of learning A LOT of new vocabulary words, BUT no one wants to learn 2500 words all at once! Words are best learned in context, through insightful discussions and the reading of materials that are of interest to students.
Keep an eye out for even more new vocabulary words in 7th grade social studies, science and math textbooks, as well as literature readings.
When possible, introduce new words naturally in discussions and in reading materials
Introduce no more than 15-20 new vocab words at a time to seventh graders
See my "How To" guide below for more ways to use these words
How to Use These Vocabulary Words: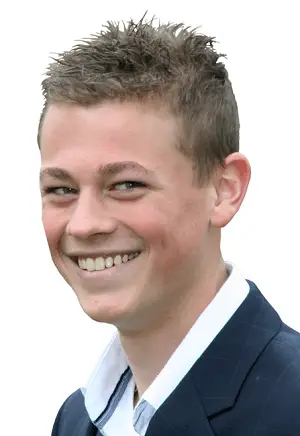 Choose from these extension activities to give your students extra practice with the 8th grade vocabulary words. Add more activities of your own. Check my answers under the blue button at the bottom of the page. 
1. Find three vocabulary words that refer to specific kinds of words or phrases. 

2. Find at least seven words that name a type of person or people. 
3. Explain the difference between omniscient and prescient. 
4. Identify three or more words that could sensibly complete this sentence:  The actor tore up his script, stormed off the set, and said with great __________,  "I have no intention of working with you anymore!" 
5. Find your favorite  8-, 9-, and 10-letter words on the list.
6. Write a sentence or two about some of these topics:
If the washing machine suddenly went kaput, and you were home alone with tons of dirty laundry, what would you do?
What's the most implausible reason you've heard someone use for not completing their homework?
Tell how a felicitous comment can make someone's day. 
What's the most loathsome thing you've ever tried to eat?
7. Work with a student partner or a family member to write a 2-page story using one of these titles:
My Journey to a Ziggurat
The Most Harebrained Idea Yet to Make Money Fast
My Rebuttal to the Mayor's Speech
A Brief Oration on Ruminants

More Eighth Grade Spelling and Vocabulary Resources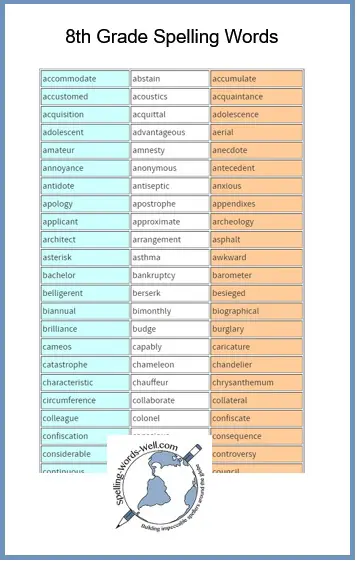 Find my printable list of 250 words that 8th graders should know how to spell and use correctly, as well as lots of 8th grade spelling resources. There are plenty of challenging words here!  
Here's an informative list of tips for developing 8th grade vocabulary and spelling skills. Ideas are listed for both home and classroom use.
Writing Prompts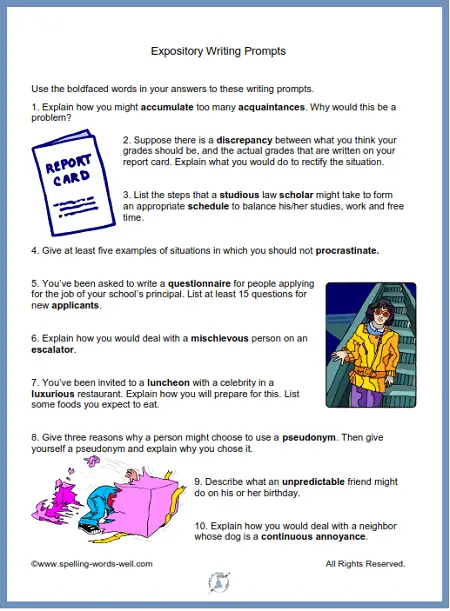 NEW! Expository Writing Prompts - New engaging expository prompts to help students reason, explain and make lists. These prompts also provide practice with some challenging 8th grade spelling words.

Writing Prompts for Middle School - Set #1 What is the best strategy for teaching your younger sibling to stay out of your bedroom? What would you miss most if you had no electricity for a week? You'll find ten more prompts on this fun printable page.
Worksheets, Brain Teasers & Puzzles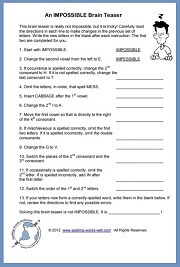 Fun Brain Teasers for Students  These fun brain teasers will check your students' spelling and vocabulary skills. They'll also tickle their funny bones! 

An Impossible Brain Teaser? - Sure, the directions are tricky, but adults and upper grade students can solve this the first time, right?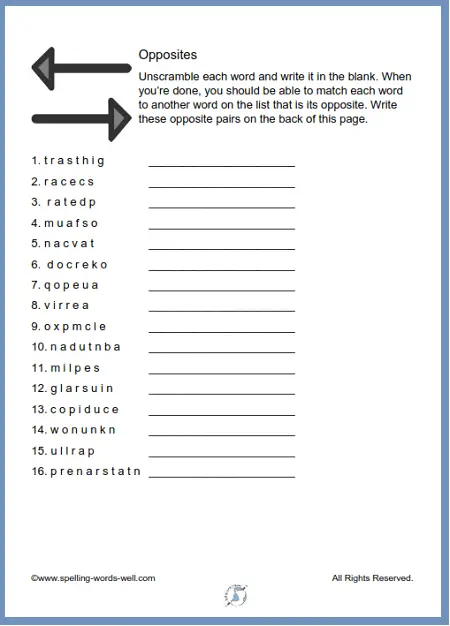 Opposites Unscramble 16 words, then match each on up to an opposite that's also in the list. Fun two-part activity for extra vocab practice!  When you've finished the opposites, be sure to try...
Pull-Apart Synonyms - Extremely challenging free word scramble game! Can you pull apart these letters, without rearranging them, to spell a pair of synonyms? Is this as easy as it sounds???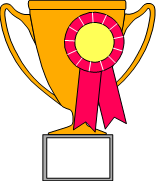 Spelling Bee Challenge - In this unique fill-in crossword, you'll need to place 32 difficult spelling bee words. How many of these words can you spell and/or define?
Muddled Music Crossword - Sharpen your focus to solve this one! Replace one or two letters in each clue to spell a musical term. 
All Vocabulary Lists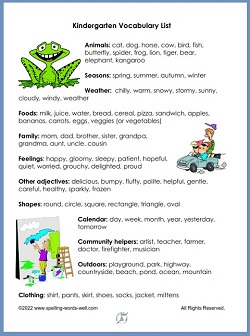 Kindergarten Vocabulary Words - 175 engaging, empowering vocabulary words, in alphabetical order, that every kindergartner should be learning. Use our convenient printable page. A second list features 100 of the words in helpful categories such as shapes, feelings, community helpers and more. 
First Grade Vocabulary Words - 175 great vocab words on a variety of topics for 1st grade students to learn to use in conversation, along with suggested activities. 100 words appear in meaningful categories including sports, animals, compound words and more. 
Second Grade Vocabulary Words : 200 words for 2nd grade students to learn and enjoy! 100 of the words are arranged in helpful categories and are arranged on an engaging printable for your students. Challenge your second graders with more words to use in their speaking and written vocabularies.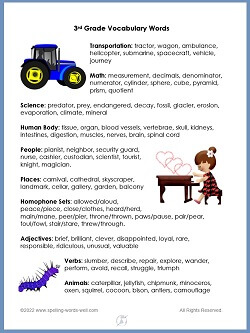 3rd Grade Vocabulary Words - 200 words to boost your child's spoken and written language skills, arranged alphabetically!  Print the complete list from the web page for best results. 100 of the words also appear in an engaging printable, arranged by helpful topics. 
4th Grade Vocabulary Words - 200 4th grade vocab words to keep your students on track all year long! Half of the words are also arranged in meaningful categories to help students with word meaning.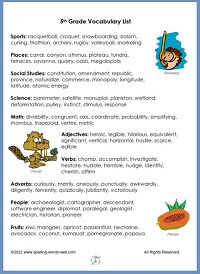 5th Grade Vocabulary Words - Boost your fifth graders' spoken and written vocabularies with this BIG list of 200 words, arranged in alphabetical order. I've also selected 100 of these words to put into 10 engaging topics. Try the extension activities for best results!
6th Grade Vocabulary Words - Improve your students' understanding of LOTS of areas of learning by covering these 200 important words! I've included many ways to put these words into use, and I have links to other related pages, too!
7th Grade Vocabulary Words - Here are 240 challenging words to stretch your upper grade students this year! Follow all the tips and extra activities listed to get the most out of this mega list of vocabulary words!
NEW! 8th Grade Vocabulary Words - Stretch your own vocabulary as well as your students' with this challenging list of 250 words! Lots of extension activities are also included. 
Here are my answers. You may have others as well.
1. oxymoron, portmanteau, pseudonym
2. alumni, denizen, despot, emissary, lexicologist, mahatma, mercenary, pariah
3. Omniscient means to have complete knowledge; prescient is a knowledge of things before they happen.
4. derision, enmity, rancor and others
FAQs
A: Here are just a few from our list of 250 8th grade vocabulary words: accolade, acquittal, acrimonious, auspicious, behemoth, cacophony, camaraderie, dalliance, deferential, delineate, didactic, effervescent, enmity, expunge, fastidious, gargoyle, harangue, ignoble, juxtapose, kaput, lassitude, malfeasance, nouveau, opulence, panache, quiescent, ramshackle, satiate, taxonomy, umbrage, vellum, weir, xylem, ziggurat.
A: Sometimes the same words can appear on both lists. But often, we ask students to learn to use vocabulary words fluidly in their writing and conversations that they may not necessarily know the correct spellings of just yet. We should engage students in meaningful activities to learn the correct meanings and usage of vocabulary words, and ask them letter to memorize the correct spellings.  For words on the 8th grade spelling list, however, we ask students to learn to correct spellings right away. Generally, they already have these words in their vocabularies. 
These are lists of spelling words that you may wish to explore with your student. 

Ann Richmond Fisher is a longtime published educational writer, a former classroom teacher and a former homeschool teacher. Ann's spelling bee resources, graded spelling word lists, spelling games, worksheets, and other language arts resources have become respected around the globe since she launched Spelling-Words-Well in 2010.
Ann is also the creator of www.word-game-world.com.
---
8th Grade Vocabulary Words