175  First Grade
Vocabulary Words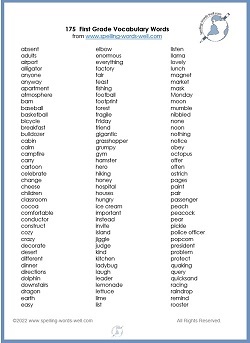 Use this list of 175 first grade vocabulary words throughout the year with students in everyday conversations and in written work. Using these words regularly helps to enrich students' vocabularies.
This mega-list is arranged in alphabetical order. Use the printable list of 175 1st grade vocabulary words for students, parents and for your own reference.  Below this list you'll find 100 of the words arranged in ten meaningful categories on a second printable page. 
Both lists were compiled using multiple textbooks and online resources.
175  First Grade Vocabulary Words
Printable list of 175 1st Grade Vocabulary Words
absent
adults
airport
alligator
anyone
anyway
apartment
atmosphere
barn
baseball
basketball
bicycle
breakfast
bulldozer
cabin
calm
campfire
carry
cartoon
celebrate
change
cheese
children
classroom
cocoa
comfortable
conductor
construct
cozy
crazy
decorate
desert
different
dinner
directions
dolphin
downstairs
dragon
earth
easy
elbow
enormous
everything
factory
fair
feast
fishing
football
footprint
forest
fragile
Friday
friend
gigantic
grasshopper
grumpy
gym
hamster
hero
hiking
honey
hospital
houses
hungry
ice cream
important
instead
invite
island
jiggle
judge
kind
kitchen
ladybug
laugh
leader
lemonade
lettuce
lime
list
listen
llama
lovely
lunch
magnet
market
mask
Monday
moon
mumble
nibbled
none
noon
nothing
notice
obey
octopus
offer
often
ostrich
pages
paint
pair
passenger
peach
peacock
pear
pickle
police officer
popcorn
president
problem
protect
quaking
query
quicksand
racing
raindrop
remind
rooster
repeat
report
running
Saturday
school
search
serious
shout
skateboard
slippery
soccer
space
special
splendid
squirm
stomp
suddenly
sun
Sunday
surprise
swimming

teeth
theater
Thursday
tiptoe
tough
toward
towering
trainer
trudge
truth
Tuesday
tumble
tutor
uncomfortable
useless
usually
vacation
vase
verse
video

vine
walrus
Wednesday
whale
wiggle
workshop
wreck
writer
wrong
x-ray
xylophone
yacht
yourself
zero
Teacher's Tips:
As a former classroom teacher and home school teacher, here are my suggestions for using this huge word list for 1st graders:
Introduce early learners to just 3 or 4 words at time. Be very clear on word meanings as you use each new word in context.
Initially, focus only on the primary meaning of each word you introduce. For instance, the word paint usually refers to colored liquid that goes on art paper or walls. It is also a popular computer graphics program. For first graders, stick with the artist's/wall covering definition!
Use a lot of repetition in multiple ways. For instance, talk about the word and write about the word. Point out the word when someone else uses it, or when you see it in a library book or on a school display. 
Assign first graders to work in groups of 2 or 3 to write short sentences together using the new vocabulary words.
See more ideas for using these words for individual students. 
Shorter List of 100 First Grade Vocabulary Words
I've chosen 100 words from the big list above and placed them into useful categories that will help kids more quickly understand their meanings. Print copies of this list so that students can keep one in their desks or at home to review at their leisure.
Here's a peek at the printable page. The full version also appears below. 

Remember, these are words that students in first grade should be comfortable using orally. They may not be able to read and write them at first. But you can help them work on those skills, too!  Does your child already know some of these words? That's great! Have fun using the words frequently in family discussions.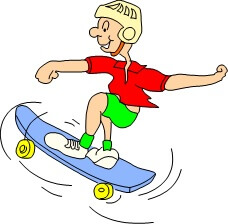 Sports:  soccer, basketball, baseball, fishing, swimming, racing, running, football, gym, skateboard
People: friend, children, adults, president, police officer, conductor, passenger, judge, writer, hero

Eating: breakfast, lunch, dinner, kitchen, cocoa, cheese, peach, pear, lettuce, pickle, ice cream, honey

Outdoors: earth, moon, sun, space, atmosphere, forest, desert, island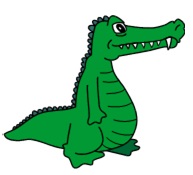 Animals: alligator, dolphin, dragon, grasshopper, hamster, ladybug, llama, octopus, ostrich, peacock, rooster, walrus, whale
Calendar: Sunday, Monday, Tuesday, Wednesday, Thursday, Friday, Saturday

Adjectives: cozy, different, important, hungry, serious, slippery, crazy, splendid, fragile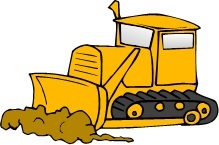 Action verbs: carry, change, construct, decorate, laugh, listen, jiggle, wiggle, celebrate, squirm, tiptoe, shout
Compound Words: anyone, anyway, everything, campfire, classroom, downstairs, footprint, popcorn, nothing, airport, bulldozer
Buildings: apartment, factory, cabin, barn, school, houses, theater, hospital

Do you want MORE words?
Of course, this is not a complete list of first grade vocabulary words! It's not too early to teach your child simple contractions. It's also good to teach and review number words.  
Extension Activities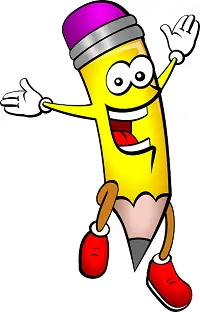 Copy one word on a piece of lined paper. Then, ask your child to do one or more of these things:
Draw a picture about the word.
Add another word from the list. Can you write a sentence together using both words?
Cut the letters that spell the word from a newspaper or magazine, and glue the letters onto the page
Ask your child to write his/her favorite word from each category on a large piece of paper. Help him/her to write a story that uses most of these words.

More First Grade Resources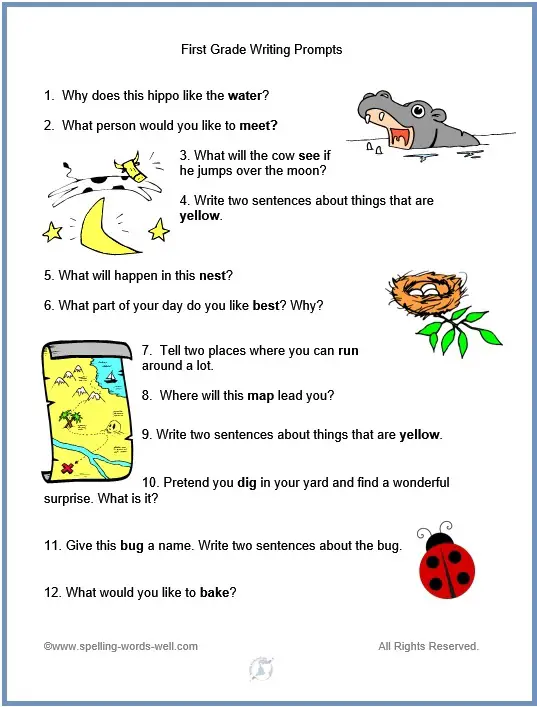 First Grade Writing Prompts  - What would the cow see if he jumped over the moon? Where will the treasure map lead you? What part of the day do you like best? Find nine more similar writing prompts. GREAT VOCAB PRACTICE!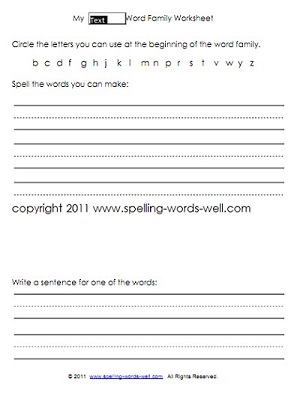 Word family 1st grade worksheets - Worksheet and booklet templates so your 1st graders can practice any word family anytime!  Some popular word families for 1st grade worksheets include: ab, ag, all, an, and, at, en, end, et, ig, ill, in, it, op, ot, ug, un, and ut.  These can all be used in this flexible template.

See our entire collection of Phonics Games & Activities. You're sure to find something just right for the skills your kids need to practice!

First Grade Worksheets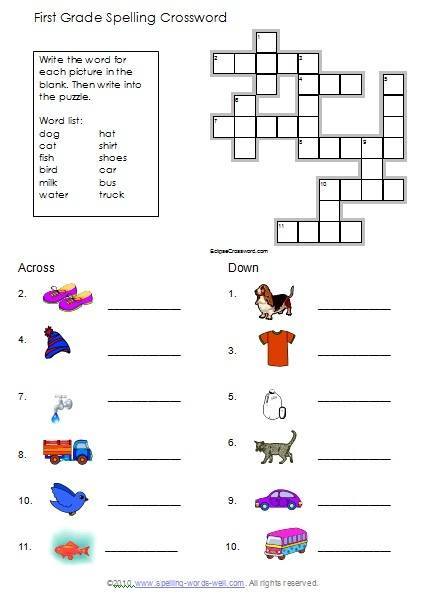 Printable Puzzles - First grade spelling and vocabulary should always include some fun puzzles and worksheets. We all know that first graders need lots and lots of practice at mastering all kinds of  words. So why not make it fun? Find a crossword and word search puzzle on this page. 

All Vocabulary Lists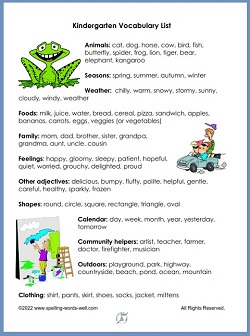 Kindergarten Vocabulary Words - 175 engaging, empowering vocabulary words, in alphabetical order, that every kindergartner should be learning. Use our convenient printable page. A second list features 100 of the words in helpful categories such as shapes, feelings, community helpers and more. 
First Grade Vocabulary Words - 175 great vocab words on a variety of topics for 1st grade students to learn to use in conversation, along with suggested activities. 100 words appear in meaningful categories including sports, animals, compound words and more. 
Second Grade Vocabulary Words : 200 words for 2nd grade students to learn and enjoy! 100 of the words are arranged in helpful categories and are arranged on an engaging printable for your students. Challenge your second graders with more words to use in their speaking and written vocabularies.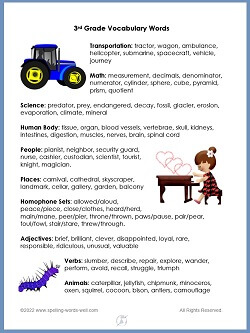 3rd Grade Vocabulary Words - 200 words to boost your child's spoken and written language skills, arranged alphabetically!  Print the complete list from the web page for best results. 100 of the words also appear in an engaging printable, arranged by helpful topics. 
4th Grade Vocabulary Words - 200 4th grade vocab words to keep your students on track all year long! Half of the words are also arranged in meaningful categories to help students with word meaning.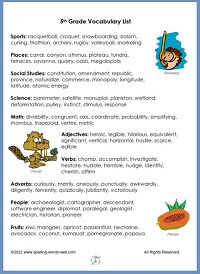 5th Grade Vocabulary Words - Boost your fifth graders' spoken and written vocabularies with this BIG list of 200 words, arranged in alphabetical order. I've also selected 100 of these words to put into 10 engaging topics. Try the extension activities for best results!
6th Grade Vocabulary Words - Improve your students' understanding of LOTS of areas of learning by covering these 200 important words! I've included many ways to put these words into use, and I have links to other related pages, too!
7th Grade Vocabulary Words - Here are 240 challenging words to stretch your upper grade students this year! Follow all the tips and extra activities listed to get the most out of this mega list of vocabulary words!
NEW! 8th Grade Vocabulary Words - Stretch your own vocabulary as well as your students' with this challenging list of 250 words! Lots of extension activities are also included. 
---
These are lists of  sight words and spelling words that you may wish to explore with your student. 

Ann Richmond Fisher is a longtime published educational writer, a former classroom teacher and a former homeschool teacher. Ann's spelling bee resources, graded spelling word lists, spelling games, worksheets, and other language arts resources have become respected around the globe since she launched Spelling-Words-Well in 2010.
Ann is also the creator of www.word-game-world.com.
---
First Grade Vocabulary Words