5th Grade  Vocabulary Words

Use these 5th grade vocabulary words to enrich your students' learning, as well as their written and spoken language skills. Words appear first in alphabetical order.
Below this big list, you'll also find 100 of the words arranged in ten categories. I've created an engaging printable page that students will use and refer back to frequently throughout their fifth grade year.
5th Grade Vocabulary Words
Printable list of 200 5th Grade Vocabulary Words
accomplish
acre
administer
affirm
aggravation
allergy
amendment
anxiously
appropriate
apricot
archaeologist
archery
aroma
arrogant
artichoke
associate
asteroid
atomic energy
avalanche
avocados
awkwardly
axis
barometer
beret
blockade
boomerang
brochure
canal
candidate
canyon
cartographer
cherish
chomp
coconut
commerce
congregation
congruent
consequently
constellation
constitution
coordinate
croquet
curiously
curling
deceive
deforestation
dehydrated
descendant
diligently
diplomat
distinguish
divisibility
durable
edible
eject
electrician
embarrassment
endurance
engulf
enthusiasm
equivalent
expedition
export
extinguish
factorization
fatigue
favorable
federal
fervently
flexibility
foliage
formation
fortify
frequency
friction
galaxy
gazelle
genuine
geologist
geothermal
geyser
glacial
gnaw
goalie
granola
gully
gutsy
habitat
hastily
headquarters
heroic
hesitate
hilarious
historian
hobnob
homestead
hoodwink
horizontal
hostile
humbly
identify
instinct
interpret
investigate
isthmus
jubilantly
kinetic
kiwi
kumquat
latitude
legible
ligament
longitude
mangoes
manipulate
maritime
marrow
marsupial
megalopolis
merrily
metamorphosis
metric
monopoly
naturalize
naval
navel
nectarine
neutral
nucleus
nudge
oasis
outcome
papaya
paralegal
parallelogram
parasite
passionfruit
pasteurize
perennial
perimeter
petroleum
photosynthesis
pioneer
plankton
plateau
pomegranate
potential
probability
proclamation
province
pulley
punctually
quadrilateral
quarry
quizzically
racquetball
radiation
reforestation
regeneration
republic
respiration
response
rhombus
rugby
satellite
savanna
scarce
scavenger
secede
sensory
sequence
significant
simplifying
slalom
snorkeling
snowboarding
software engineer
sorghum
stimulus
strait
synthetic
tendon
tentacle
terraces
thermostat
transpiration
trapezoid
tremble
triathlon
troposphere
tsunami
tundra
tungsten
vascular
vertex
tertical
victoriously
vogue
volleyball
wetland
Teacher's Tips: 
As a former sixth grade teacher, I know my job would have been much easier, if most of my incoming students had known these words...or even HALF of them! I realize that 200 5th grade vocabulary words is a lot to put on students all at once. So here are a few tips:
When possible, introduce new words naturally in discussions and in reading materials
Introduce no more than 10 new vocab words at a time to fifth graders
Use the shorter list below, and the engaging printable page to help!
See my guide below to more ways to use these words
Shorter List of 100 Fifth Grade Vocabulary Words
I've chosen 100 words from the big list above and arranged them in useful categories to help students quickly understand their meanings. Students can keep their own copies of the list in their desks, notebooks, lockers or at home to review frequently.   
Here's a peek at the printable page. The full version also appears below. 
Remember, these 5th grade vocabulary words are ones that students should be comfortable using orally.  As students become more comfortable in this, expect them to use the words in their written work as well. Use the words frequently in home or classroom discussions. Write the words on the fridge or on the board to encourage their usage. 


Snorkeling
Sports: racquetball, croquet, snowboarding, slalom, curling, triathlon, archery, rugby, volleyball, snorkeling
Places: canal, canyon, isthmus, plateau, tundra, terraces, savanna, quarry, oasis, megalopolis

Social Studies: constitution, amendment, republic, province, naturalize, commerce, monopoly, longitude, latitude, atomic energy

Science: barometer, satellite, marsupial, plankton, wetland, deforestation, pulley, instinct, stimulus, response

Math: divisibility, congruent, axis, coordinate, probability, simplifying, rhombus, trapezoid, vertex, metric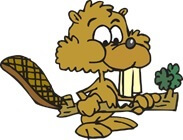 Chomp!
Adjectives: heroic, legible, hilarious, equivalent, significant, vertical, horizontal, hostile, scarce, edible                             
Verbs: chomp, accomplish, investigate, hesitate, huddle, tremble, nudge, identify, cherish, affirm
Adverbs: curiously, merrily, anxiously, punctually, awkwardly, diligently, fervently, quizzically, jubilantly, victoriously

Papaya
People: archaeologist, cartographer, descendant, software engineer, diplomat, paralegal, geologist, electrician, historian, pioneer
Fruits: kiwi, mangoes, apricot, passionfruit, nectarine, avocados, coconut, kumquat, pomegranate, papaya

A Guide to Using These Vocab Words: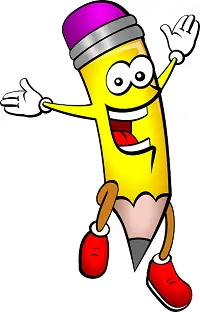 Choose from these extension activities to give your child/students extra practice with the 5th grade vocabulary words. Add more activities of your own. 
1) Find one pair of adjectives on the list with opposite meanings. Can you find another pair of words from a different category with similar meanings? How are the word pairs alike? How are they different?
2) Research the jobs of a diplomat, a cartographer and a geologist to find out what each one does, if you don't know already. Write a few sentences about which career you would choose of these three, and why. 
3) Write a sentence or two about some of these topics:
Do you know if you are the descendant of a famous person? If so, whom? Why is this interesting to you?
Which is your favorite fruit on the list, and why? 
Suppose you had 9 cards each numbered from 1 to 9. If you randomly select one card with your eyes closed, is there a greater probability of selecting an odd-numbered card or an even-numbered card? Why?
What amendment would you like to add to the U.S. Constitution? Why?
Write a few sentences about your first time trying the slalom. Your sentences can be fiction or non-fiction.
Write about a time that your or someone you know acted in an heroic manner. 
4) Work with a partner or family helper to write a one-page article about your favorite marsupial. Draw a picture to go with your article. 

More Fifth Grade Resources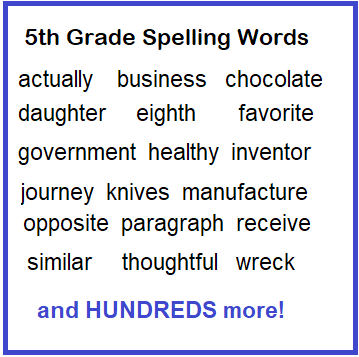 5th grade spelling words - A gigantic list of 300 words typically included in fifth grade spelling programs. Use these for making your own spelling word games, worksheets or extra oral practice. 
5th grade lesson plans - Spelling dictation has never been so simple for teachers and parents! I've written 30 ready-to-go sentences using lots of words on the 5th grade spelling word list. Dictation lessons give students practice with listening, writing and spelling. What could be better?  After you've tried my sentences, write your own sentences using some of the words on this 5th grade vocabulary list.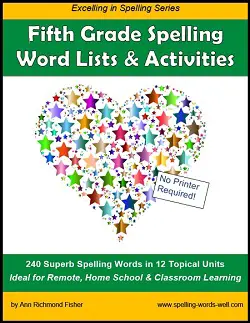 Fifth Grade Spelling Words and Activities will provide excelling spelling practice with 240 grade-level words across 12 topical units. Lots of different activities are provided to make learning enjoyable. Learn more and download free sample pages here.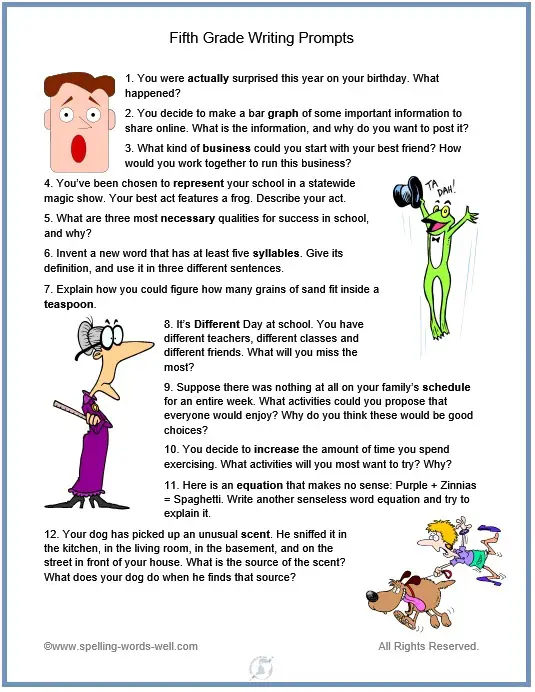 5th Grade Writing Prompts, Set #1 - Tell us about your magic frog act. Tell us how to measure the number of grains of sand in a teaspoon. Tell us how to succeed in school.  Your students will enjoy responding to these fifth grade writing prompts for kids! For an extra challenge, require students to use a specific number of words from the 5th grade vocabulary list in their responses.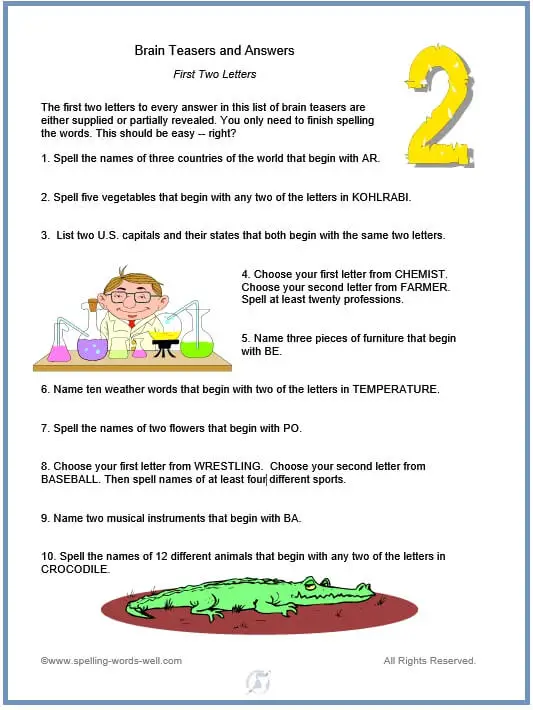 First Two Letters - The first two letters to every answer in this list of brain teasers are either supplied or partially revealed. You only need to finish spelling the words. It's a challenging brain teaser activity for your fifth graders to solve on their own or with a friend. 
Fifth Grade Worksheets
My free worksheets provide more practice with my 5th grade vocabulary list and important grade-level spelling words. Teachers, use these pages to supplement your classroom instruction. Parents, print them out for your kids to get some fun extra practice with important word skills.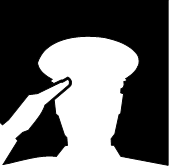 At-TEN-tion!  Complete the spellings of words with the letters TEN on this fun English worksheet. This activity provides great vocabulary and spelling practice for fifth graders and other upper level students.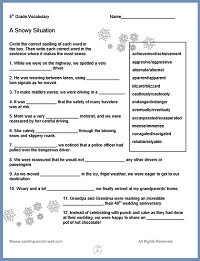 A Snowy Situation - Give students valuable spelling AND vocabulary practice with this engaging worksheet. Fifth graders will test their vocabulary and spelling skills as they read a fun story. They'll need to select the CORRECT word, and also its correct spelling! 

Opposites Unscramble 16 words, then match each on up to an opposite that's also in the list. Fun two-part activity for extra vocab practice

All Vocabulary Lists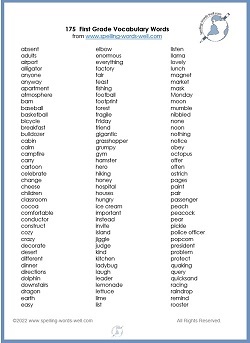 Kindergarten Vocabulary Words - 175 engaging, empowering vocabulary words, in alphabetical order, that every kindergartner should be learning. Use our convenient printable page. A second list features 100 of the words in helpful categories such as shapes, feelings, community helpers and more
First Grade Vocabulary Words  1st graders will enjoy this great list of 175 words! Find them first in alphabetical order, then secondly, see 100 of the words in 9 popular categories including sports, people, animals, the outdoors, compound words and more! Use these words to build vocabulary skills in ESL students and every other student, too!   What about desert with a dragon, or lunch with a llama
Second Grade Vocabulary List : 100 words for 2nd grade students to learn and enjoy!  Challenge your second graders with more words to use in their speaking vocabularies.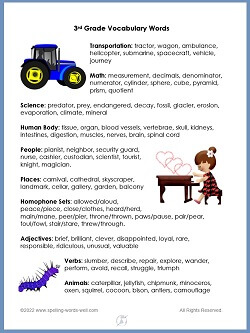 3rd Grade Vocabulary Words - 200 words to boost your child's spoken and written language skills, arranged alphabetically! Print the complete list from the web page for best results! One hundred of the words also appear in an engaging printable, arranged by helpful topics. 
4th Grade Vocabulary List - 200 4th grade vocab words to keep your students on track all year long! Half of the words are also arranged in meaningful categories to help students with word meaning.
---
FAQs
A: 5th grade vocab words can fall into subject area categories, such as science, social studies, math and parts of speech, like adjectives, verbs, and adverbs. General topics may include people/occupations, sports, music, places, fruits, other foods and many, many more.
A: Here are 20 of my favorite words that fit this description: isthmus, plateau, constitution, amendment, divisibility, trapezoid, marsupial, plankton, archaeologist, descendant, racquetball, slalom, pomegranate, avocados, equivalent, hilarious, accomplish, investigate, quizzically, and awkwardly. 
These are lists of spelling words that you may wish to explore with your student. 

Ann Richmond Fisher is a longtime published educational writer, a former classroom teacher and a former homeschool teacher. Ann's spelling bee resources, graded spelling word lists, spelling games, worksheets, and other language arts resources have become respected around the globe since she launched Spelling-Words-Well in 2010.
Ann is also the creator of www.word-game-world.com.
---
5th Grade Vocabulary Words