Free English Worksheets

"Ex" Marks the Spot!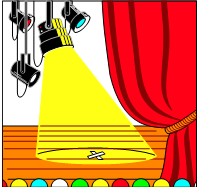 We have lots of free English worksheets, including this crossword that provides great spelling and vocabulary practice.

Answers in this crossword begin with the letters EX. See clues and answers below the diagram. Note: If you solve this quickly, you should be EXceedingly happy. Others should EXTOL your talent and EXcellent abilities!
"Ex" Marks the Spot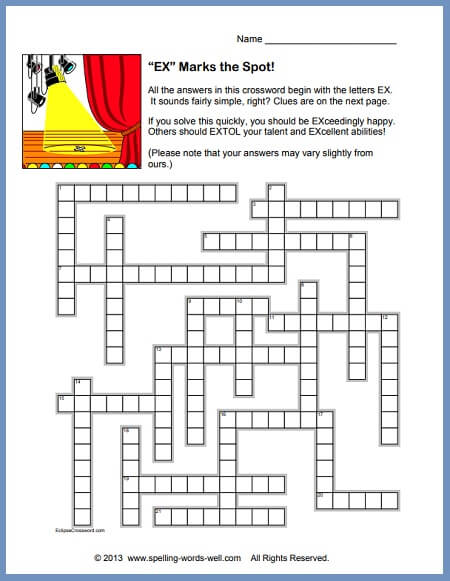 Crossword Clues

Across

1.    Careful noting of details
3.    King Arthur's sword
5.    Make more violent or severe
7.    Impromptu
9.    Do extremely well
11.  Form a cavity or hole in something
13.  Cause irritation or annoyance
15.  Cry out in strong emotion
16.  Investigate or look into
19.  Enlarge beyond the truth
20.  Elevate by praise
21.  Unremittingly severe in making demands
Down

1.    Mathematical symbol written to show the raising of a power
2.    More than the usual, or proper, amount
4.    Fine wood shavings used for packing
6.    Easily roused into action or irritability
8.  In Great Britain, the government department in charge of public revenues
9.    An increase in size or scope
10.  With the exclusion of
12.  To give up something for something else
13.  Serves as a pattern
14.  Sudden noisy burst of energy
16.  Passage from a book
17.  Tax levied on certain commodities
18.  To be greater than or superior to
My  Puzzle Answers
(Yours may be slightly different)
More Free English Worksheets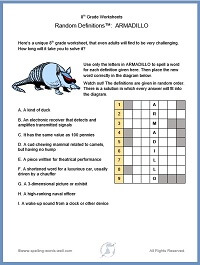 It's a Disaster! - Hilarious spelling and grammar worksheet that provides practice with past participle verbs. Students will enjoy working through each sentence to read the surprise ending. 
8th Grade Worksheet featuring an ARMADILLO! Students must form a word for each clue using only the letters in ARMADILLO, then place the words correctly into the diagram. Great vocab and spelling practice!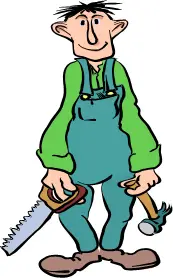 Assembly Job - Reassemble 24 small words to form 12 larger (mostly) familiar words. Great worksheet for vocabulary and spelling practice! For example, nap + kin can form napkin. Some small words can be combined in more than one way, making this a tricky, but FUN page!  For grades 5-7.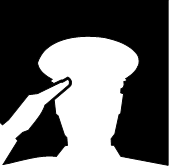 At-TEN-tion!  Complete the spellings of words with the letters TEN on this fun English worksheet. Great vocabulary and spelling practice!

Free Spelling Worksheets - Can You Spell Well?: If students correctly identify the misspelled words, they'll shade the page to reveal in interesting word.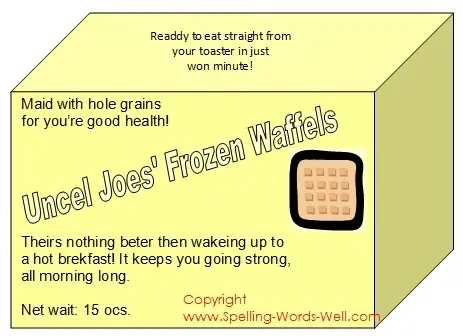 Wacky packages! - Find the spelling errors on these whimsical boxes.  One of our most popular pages!
Fill-in Crossword Puzzles: Practice tricky word endings in two fun puzzles. I've used important words from the fourth grade spelling word list.  

Silent Letter Search: Word search fun! Students must add the correct silent letters and then locate the completed words in the puzzle in another one of our free English worksheets.
If you like challenging word play games, as well as crosswords, word searches, anagrams and word scrambles, please visit my other website!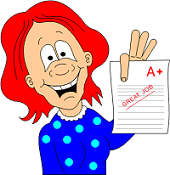 Check out our AnyWord Book Series! Three eBooks of fun worksheets, games and partner activities that you can use with Any spelling words!
It Pay$ to $ Spell!: Combine math skills and spelling practice in these fun pages that you can use with any spelling words throughout the year. 
Hard Word Search Puzzle and Mystery Scrambles: Two challenging worksheets  to stretch spelling and vocabulary skills in upper grades.

Ann Richmond Fisher is a longtime published educational writer, a former classroom teacher and a former homeschool teacher. Ann's spelling bee resources, graded spelling word lists, spelling games, worksheets, and other language arts resources have become respected around the globe since she launched Spelling-Words-Well in 2010.
Ann is also the creator of www.word-game-world.com.
---