Sixth Grade Spelling Words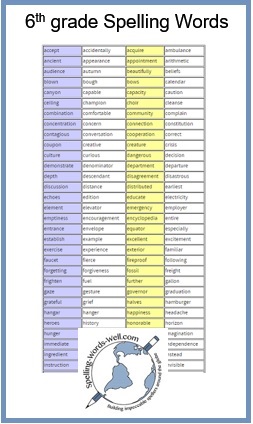 You'll notice that our sixth grade spelling words look a lot more difficult than our fifth grade spelling words! Why is the difficulty level so much greater?

1.  Students' vocabularies are increasing rapidly.
2.  Sixth graders are using words with more and more prefixes and suffixes. (Examples: unbelievable, independence)
3.  Other subject areas, like math and science, require students to know how to spell harder words. (Examples: denominator, pollution)
List of Sixth Grade Spelling Words
Printable version of our Sixth Grade Spelling Words
| | | | |
| --- | --- | --- | --- |
| accept | accidentally | acquire | ambulance |
| ancient | appearance | appointment | arithmetic |
| audience | autumn | beautifully | beliefs |
| blown | bough | bows | calendar |
| canyon | capable | capacity | caution |
| ceiling | champion | choir | cleanse |
| combination | comfortable | community | complain |
| concentration | concern | connection | constitution |
| contagious | conversation | cooperation | correct |
| coupon | creative | creature | crisis |
| culture | curious | dangerous | decision |
| demonstrate | denominator | department | departure |
| depth | descendant | disagreement | disastrous |
| discussion | distance | distributed | earliest |
| echoes | edition | educate | electricity |
| element | elevator | emergency | employer |
| emptiness | encouragement | encyclopedia | entire |
| entrance | envelope | equator | especially |
| establish | example | excellent | excitement |
| exercise | experience | exterior | familiar |
| faucet | fierce | fireproof | following |
| forgetting | forgiveness | fossil | freight |
| frighten | fuel | further | gallon |
| gaze | gesture | governor | graduation |
| grateful | grief | halves | hamburger |
| hangar | hanger | happiness | headache |
| heroes | history | honorable | horizon |
| hunger | hyphen | ignore | imagination |
| immediate | importance | improvement | independence |
| ingredient | injury | inquire | instead |
| instruction | intermission | interview | invisible |
| invitation | involve | jealous | junior |
| knowledge | lawyer | league | legal |
| liberty | liquid | listening | loaves |
| location | luggage | manager | manner |
| manor | marriage | meant | mechanic |
| medicine | mention | minus | minute |
| mistaken | misunderstand | mixture | mourn |
| multiple | muscle | museum | musician |
| mute | myth | nationality | negative |
| noisy | noticeable | novel | numerator |
| obtain | occur | official | operate |
| original | outline | partial | passenger |
| patient | penalty | penguin | percent |
| performance | personal | persuade | physical |
| piano | plumber | poem | poet |
| policy | pollute | pollution | positive |
| potatoes | predict | prefer | pressure |
| prevent | principal | private | project |
| pumpkins | purchase | purse | quote |
| radius | rapid | ratio | realize |
| recently | recycle | reduce | referred |
| regardless | regular | rehearse | relief |
| relieve | remarkable | remind | remote |
| replacement | replied | reply | requirement |
| rescue | resident | resources | respectful |
| review | roam | routine | rumor |
| rural | safety | sailor | salute |
| satisfy | scarcely | scientific | scissors |
| selection | senior | sentence | separately |
| serious | session | shampoo | shelves |
| shorten | silent | simply | sketch |
| skillful | solar | sought | spaghetti |
| sponge | squawk | storage | strain |
| strategy | strength | strive | struggle |
| studios | success | suggestion | support |
| surrounded | sword | system | telephone |
| television | temperature | theme | themselves |
| therefore | thicken | thousand | threat |
| tomatoes | trophies | tutor | unbelievable |
| underneath | unite | vacuum | vain |
| variety | vary | vault | vegetable |
| vein | violence | visible | vision |
| waste | who's | whose | wrestle |
| wrinkle | yield | | |
If these sixth grade words aren't quite right, try these:
More Sixth Grade Spelling Resources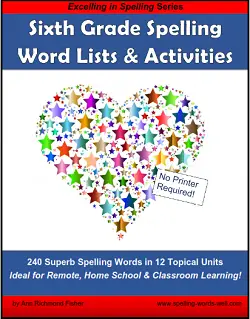 Sixth Grade Spelling Word Lists and Activities provide extra practice for your students with 240 spelling words, using a wide range of activities. Go to the full description page where you can view samples and purchase your own copy immediately! Great for home school, remote learning and in-person classrooms.
You May Also Enjoy...
6th Grade Spelling Bee Words - Prepare your child for a spelling bee competition with this word list.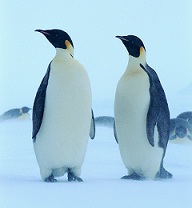 Try using our dictation sentences for a fun way to practice sixth grade spelling words!  I've composed twenty grade-appropriate sentences, using spelling words from this list for you to use as a dictation exercise. Use a few or a lot at any time! Use my sentences as models to write more of your own. Tips included for giving dictation.
Cryptogram Worksheet: Puzzle page for upper grades. Includes instructions so students, parents or teachers can make more cryptogram puzzles with any word list. You really have to know how to spell well to write and solve these fun, challenging word puzzles. If you really like cryptogram puzzles, please visit my other website!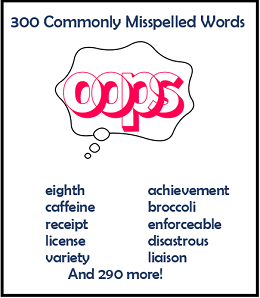 NEW!   300 Commonly Misspelled Words - Skim this long list of words to find the ones you misspell the most often. Then follow the tips on this page to master their correct spellings. Why make the same mistakes over and over again when you CAN improve your spelling skills?! A free printable page is included, along with many additional helpful resources.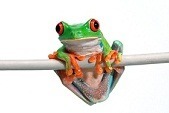 Croaky Meets the Plumber and Extra Letters Worksheets: Students chose the correctly spelled words to complete an interesting story or eliminate extra letters to solve a word puzzle.
Fifty-Fifty - Fun word game for kids. Older students earn points as they engage in word play and spelling fun.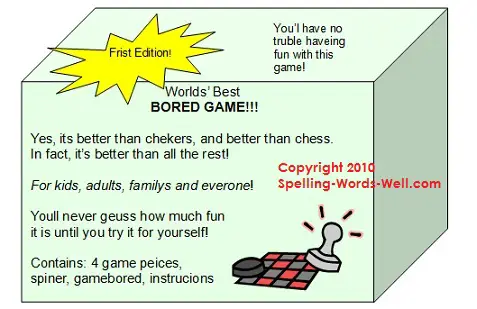 Wacky packages! - Find the spelling errors on these whimsical boxes.  One of our most popular pages! Students must carefully read a box of frozen waffels (?) or a bored (?) game box for more wacky misspelled words. Kids LOVE to find other people's mistakes!
Find the Right Words: Students identify correctly spelled words in a list and then find them in a fun word search puzzle.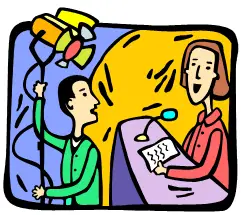 Spelling Quizzes from the Evening News - 4 fun spelling exercises. Can your students find and correct all the mistakes in these news reports?
We have a wide assortment of Spelling Worksheets and Spelling Word Games. You may also be interested in our resources for 7th-9th grade.

FAQs
A: accidentally, ancient, beliefs, capacity, cooperation, descendant, electricity, governor, honorable, immediate, inquire, league, medicine, noticeable, persuade, radius, scientific, system, temperature, vacuum
A: Most sixth graders will be able to spell the easier homophones, most  abbreviations, all calendar words and all number words. 
Sign Up Here for My Free Newsletter

---

Ann Richmond Fisher is a longtime published educational writer, a former classroom teacher and a former homeschool teacher. Ann's spelling bee resources, graded spelling word lists, spelling games, worksheets, and other language arts resources have become respected around the globe since she launched Spelling-Words-Well in 2010.
Ann is also the creator of www.word-game-world.com.