Free Spelling Worksheet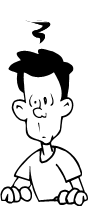 This free spelling worksheet uses a fun format that you can use over and over again with almost any grade. We all know how much students love to do word search puzzles, and this one has a fun educational twist!
We used words from our list of fifth grade spelling words for this worksheet. Don't miss our tips on using classroom worksheets in the yellow box below.

What's Right?
The word list contains 50 words, but only 30 of them are spelled correctly. Students will find only the correctly spelled words in the puzzle.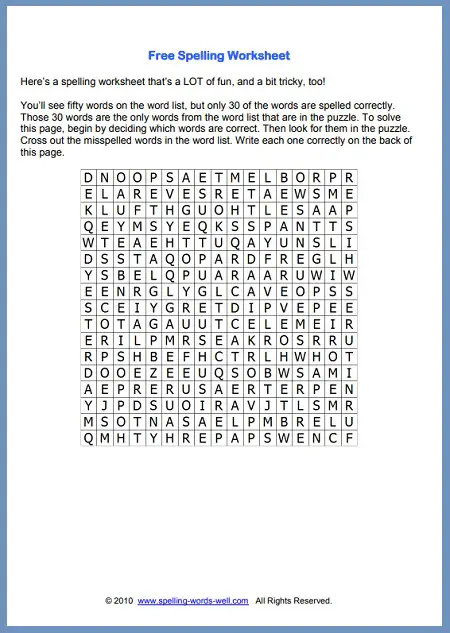 Get the printable free spelling worksheet and word list. You'll also want the solution.
Directions and Word List

Identify the correctly spelled words from this list, then find them in the puzzle. On the printable page, students will also correct the misspelled words.

acter

annuel

celebrate

choclate

different

finaly

furniture

goverment

happyly

insturment

intresting

majer

manufacture

material

memories

neccesary

newspaper


niether

notbook

opposite

paragraph

pattren

perhaps

pleasant

problem

process

puzzel

rhythm

separate

service

several

shoulder

signal

sincerly


slippry

squeeze

stoping

suggest

supply

sweater

syrup

teaspoon

thoughtful

treasure

usually

various

whisper

whoever

wierd

yesterday




Tips for Using Classroom Worksheets

1. Make sure worksheets are age- and skill-appropriate. Don't frustrate students with pages that are extremely difficult. Don't bore them (and waste everyone's time, including yours!) with pages that are way too easy.

2. Assign worksheets that reinforce important skills you're teaching in the classroom. It's okay to give fun pages; just make sure that pages aren't "busy work."

4. Expect students to complete pages in a timely manner. Make it clear when the paper is due back on your desk.
5. Reinforce responsible behavior with a sticker, words of praise, or some other recognition.

More Free Spelling Worksheets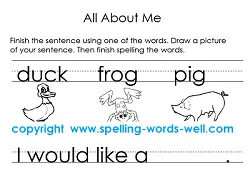 Literacy worksheets for early learners - We've combined spelling, reading and writing in these engaging pages. For grades K-2
2nd Grade Worksheets : A special collection for second graders. Some pages will benefit kids a bit older or younger, so be sure to check them out! For grades 1-3.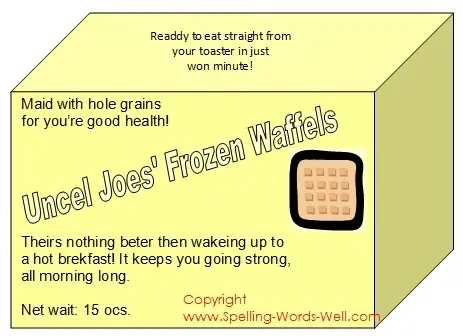 Free teacher worksheets for spelling - Wacky packages! - Find the spelling errors on these whimsical boxes.  For grades 4-6.

Fill-in crosswords: These unique puzzles use important words from our fourth grade spelling word list. Lots of puzzling fun!

Spelling word puzzlers: Students chose the correctly spelled words to complete an interesting story or eliminate extra letters to solve a word puzzle. Based on our sixth grade spelling word list. Suitable for grades 5-7.
---