Commonly Misspelled Words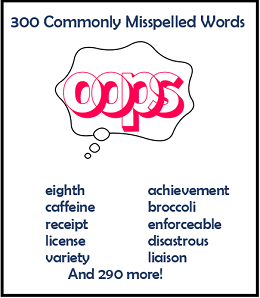 The most commonly misspelled words are...well, very common! Rather than making the same mistakes over and over again, or kicking yourself for frequently misspelling the same words, why not conquer these challenging words?
Skim my long list here to find the words which are most difficult for you. Then use some of these practice tips to really learn the correct spellings. (More tips appear at the bottom of this list as well.) Through consistent practice, you can improve your spelling!
Additional words can be found on this list of 102 frequently misspelled words. 
300 Commonly Misspelled Words
Get a printable list of all 300 words.
acceptance
achievement
acquittal
alien
amusement
ancient
apiece
apparently
arrangement
athlete
atmosphere
awkward
basically
beautiful
beige
bellwether
benevolent
bigger
bizarre
blatant
blueberries
bouillon
brief
broccoli
burglar
caffeine
canoeing
capably
changeable
chaos
character
clientele
compelled
conceit
consequence
cousin
controller
deceitful
depth
deterrent

diesel
dilemma
disappoint
disastrous
dissatisfied
dissolve
dying
earliest
eerie
efficiency
eighth
eightieth
either
enforceable
escalator
example
extraordinary
fancier
fashionable
fifteenth
fiftieth
fifty
fluorescent
forfeit
forgetting
formatted
fortieth
forty
fourteen
freight
frontier
ghastly
ghostwriter
glacier
grief
gymnasium
gymnast
happening
harass

heighten
heirloom
heist
hierarchy
honor
humiliation
humidity
humorous
humongous
hundred
hurriedness
hygiene
identity
ignorance
inconvenient
inevitable
illegal
illegible
illogical
illusion
imaginary
immeasurable
impasse
imperfection
impossibility
improvement
inauguration
incidentally
inconvenient
independence
infinity
influence
ingredient
innocence
innumerable
instructor
interruption
inventor
irresistible
jacquard
jaguar
janitor

jaundice
jealousy
jewelry
journey
juicy
juror
juvenile
kerosene
kettle
khaki
kindergarten
kiosk
kiwis
knickknack
knives
knowledge
laboratory
lacquer
language
larynx
lasagna
lately
laughable
laundry
league
leapt
legendary
legislature
lenient
length
leopard
lesion
liaison
license
licorice
lieu
lieutenant
lineage
liquefy
listened
literally
loathsome

loaves
lounge
luckily
luggage
luncheon
luxurious
machinery
magician
magnificence
maintenance
mammal
management
marriage
mathematician
meant
measurement
mechanic
medicinal
mediocre
memento
millennium
mischief
misspelled
misshapen
muscle
necessarily
neighbor
neither
neutral
nickel
nineteen
ninety
nocturnal
notoriety
nucleus
occurrence
opened
outrageous
outweigh
parliament
patience
perceive
permanent

persuade
phenomenon
pickle
piece
player
potpourri
pretzel
propeller
protein
quadrilateral
quadruple
qualifying
quandary
quantify
quarrel
questionnaire
quietly
quizzical
quotient
rebellion
receipt
rectangular
recurrent
reeducate
reelect
reexamine
regretted
reindeer
relieve
resilient
retrieve
running
sabotage
safety
salary
scarcity
scenery
scholar
science
seismic
seize
serviceable
shield

shopping
siege
sixtieth
sleigh
snowiest
society
sovereign
specific
statement
statistics
stingy
stopping
strategic
studious
supervisor
surveillance
tattoo
tendency
thief
thirtieth
threshold
twelfth
twelve
ultimately
ultimatum
unanimous
unbelievable

unify
unnatural
unnecessary
unnoticed
usually
utility
variegated
variety
vessel
veteran
vulnerable
wearied
wherein
wieldy
x-ray
xylophone
yearning
yield
youngster
zoology
zealous
zenith
zephyr
zoology
Tips for Learning Commonly Misspelled Words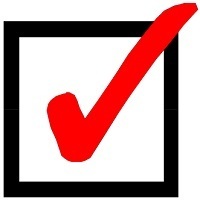 1. Make a list of your most frequently misspelled words. Focus on only the worst three or four words at the beginning. Be sure you know the correct meaning of these words and the correct ways to use them in sentences.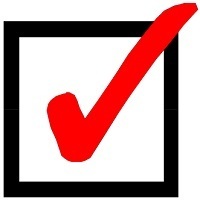 2. Keep these words in a notebook and refer to them often. Look at them. Write them. Type them. Text them. Say them aloud. Spend at least 15 minutes a week reviewing these troublesome words.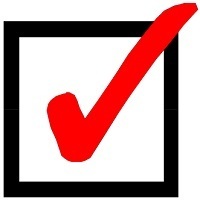 3. Use these words in written work throughout the week. For instance, when you're asked to write spelling sentences or English essays, purposely compose sentences that contain your most challenging words. Or, text them in a humorous message to a friend. Practice, practice, practice.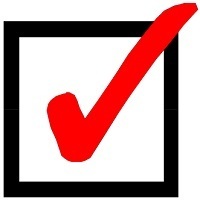 4. When your mastery of these first three or four words improves, add three more words from our list to your notebook and repeat the steps above. Bit by bit, you WILL improve your spelling!

Additional Helpful Spelling Word Lists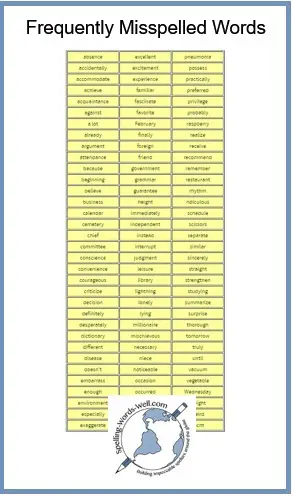 102 Most Frequently Misspelled Words - If you study just one word list on our site, it should be this one. It contains words we use often. They're words you'll want to get right every time! This list is helpful for ESL students, adults and kids in grades 6 and up. If you ever have trouble with words like accidentally, accommodate, definitely, embarrass, familiar, lightning, millionaire, niece, preferred, receive, rhythm, or separate, truly, or vacuum, then this list is for you!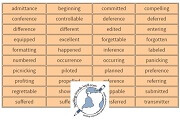 Hard Spelling Words - This list includes words in which it's sometimes hard to remember if the consonants are doubled when suffixes are added. Print out the word list to use with the Step by Step free spelling lesson that explains this skill.

Spelling Demons - Sometimes the words that trip us up are those that are easily-confused with other words, like desert/dessert, lose/loose, and allusion/illusion. Master this list to improve your spelling skills.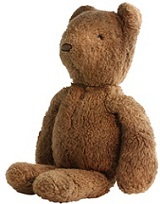 Is the bear bare?
Homophone Sets - One of the best ways to improve spelling skills is by choosing the correct homophone. I've compiled 50 sets in all, complete with definitions, parts of speech and meaningful sentences to help end the confusion between sets of words such as allowed/aloud, capital/capitol, stationary/stationery and many more!
Fun Spelling Practice
Try some of these fun spelling puzzles for even more spelling practice!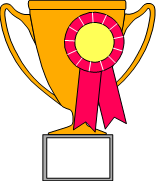 Spelling Bee Challenge - In this unique fill-in crossword, you'll need to place 32 difficult spelling bee words. How many of these words can you spell and/or define?
EX Marks the Spot: All the answers in this crossword begin with EX. Fun vocabulary practice for upper grades!  If you solve this quickly, you should be EXceedingly happy. Others should EXTOL your talent and EXcellent abilities!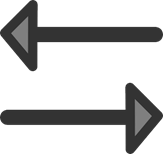 Opposites Unscramble 16 words, then match each on up to an opposite that's also in the list. Fun two-part activity for extra vocab practice!

Ann Richmond Fisher is a longtime published educational writer, a former classroom teacher and a former homeschool teacher. Ann's spelling bee resources, graded spelling word lists, spelling games, worksheets, and other language arts resources have become respected around the globe since she launched Spelling-Words-Well in 2010.
Ann is also the creator of www.word-game-world.com.