Second Grade  Vocabulary List
Use this second grade vocabulary list of 100 words in everyday conversations, in classroom assignments, in word walls and other displays.
You'll be enriching students' spoken vocabularies, and you'll increase their desire to learn more written words, too!
Second Grade Vocabulary List
Here's a peek at the printable page. The full version also appears below. 

Remember, these are words that students in second grade should be comfortable using orally. They may not be able to read and write them at first. But you can help them work on those skills, too!  Does your child already know some of these words? That's great! Have fun using the words frequently in family or classroom discussions.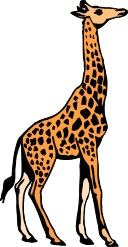 Calendar  January, February, March, April, May, June, July, August, September, October, November, December
Animals:  reptile, mammal, amphibian, insect, cheetah, leopard, porcupine, lizard, raccoon, panda, eagle, cricket, giraffe

Science: force, attract, motion, gravity, environment, extinct, habitat, matter, adapt, cell, atoms, molecules
Math: addition, subtraction, multiplication, division, patterns, symmetry, fraction, place value, rounding

Foods:  spaghetti, hamburgers, macaroni, peanut butter, jelly, chocolate, mango, tangerine, soup, waffles, almonds, salmon, chicken, squash
Homophone Sets: two/to/too, their/there/they're, bare/bear, brake/break, hear/here, its/it's, meat/meet, plane/plain, right/write, your/you're
Adjectives: curious, dangerous, famous, greedy, smooth, steady, weak, nervous, lonely, tiny, wise, pale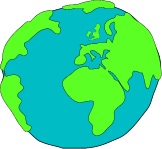 Verbs: arrive, chew, invent, agree, seal, shiver, warn, wonder
People: scholar, citizen, governor, mayor, veteran

Places: village, country, continent, world, universe


Do you want MORE words?
This second grade vocabulary list is certainly not complete! Feel free to add even more second grade sight words,  homophones, or veggies.
Extension Activities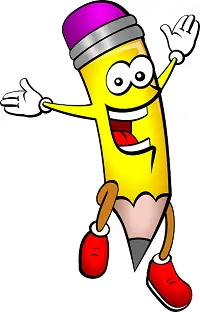 Copy one word on a piece of lined paper. Then, ask your child to do one or more of these things:
Find three words on the list that begin with the same letter. Draw a picture for each of these words.
Write all the words in one category in ABC order.
Ask students to work with a partner to write a story using at least 6 words on the list. Allow time for them to draw at least one picture about the story. 

More Second Grade Resources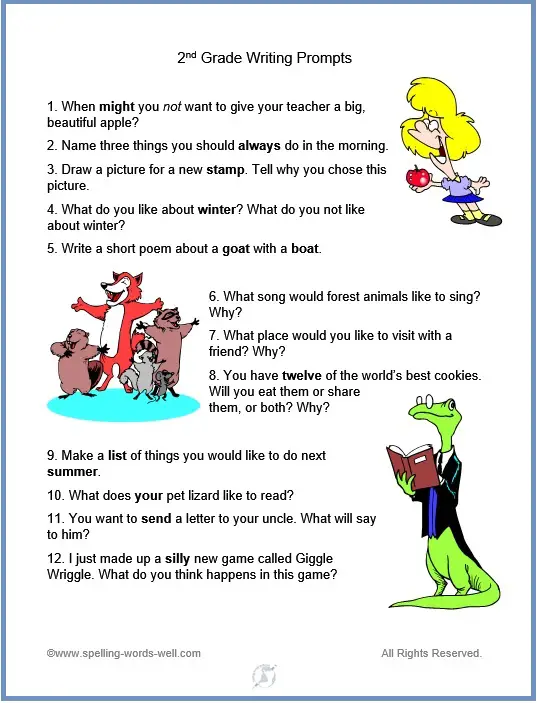 2nd Grade Writing Prompts  - What does your pet lizard like to read? When should you NOT give your teacher a big red apple? What should always do in the morning? Your early learners will love these 2nd grade writing prompts for kids!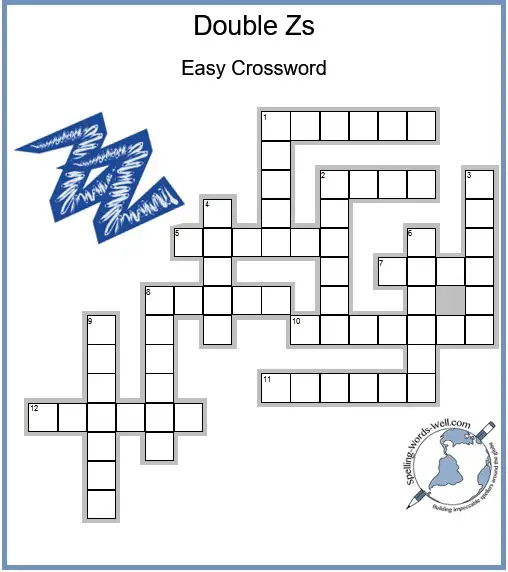 Double Z Crossword Puzzle - Help your child build more vocabulary skills as you complete this fun crossword together! It features 15 words that are spelled with double Zs. 
Second Grade Worksheets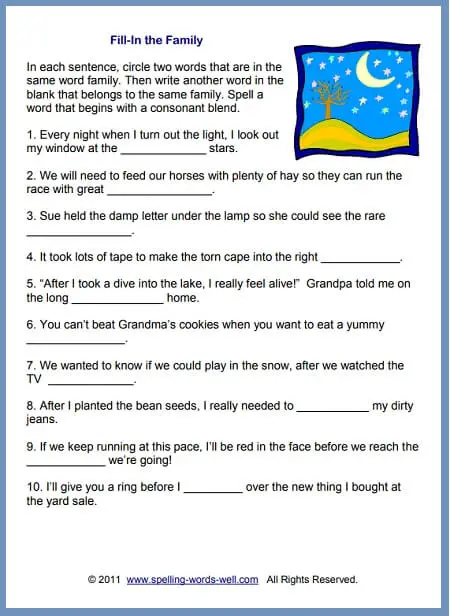 Fill-In the Family - Kids identify words in the same word family within a sentence, then add another word from the same family to complete the sentence. Great way to practice reading comprehension  and  spelling! 

2nd Grade Phonics Worksheets -  "Finish the Word" and "Match the Word Endings" are two colorful pages for basic phonics practice

See our entire collection of Phonics Games & Activities. You're sure to find something just right for the skills your kids need to practice!

All Vocabulary Lists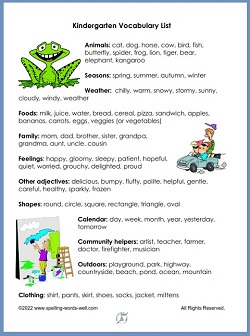 Kindergarten Vocabulary List - 100 engaging, empowering vocabulary words that every kindergartner should be learning. Use our convenient printable page. 
First Grade Vocabulary Words - 100 great vocab words on a variety of topics for 1st grade students to learn to use in conversation, along with suggested activities.
Second Grade Vocabulary List : 100 words for 2nd grade students to learn and enjoy!  Challenge your second graders with more words to use in their speaking vocabularies.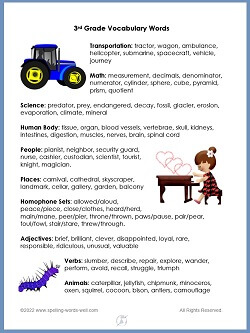 3rd Grade Vocabulary Word List - Another 100 words to boost your child's spoken and written language skills. Print the complete list from the web page for best results!
4th Grade Vocabulary List - Ten sets of ten words each across a variety of subjects and topics to challenge and enrich fourth graders.
5th Grade Vocabulary List - Boost your fifth graders' spoken and written vocabularies with these 100 words, arranged in 10 engaging topics. Try the extension activities for best results!
---
These are lists of  sight words and spelling words that you may wish to explore with your student. 
---
Second Grade Vocabulary List