200  2nd Grade Vocabulary Words
On this page: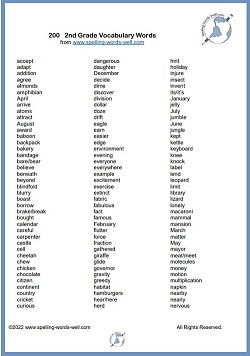 This gigantic list of 2nd grade vocabulary words will help you help your students learn the most important words of the year! Words come from subject areas, sight word lists, and lists of everyday words that are sure to come up in conversations.
First, you'll see the entire list of 200 words, in alphabetical order. Later, you can scroll down to see 100 of the words arranged in meaningful categories. I've also created a second printable page for students to keep in their desks or notebooks. 

200  2nd Grade Vocabulary Words
Use this handy printable list. Or refer to this list: 
accept
adapt
addition
agree
almonds
amphibian
April
arrive
atoms
attract
August
award
baboon
backpack
bakery
bandage
bare/bear
believe
beneath
beyond
blindfold
blurry
boast
borrow
brake/break
bought
calendar
careful
carpenter
castle
cell
cheetah
chew
chicken
chocolate
citizen
continent
country
cricket
curious
dangerous
daughter
December
decide
dime
discover
division
dollar
doze
drift
eagle
earn
easier
edge
environment
evening
everyone
everywhere
example
excitement
exercise
extinct
fabric
fabulous
fact
famous
February
flutter
force
fraction
gathered
giraffe
glide
governor
gravity
greedy
habitat
hamburgers
hear/here
herd
hint

holiday
injure
insect
invent
its/it's
January
jelly
July
jumble
June
jungle
kept
kettle
keyboard
knee
knock
label
lend
leopard
limit
library
lizard
lonely
macaroni
mammal
mansion
March
matter
May
mayor
meat/meet
molecules
money
motion
multiplication
napkin
nearby
nearly
nervous
never

nickel
noisy
normal
notebook
November
October
odd
odor
order
other
owl
package
pale
panda
patterns
peanut butter
penny
place value
plain/plane
pleasant
porcupine
potato
purpose
quack
quarter
queen
question
quickly
quietly
quilt
quiz
raccoon
radio
raise
reptile
right/write
rounding
salmon
scholar
seal
September
shiver
signal
smooth
snuggle
son/sun
soup
spaghetti
squash
steady
subtraction
symmetry
tangerine
tasty
telephone
thank
their/there/they're
tiny
to/too/two
tour
trade
universe
unicorn
unlock
vanilla
veteran
village
visit
voice
waffles
warn
weak
wise
wonder
world
yawn
young
your/you're
zebra
Teacher's Tips for Using These Words:
As a former teacher and longtime educational writer, I've spent many hours combing important second grade resources, searching out these important words for your students to master this year.
In this shorter list that follows, I've placed just 100 of the words into meaningful categories to help your students learn these words a bit more quickly. I've also added some fun clip art. Here's how to get the most from these lists:
Send either printable list home to parents. Encourage them to use these words at home, both orally and in writing.
Use these words frequently in classroom conversations.
If you prefer to teach words formally, introduce just 3-4 words at a time to second graders. Present the words in context. Repeat them often. 
Leave the new words on a classroom display for at least a week. Work these words into lessons, conversations, games, and worksheets.
See more ideas for using these words with individual children. 
Shorter List of 100  2nd Grade Vocabulary Words
Here's a peek at the printable page. The full version also appears below. 

Remember, these are words that students in second grade should be comfortable using orally. They may not be able to read and write them at first. But you can help them work on those skills, too!  Does your child already know some of these words? That's great! Have fun using the words frequently in family or classroom discussions.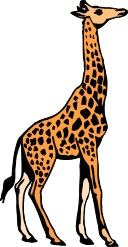 Calendar  January, February, March, April, May, June, July, August, September, October, November, December
Animals:  reptile, mammal, amphibian, insect, cheetah, leopard, porcupine, lizard, raccoon, panda, eagle, cricket, giraffe

Science: force, attract, motion, gravity, environment, extinct, habitat, matter, adapt, cell, atoms, molecules
Math: addition, subtraction, multiplication, division, patterns, symmetry, fraction, place value, rounding

Foods:  spaghetti, hamburgers, macaroni, peanut butter, jelly, chocolate, mango, tangerine, soup, waffles, almonds, salmon, chicken, squash
Homophone Sets: two/to/too, their/there/they're, bare/bear, brake/break, hear/here, its/it's, meat/meet, plane/plain, right/write, your/you're
Adjectives: curious, dangerous, famous, greedy, smooth, steady, weak, nervous, lonely, tiny, wise, pale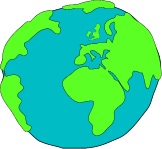 Verbs: arrive, chew, invent, agree, seal, shiver, warn, wonder
People: scholar, citizen, governor, mayor, veteran

Places: village, country, continent, world, universe


Do you want MORE words?
This second grade vocabulary list is certainly not complete! Feel free to add even more second grade sight words,  homophones, or veggies.
Extension Activities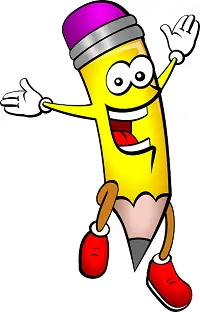 Copy one word on a piece of lined paper. Then, ask your child to do one or more of these things:
Find three words on the list that begin with the same letter. Draw a picture for each of these words.
Write all the words in one category in ABC order.
Ask students to work with a partner to write a story using at least 6 words on the list. Allow time for them to draw at least one picture about the story. 

More Second Grade Resources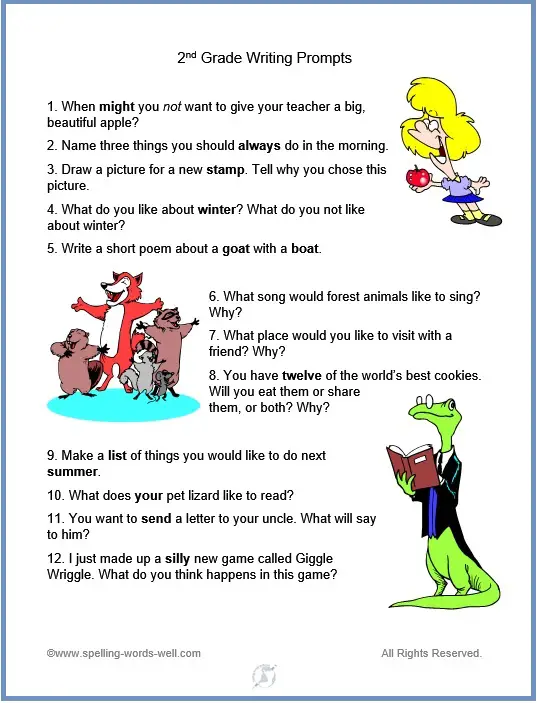 2nd Grade Writing Prompts  - What does your pet lizard like to read? When should you NOT give your teacher a big red apple? What should always do in the morning? Your early learners will love these 2nd grade writing prompts for kids!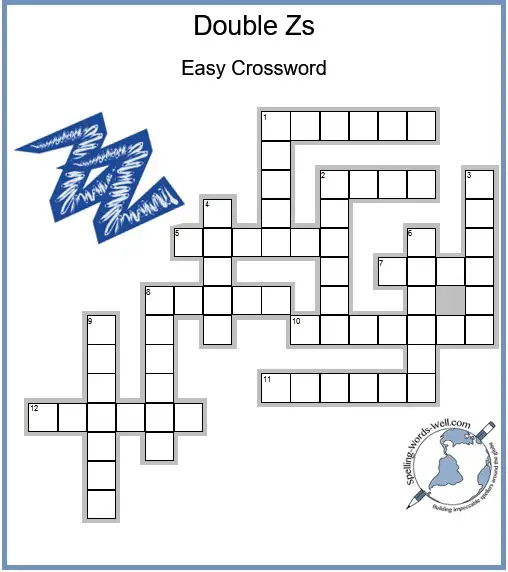 Double Z Crossword Puzzle - Help your child build more vocabulary skills as you complete this fun crossword together! It features 15 words that are spelled with double Zs. 
Second Grade Worksheets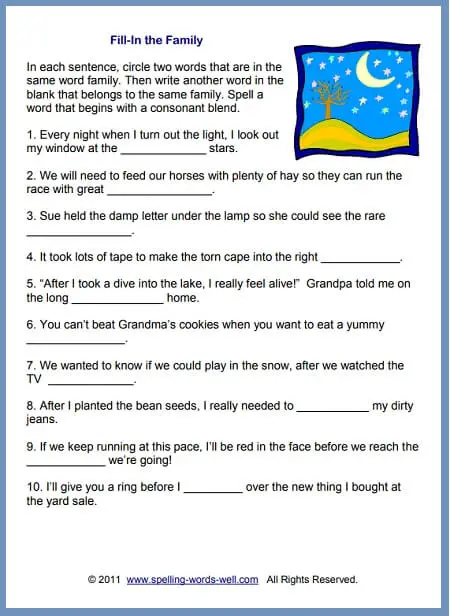 Fill-In the Family - Kids identify words in the same word family within a sentence, then add another word from the same family to complete the sentence. Great way to practice reading comprehension  and  spelling! 

2nd Grade Phonics Worksheets -  "Finish the Word" and "Match the Word Endings" are two colorful pages for basic phonics practice

See our entire collection of Phonics Games & Activities. You're sure to find something just right for the skills your kids need to practice!

All Vocabulary Lists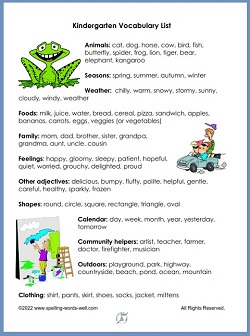 Kindergarten Vocabulary Words - 175 engaging, empowering vocabulary words, in alphabetical order, that every kindergartner should be learning. Use our convenient printable page. A second list features 100 of the words in helpful categories such as shapes, feelings, community helpers and more. 
First Grade Vocabulary Words - 175 great vocab words on a variety of topics for 1st grade students to learn to use in conversation, along with suggested activities. 100 words appear in meaningful categories including sports, animals, compound words and more. 
Second Grade Vocabulary Words : 200 words for 2nd grade students to learn and enjoy! 100 of the words are arranged in helpful categories and are arranged on an engaging printable for your students. Challenge your second graders with more words to use in their speaking and written vocabularies.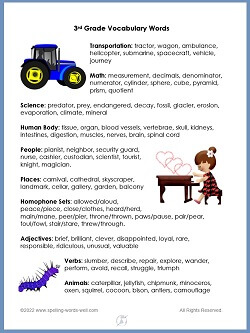 3rd Grade Vocabulary Words - 200 words to boost your child's spoken and written language skills, arranged alphabetically!  Print the complete list from the web page for best results. 100 of the words also appear in an engaging printable, arranged by helpful topics. 
4th Grade Vocabulary Words - 200 4th grade vocab words to keep your students on track all year long! Half of the words are also arranged in meaningful categories to help students with word meaning.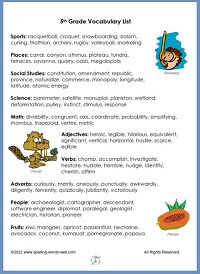 5th Grade Vocabulary Words - Boost your fifth graders' spoken and written vocabularies with this BIG list of 200 words, arranged in alphabetical order. I've also selected 100 of these words to put into 10 engaging topics. Try the extension activities for best results!
6th Grade Vocabulary Words - Improve your students' understanding of LOTS of areas of learning by covering these 200 important words! I've included many ways to put these words into use, and I have links to other related pages, too!
7th Grade Vocabulary Words - Here are 240 challenging words to stretch your upper grade students this year! Follow all the tips and extra activities listed to get the most out of this mega list of vocabulary words!
NEW! 8th Grade Vocabulary Words - Stretch your own vocabulary as well as your students' with this challenging list of 250 words! Lots of extension activities are also included. 
---
These are lists of  sight words and spelling words that you may wish to explore with your student. 

Ann Richmond Fisher is a longtime published educational writer, a former classroom teacher and a former homeschool teacher. Ann's spelling bee resources, graded spelling word lists, spelling games, worksheets, and other language arts resources have become respected around the globe since she launched Spelling-Words-Well in 2010.
Ann is also the creator of www.word-game-world.com.
---
2nd Grade Vocabulary Words