7th Grade  Vocabulary Words
This challenging list of 7th grade vocabulary words is great for teachers, parents and students to use throughout the entire school year. First, find out how many words your students already know. For those words that are unfamiliar, think about how you can best teach them to your child or students. Which will be of most interest to you, your child or your students?  Introduce some of the words every week, all through the school year, to keep building the vocabularies of your upper grade students!
You can also use this list as a supplement to reading vocabulary lists and spelling word lists. It's another free tool from Spelling Words Well to help you and your family or your school boost students' learning. 
I've compiled this word from many popular texts and online resources. Let's keep working together to challenge students to achieve more, and with more confidence!
7th Grade Vocabulary Words
Printable list of 240 7th Grade Vocabulary Words
abridged
acclamation
acquisition
adverse
advocate
aeronautics
agility
allocation
aloof
amateur
anarchy
anemia
anemometer
angular
appendage
archaic
ardent
artesian
attribute
bailiff
balloonist
basilica
berate
besieged
biannual
bimonthly
biographical
bipartisan
blanch
blighted
boisterous
bombast
botanical
catalyst
cavalier
circumlocution
cliché
coagulate
commissariat
criterion
dapper
dawdle
dearth
debacle
debut
deciduous
decipher
decoy
definitive
deft
deluge
depict
deposition
deprecate
deprivation
deterrent
detrimental
devious
dirge
disheveled
diurnal
elusive
embellish
emporium
entomology
epicenter
equivocal
eucalyptus
expenditure
familial
fiasco
finite
flippancy
franchise
gardenia
grandiose
haphazard
hapless
harass
hatchery
haughtiness
havoc
heartened
heavyweight
herald
herbicide
heritage
heroism
hesitancy
horrendous
idler
ignominy
ilk
immortal
impasse
impertiment
impetuous
impinge
impudence
inadvertent
incognito
incongruous
innate
jacquard
jaundiced
jitney
jovial
kibosh
lacerate
lector
lederhosen
legato
liaison
libel
lineage
linguistically
longevity
maestro
magnanimous
malleable
maneuver
mediocre
melancholy
menagerie
mogul
monochromatic
multiplicity
muumuu
myriad
nefarious
nexus
noncommittal
notoriety
nougat
obelisk
oblivious
obsolete
obstinate
odyssey
officiant
onslaught
opportunist
pacifist
pagoda
panacea
pantheon
paradox
penchant
penultimate
perpetuate
pompous
porous
posterity
precept
quagmire
quaint
qualm
quay
radiant
rambunctious
rampant
rapport
rational
realm
recede
receptive
recoil
rectify
recur
referendum
refinery
regalia
regulatory
rejuvenate
relinquish
renounce
replica
repository
respirator
reticent
retrospect
rhomboid
rutabaga
sable
sacred
savvy
schism
schooner
scurrilous
scythe
seething
serendipity
serene
serrated
simpatico
spontaneous
sporadic
successor
succinct
tabloid
tabulate
taciturn
tangible
tantamount
tariff
technicality
tedious
thesaurus
threadbare
threshold
thrifty
trachea
unconscionable
unequivocal
utilitarian 
vamoose
vanquish
vegetate
vernacular
vignette
wainwright
wane
wary
watershed
waiver
waver
wearily
weevil
weld
whetstone
whirlpool
whittler
wholeheartedly
wield
wrath
xylem
xylograph
yodeler
zenith
zephyr
Don't forget to get your printable list of these 7th grade vocabulary words. Here is a look at both of the printable pages:

Teacher's Tips: 
Seventh graders are capable of learning A LOT of new vocabulary words, BUT no one wants to learn 240 words all at once! Words are best learned in context, through insightful discussions and the reading of materials that are of interest to students.
Keep an eye out for even more new vocabulary words in 7th grade social studies, science and math textbooks, as well as literature readings.
When possible, introduce new words naturally in discussions and in reading materials
Introduce no more than 15-20 new vocab words at a time to seventh graders
See my "How To" guide below for more ways to use these words
How to Use These Vocabulary Words: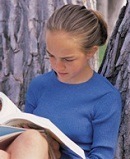 Choose from these extension activities to give your students extra practice with the 7th grade vocabulary words. Add more activities of your own. Check my answers under the blue button at the bottom of the page. 
1. Find six or more words on the list that name buildings or sites. 

2. Find at least ten words that name a type of person. 
3. Find two verbs that begin with the same letter that both mean "to give up." 
4. Identify five or more words that name plants or describe plants in some way.
5. Find your favorite 6-, 7- and 8-letter words on the list.
5. Write a sentence or two about some of these topics:
What was the catalyst for you to become a successful student?
Give an example of when you heard someone embellish the truth.
Is haughtiness ever an acceptable behavior or attitude? Why or why not? 
What is the most magnanimous gesture you've ever witnessed?
Why might someone be noncommittal about their weekend plans?
Tell when you or your family had a fun, spontaneous day.
6. Work with a student partner or a family member to write a 2-page story using one of these titles:
The Most Tedious Job in the World
Three Deterrents to Neighborhood Crime
Our Schooner Was Caught in a Whirlpool!

An

Abridged

Account of a

Weevil's

Woes

Or any brief biographical story 

More Seventh Grade Spelling and Vocabulary Resources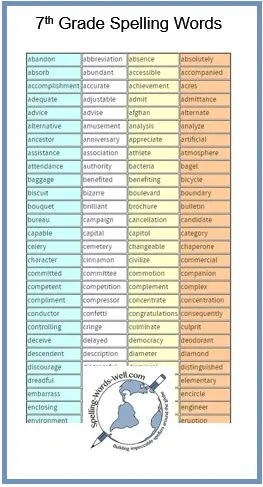 Find my printable list of 300 words that 7th graders should know how to spell and use correctly, as well as lots of 7th grade spelling resources. There are plenty of challenging words here!  
7th Grade Vocabulary Practice - Find tips for boosting 7th grade vocabulary & spelling skills, using some of the words found on the list at the top of this page!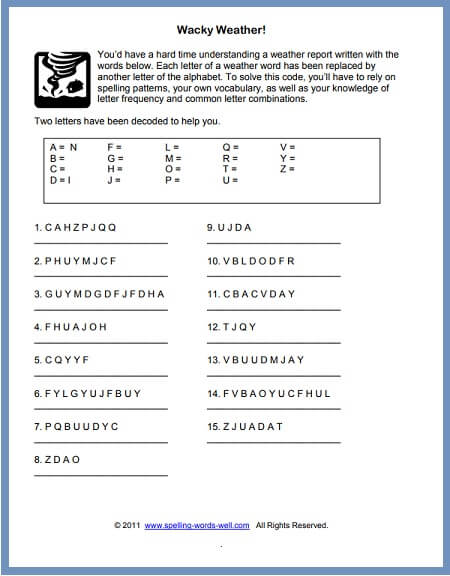 7th Grade Worksheets for Spelling Practice - If you're looking for 7th grade worksheets, you're at a great place! This puzzle-y cryptogram worksheet, Wacky Weather, uses some of the tricky words from this list of 7th grade spelling words. 
If you're looking for 7th grade worksheets, you're at a great place! This puzzle-y cryptogram worksheet, Wacky Weather, uses some of the tricky words from this list of 7th grade spelling words. Best of all, I've also included instructions to help you or your students make customized cryptogram worksheets -- anytime, with any words! So be sure to read all the way to the bottom of the page.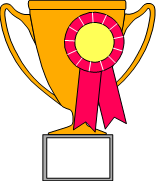 Spelling Bee Challenge - In this unique fill-in crossword, you'll need to place 32 difficult spelling bee words. How many of these words can you spell and/or define?
A Very Extraordinary Crossword - Why is this one so special? Try it and find out! You'll need to solve twenty clues to complete this one.
All Vocabulary Lists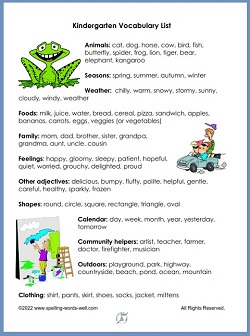 Kindergarten Vocabulary Words - 175 engaging, empowering vocabulary words, in alphabetical order, that every kindergartner should be learning. Use our convenient printable page. A second list features 100 of the words in helpful categories such as shapes, feelings, community helpers and more. 
First Grade Vocabulary Words - 175 great vocab words on a variety of topics for 1st grade students to learn to use in conversation, along with suggested activities. 100 words appear in meaningful categories including sports, animals, compound words and more. 
Second Grade Vocabulary Words : 200 words for 2nd grade students to learn and enjoy! 100 of the words are arranged in helpful categories and are arranged on an engaging printable for your students. Challenge your second graders with more words to use in their speaking and written vocabularies.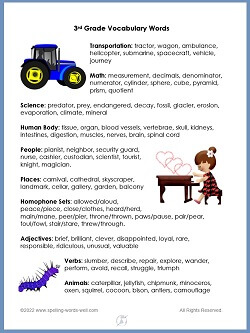 3rd Grade Vocabulary Words - 200 words to boost your child's spoken and written language skills, arranged alphabetically!  Print the complete list from the web page for best results. 100 of the words also appear in an engaging printable, arranged by helpful topics. 
4th Grade Vocabulary Words - 200 4th grade vocab words to keep your students on track all year long! Half of the words are also arranged in meaningful categories to help students with word meaning.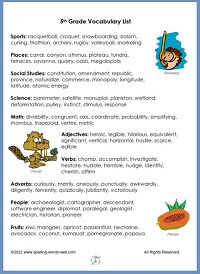 5th Grade Vocabulary Words - Boost your fifth graders' spoken and written vocabularies with this BIG list of 200 words, arranged in alphabetical order. I've also selected 100 of these words to put into 10 engaging topics. Try the extension activities for best results!
6th Grade Vocabulary Words - Improve your students' understanding of LOTS of areas of learning by covering these 200 important words! I've included many ways to put these words into use, and I have links to other related pages, too!
7th Grade Vocabulary Words - Here are 240 challenging words to stretch your upper grade students this year! Follow all the tips and extra activities listed to get the most out of this mega list of vocabulary words!
NEW! 8th Grade Vocabulary Words - Stretch your own vocabulary as well as your students' with this challenging list of 250 words! Lots of extension activities are also included. 
Here are my answers. You may have others as well.
1. basilica, emporium, hatchery, pagoda, pantheon, refinery, repository
2. advocate, amateur, bailiff, balloonist, maestro, officiant, opportunist, pacifist, successor, wainwright, whittler, yodeler
3. renounce, relinquish
4. botanical, deciduous, eucalyptus, gardenia, rutabaga, xylem
These are lists of spelling words that you may wish to explore with your student. 

Ann Richmond Fisher is a longtime published educational writer, a former classroom teacher and a former homeschool teacher. Ann's spelling bee resources, graded spelling word lists, spelling games, worksheets, and other language arts resources have become respected around the globe since she launched Spelling-Words-Well in 2010.
Ann is also the creator of www.word-game-world.com.
---
7th Grade Vocabulary Words