6th Grade  Vocabulary Words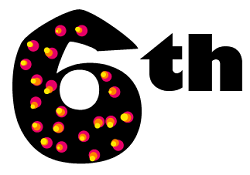 This big list of 6th grade vocabulary words is ideal for teachers, parents and students. Use this list as a pre-test. How many words do your sixth graders know at the beginning of the year? Which ones need the most work? Are there are groups of words that fit into certain content areas that need particular attention?  Introduce some of the words weekly, throughout the school year, to keep boosting students' learning!
You can also use this list as a supplement to reading vocabulary lists, and spelling word lists. Consider this another tool to stimulate your own learning and/or your own teaching this year. 
I've compiled this word from many popular texts and online resources. Let's keep working together to challenge students to achieve more, and with more confidence!
6th Grade Vocabulary Words
Printable list of 200 6th Grade Vocabulary Words
abominably
accumulation
acoustics
additive
advantageous
advisory
aerial
affirmative
alibi
amphibious
amulet
antidote
antiseptic
applicant
appreciable
argumentative
arithmetician
asphalt
assure
asthma
audition
authority
balsam
banter
barnacle
barricade
batten
bayou
belligerent
bliss
bonsai
boycott
captivity
cartilage
charitable
civilize
columnist
commotion

competent
considerable
consumable
cowardice
cyclical
dimension
dinghy
dispel
dissent
drastic
elaborate
empathy
encourage
evaluate
exaggeration
exhaust
expression
extend
extraordinary
facilitate
feisty
ferocious
feudalism
flourish
forfeit
fraud
gamut
gargantuan
garnishment
gauge
genealogy
genre
gristmill
habitual
hammock
handily
harness

hasty
haven
hazardous
heist

hemisphere
heptagon
herbivorous
hereditary
historic
hypothesis
insists
irrigate
jargon
jasmine
jaundice
kibbutz

kinship
knickknack
krypton
labyrinth
lacquer
lament
laudable
legume
lesion
lethargic
levee
liquidate
lofty
loiter
ludicrous
macaroon
magistrate
malevolent
malice
mandatory
manicotti

meddlesome
mediator
medicinal
memorabilia
menace
mnemonic
modify
molar
monotonous
mutineer
mystique
narrate
necessitate
neckerchief
negligence
negotiable
niche
nitpick
nocturnal
nodule
nostalgia
nymph
obedient
obligatory
obliterate
obstruction
ominous
oncologist
opaque
optimum
origin
peculiar
persuade
prediction
priority
quote
realistic
recount
repetition
retrieve
strategy
substitute
suspense
tabernacle
tableau
tactful
talon
tambourine
tantrum
tapestry
tarantula
tarnish
tassel
technician
tentative
thesis
thoroughfare
thrive
traction
transferred
ultimatum
unanimous
unappetizing
unconditional
underhandedly
variable
viewpoint
violate
wallaby
wallow
warehouse
warrant
weasel
wharf
wheeze
whereabouts
whimsical
whinny
wholly
widget
wreath
yearning
yeoman
youngster
zealot
zirconium
zither
zwieback
Don't forget to get your printable list of these 6th grade vocabulary words. Here is a look at both of the printable pages:

Teacher's Tips: 
As a former sixth grade teacher, I know my job would have been much easier, if most of my incoming students had known these words...or even HALF of them!
I realize that 200 6th grade vocabulary words is a lot to put on students all at once. So here are a few tips:
When possible, introduce new words naturally in discussions and in reading materials
Introduce no more than 10 new vocab words at a time to sixth graders
See my guide below to more ways to use these words
Remember, these 6th grade vocabulary words are ones that students should be comfortable using orally.  As students become more comfortable in this, expect them to use the words in their written work as well. Use the words frequently in home or classroom discussions. Write the words on the fridge or on the board to encourage their usage. 

A Guide to Using These Vocab Words: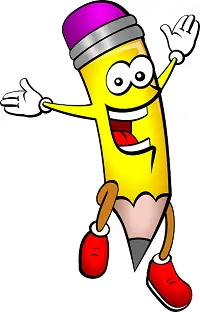 Choose from these extension activities to give your students extra practice with the 6th grade vocabulary words. Add more activities of your own. Check my answers under the blue button at the bottom of the page. 
1) Find four words on the list that name things that are edible. 
2. Find at least eight words that name a type of person. 
3. What words name animals? 
4. Find your top three adjectives on the list of 200 words. Try to use all three in a sensible sentence.
5. Write a sentence or two about some of these topics:
In which hemisphere would you most like to vacation? Why?
Be sure you understand the meaning of empathy. Write about a situation in which you could have shown more empathy. 
Pretend you're  lost in a gargantuan labyrinth. Write about what you will do to find your way out!
What's the most ludicrous holiday decoration you've ever seen? Why was it so ridiculous?
Where might you see a beautiful, ancient tapestry?
What are some reasons why some young children thrive in kindergarten?
6. Work with a student partner or a family member to write a 2-page story using one of these titles:
The Nocturnal Nymph
How Mnemonic Devices Can Modify Your Life
A Considerable Commotion
Or any story in your favorite genre that uses at least five vocab words from the list

More Sixth Grade Resources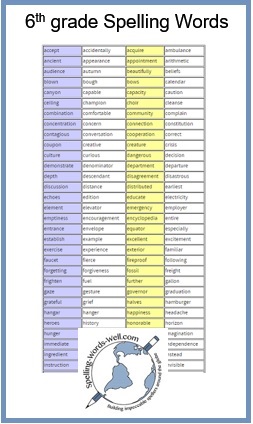 6th grade spelling words - A gigantic list of 300 words typically included in sixth grade spelling programs. Use these for making your own spelling word games, worksheets or extra oral practice. 
6th Grade Spelling Bee Words - Students, get ready for your next classroom competition with this carefully-selected list of 100 words.
Sixth Grade Spelling Sentences- Entertaining dictation sentences to provide your students with important practice in listening and spelling.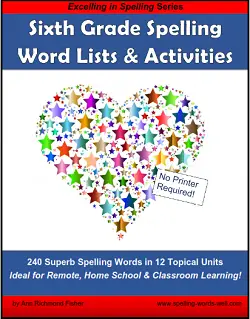 Sixth Grade Spelling Words and Activities will provide excelling spelling practice with 240 grade-level words across 12 topical units. Lots of different activities are provided to make learning enjoyable. Learn more and download free sample pages here.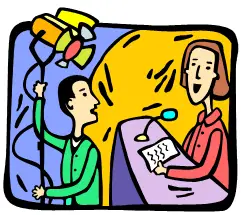 Spelling Quizzes from the Evening News - 4 fun spelling exercises. Can your students find and correct all the mistakes in these news reports? 
Sixth Grade Vocabulary Worksheets  This vocab practice page makes the observation, "It seems that everyone LEAVES just when it's time to rake the LEAVES." Your students will complete eighteen similar sentences by choosing the correct multiple-meaning word. Some are very challenging!
All Vocabulary Lists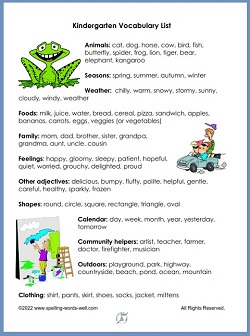 Kindergarten Vocabulary Words - 175 engaging, empowering vocabulary words, in alphabetical order, that every kindergartner should be learning. Use our convenient printable page. A second list features 100 of the words in helpful categories such as shapes, feelings, community helpers and more. 
First Grade Vocabulary Words - 175 great vocab words on a variety of topics for 1st grade students to learn to use in conversation, along with suggested activities. 100 words appear in meaningful categories including sports, animals, compound words and more. 
Second Grade Vocabulary Words : 200 words for 2nd grade students to learn and enjoy! 100 of the words are arranged in helpful categories and are arranged on an engaging printable for your students. Challenge your second graders with more words to use in their speaking and written vocabularies.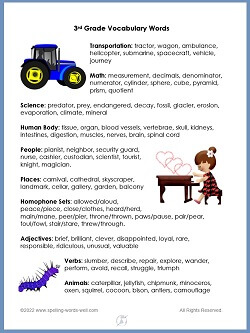 3rd Grade Vocabulary Words - 200 words to boost your child's spoken and written language skills, arranged alphabetically!  Print the complete list from the web page for best results. 100 of the words also appear in an engaging printable, arranged by helpful topics. 
4th Grade Vocabulary Words - 200 4th grade vocab words to keep your students on track all year long! Half of the words are also arranged in meaningful categories to help students with word meaning.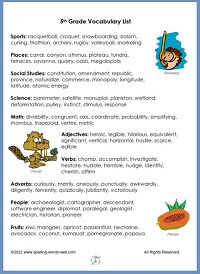 5th Grade Vocabulary Words - Boost your fifth graders' spoken and written vocabularies with this BIG list of 200 words, arranged in alphabetical order. I've also selected 100 of these words to put into 10 engaging topics. Try the extension activities for best results!
6th Grade Vocabulary Words - Improve your students' understanding of LOTS of areas of learning by covering these 200 important words! I've included many ways to put these words into use, and I have links to other related pages, too!
7th Grade Vocabulary Words - Here are 240 challenging words to stretch your upper grade students this year! Follow all the tips and extra activities listed to get the most out of this mega list of vocabulary words!
NEW! 8th Grade Vocabulary Words - Stretch your own vocabulary as well as your students' with this challenging list of 250 words! Lots of extension activities are also included. 
Here are my answers. You may have others as well.
1. legume, macaroon, manicotti, zwieback
2. columnist, magistrate, mediator, mutineer, oncologist, technician, yeoman, youngster, zealot
3.barnacle, tarantula, wallaby, weasel

These are lists of spelling words that you may wish to explore with your student. 

Ann Richmond Fisher is a longtime published educational writer, a former classroom teacher and a former homeschool teacher. Ann's spelling bee resources, graded spelling word lists, spelling games, worksheets, and other language arts resources have become respected around the globe since she launched Spelling-Words-Well in 2010.
Ann is also the creator of www.word-game-world.com.
---
6th Grade Vocabulary Words