Adult Brain Teasers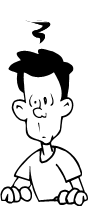 These are adult brain teasers ,  but we know that upper grade students will be able to solve them, too, as long as they have good reading, comprehension, and spelling skills!  Why settle for boring, rote comprehension worksheets, when you can really challenge your high-preforming students with brain-straining exercises like this?!?
We recommend you use the printable version of this one so you can use paper, pencil, and an eraser, if needed. As with all worksheets, activities, and brain teasers here at Spelling Words Well, I strongly recommend that you solve this one before assigning it to your students. It helps you spot potential trouble spots your students may encounter. By doing it first, you can confidently steer your fantastic pupils in the right direction.
But here's my challenge to you: Will you be able to get the right answer the first time?


An Impossible Brain Teaser?

Here's a peek at the printable version. The full text also appears below.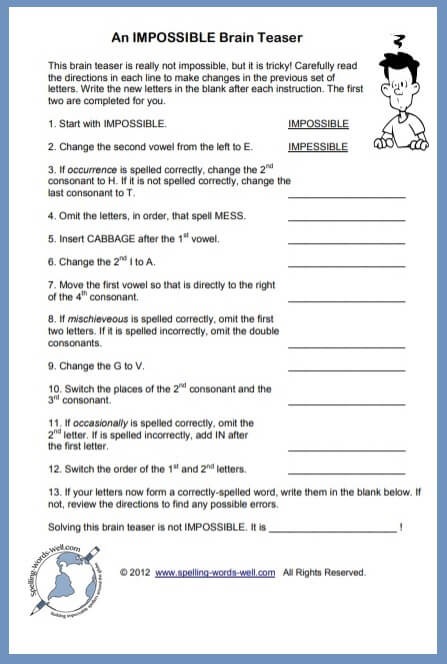 Carefully read the directions in each line to make changes in the previous set of letters. Write the new letters in the blank on the printable version after each instruction. The first two lines are completed for you.
1. Start with IMPOSSIBLE.                IMPOSSIBLE 
2. Change the second vowel from the left to E.           IMPESSIBLE
 3. If occurrence is spelled correctly, change the 2nd consonant to H. If it is not spelled correctly, change the last consonant to T.                                                    
4. Omit the letters, in order, that spell MESS.   

5. Insert CABBAGE after the 1st vowel.                   
6. Change the 2nd I to A.                                          
7. Move the first vowel so that is directly to the right of the 4th consonant.                                                

8. If mischieveous is spelled correctly, omit the first two letters. If it is spelled incorrectly, omit the double consonants.            
9. Change the G to V.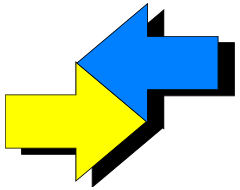 10. Switch the places of the 2nd consonant and the 3rd consonant.                                                           

11. If occasionally is spelled correctly, omit the 2nd letter. If is spelled incorrectly, add IN after the first letter.                                                              

12. Switch the order of the 1st and 2nd letters.         
13. If your letters now form a correctly-spelled word, use the word in the sentence below. If not, review the directions to find any possible errors.
Solving this adult brain teaser is not IMPOSSIBLE. It is ____________ !
See complete answers here.

More Adult Brain Teasers

Rhymonyms TM -  Challenging new word play for upper grade students and adults. Think of a pair of rhyming words for each set of synonyms. Printable, free and fun!
First Two Letters - The first two letters to every answer in this list of brain teasers are either supplied or partially revealed. You only need to finish spelling the words. This should be easy -- right?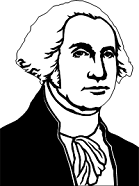 U.S. Presidents: Logical Letter Brain Teaser   To successfully complete this page, you'll need to select the correct letter for each of the nine clues.  Note: There will be several possible answers for each clue, but you'll need to select the right combination of letters to spell the two-word answer.
Mysterious Spelling - Hard brain teasers with tricky clues. If you solve them correctly you'll spell two interesting words.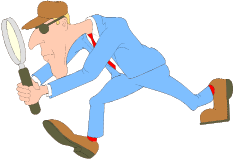 Brain Teasers for Adults and Upper Grade Students - Very tricky to solve! Can you uncover the messages hidden in these two letters?
Brain Teaser Questions and Answers - Quick word transformations, brainstorming and fun word play challenges!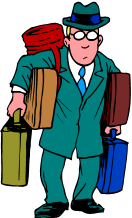 Travel Teaser - A very challenging puzzle to test your spelling and logic skills.  If there are no misspellings in a statement, it is true. If there is one misspelling in a statement, the statement may or may not be true. If there are two or more misspellings in a statement, the statement is false. Whew! All of that is great...but how well do you know how to spell some of these spelling demons?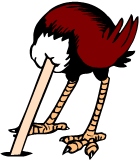 Hidden Words - Put your logic skills to the test on this entertaining word brain teaser. How long will it take you to discover three hidden words? When you try this hidden word brain teaser, we hope you won't feel like putting your head in the sand!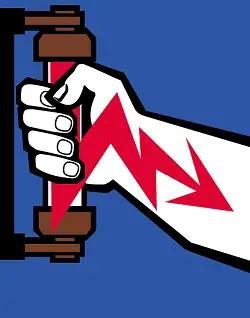 Pull-Apart Synonyms - Extremely challenging free word scramble game! Can you pull apart these letters, without rearranging them, to spell a pair of synonyms? Is this as easy as it sounds???
Brain Teasers from Word-Game-World.com
Yes, I have a second website that's bursting with word play games, brain teasers, crosswords, cryptograms, and more! There's a special section for kids, too! Here are just two of the brain teasers you can find there. Why not click around and try several. You always have permission for classroom use.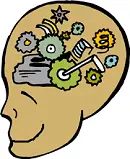 Occupational Hazard - Don't say I didn't warn you...but some of these questions are nearly impossible, unless you are a word connoisseur with a bit of patience! Each letter of the alphabet has a numerical value. Find values for various vocations, then brainstorm to find high- and low-value words of your own!
Hysterical Numericals! - Seriously? (When I can't find the right word, we make them up!) On this page, ZERO is worth a lot more than ONE. Can you solve the rest of these games for your brain?


Ann Richmond Fisher is a longtime published educational writer, a former classroom teacher and a former homeschool teacher. Ann's spelling bee resources, graded spelling word lists, spelling games, worksheets, and other language arts resources have become respected around the globe since she launched Spelling-Words-Well in 2010.
Ann is also the creator of www.word-game-world.com.
---