Adult Brain Teasers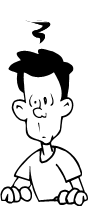 These are adult brain teasers ,  but we know that upper grade students will be able to solve them, too, as long as they have good reading, comprehension, and spelling skills!
We recommend you use the printable version of this one so you can use paper, pencil, and an eraser, if needed. Will you be able to get the right answer the first time?


An Impossible Brain Teaser?

Here's a peek at the printable version. The full text also appears below.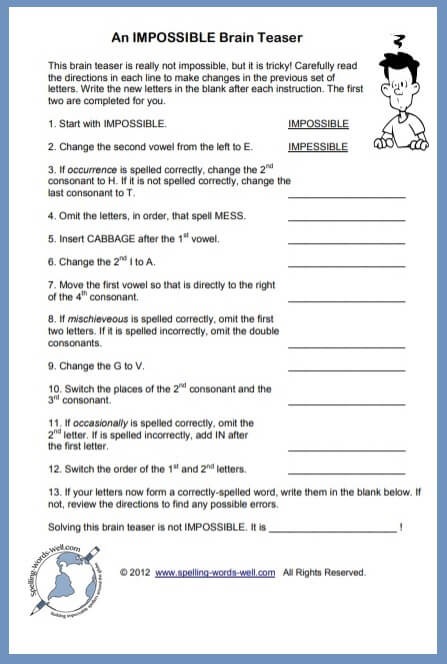 Carefully read the directions in each line to make changes in the previous set of letters. Write the new letters in the blank on the printable version after each instruction. The first two lines are completed for you.
1. Start with IMPOSSIBLE.                IMPOSSIBLE 
2. Change the second vowel from the left to E.           IMPESSIBLE
 3. If occurrence is spelled correctly, change the 2nd consonant to H. If it is not spelled correctly, change the last consonant to T.                                                    
4. Omit the letters, in order, that spell MESS.   

5. Insert CABBAGE after the 1st vowel.                   
6. Change the 2nd I to A.                                          
7. Move the first vowel so that is directly to the right of the 4th consonant.                                                

8. If mischieveous is spelled correctly, omit the first two letters. If it is spelled incorrectly, omit the double consonants.            
9. Change the G to V.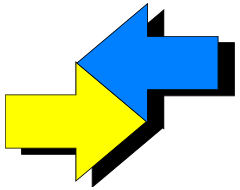 10. Switch the places of the 2nd consonant and the 3rd consonant.                                                           

11. If occasionally is spelled correctly, omit the 2nd letter. If is spelled incorrectly, add IN after the first letter.                                                              

12. Switch the order of the 1st and 2nd letters.         
13. If your letters now form a correctly-spelled word, use the word in the sentence below. If not, review the directions to find any possible errors.
Solving this adult brain teaser is not IMPOSSIBLE. It is ____________ !
See complete answers here.

More Adult Brain Teasers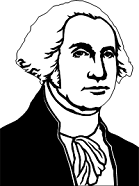 U.S. Presidents: Logical Letter Brain Teaser  Choose the right letter in each of 9 clues to spell the answer to a trivia fact about U.S. Presidents. Sounds easy...right?
Mysterious Spelling - Hard brain teasers with tricky clues. If you solve them correctly you'll spell two interesting words.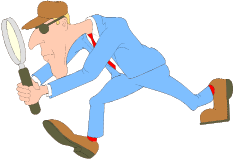 Brain Teasers for Adults and Upper Grade Students - Very tricky to solve! Can you uncover the messages hidden in these two letters?
Brain Teaser Questions and Answers - Quick word transformations, brainstorming and fun word play challenges!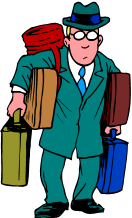 Travel Teaser - A very challenging puzzle to test your spelling and logic skills.  If there are no misspellings in a statement, it is true, but how well do you know how to spell some of these spelling demons?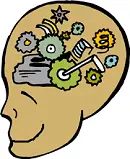 You can also find brand-new brain teasers on my Word-Game-World website. Please check out the entire collection here.

---