Logic Brain Teasers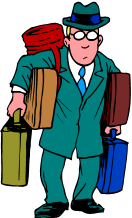 If you enjoy solving logic brain teasers, you must try this one! You'll need to know the correct spellings of several tricky words, plus you'll need to read carefully, and -- of course -- use skills in logic and critical thinking.

Instructions:
Read the statements below to find out who went where, and when. Please note:

If there are no misspellings in a statement, the statement is true.
If there is one misspelling in a statement, the statement may or may not be true.

If there are two or more misspellings in a statement, the statement is false.
After reading the statements, try to answer all the questions!
Travel Logic Brain Teaser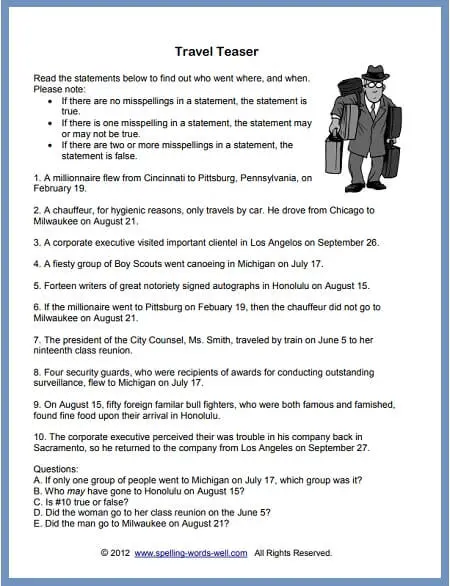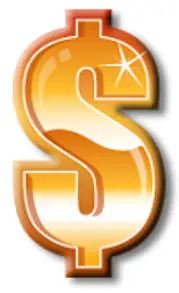 1. A millionnaire flew from Cincinnati to Pittsburg, Pennsylvania, on February 19.
2. A chauffeur, for hygienic reasons, only travels by car. He drove from Chicago to Milwaukee on August 21.   
 3. A corporate executive visited important clientel in Los Angelos on
September 26.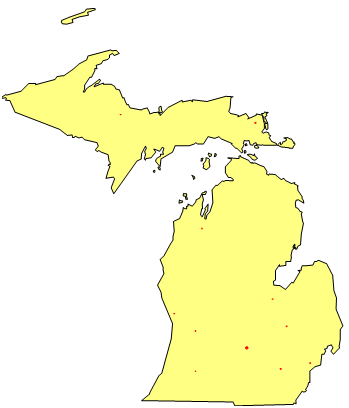 4. A fiesty group of Boy Scouts went canoeing in Michigan on July 17.
5. Forteen writers of great notoriety signed autographs in Honolulu on
August 15.  
6. If the millionaire went to Pittsburg on Febuary 19, then the chauffeur did not go to Milwaukee on August 21. 
7. The president of the City Counsel, Ms. Smith, traveled by train on June 5 to her ninteenth class reunion.
8. Four security guards, who were recipients of awards for conducting outstanding surveillance, flew to Michigan on July 17.
9. On August 15, fifty foreign familar bull fighters, who were both famous and famished, found fine food upon their arrival in Honolulu.
10. The corporate executive perceived their was trouble in his company back in Sacramento, so he returned to the company from Los Angeles on September 27. 

Questions:

A. If only one group of people went to Michigan on July 17, which group was it?
B. Who may have gone to Honolulu on August 15?
C. Is #10 true or false?
D. Did the woman go to her class reunion on the June 5?
E. Did the man go to Milwaukee on August 21?
Check your Answers!

More Logic Brain Teasers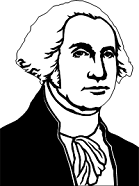 U.S. Presidents: Logical Letter Brain Teaser  Choose the right letter in each of 9 clues to spell the answer to a trivia fact about U.S. Presidents. Sounds easy...right?
Mysterious Spelling - Hard brain teasers with tricky clues. If you solve them correctly you'll spell two interesting words.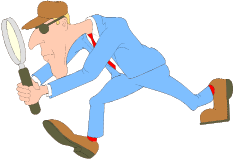 Brain Teasers for Adults and Upper Grade Students - Very tricky to solve! Can you uncover the messages hidden in these two letters?
Brain Teaser Questions and Answers - Quick word transformations, brainstorming and fun word play challenges!
An Impossible Brain Teaser - This looks straightforward, for sure. But just wait until you try to solve it for yourself! Careful reading and spelling skills required.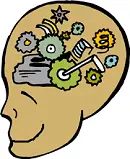 You can also find brand-new brain teasers on my Word-Game-World website. Please check out the entire collection here.

---