Kindergarten Sight Words & Activities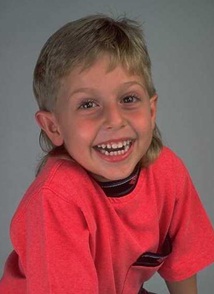 Use these kindergarten sight words to strengthen early learners' reading, writing and spelling skills. When student can master these simple words as early as kindergarten, they'll be off to a great start with their language skill-building!
The words listed below are preprimer and primer words from the Dolch sight word list.
Preprimer Sight Words
a, and, away, big, blue, can, come, down, find, for, funny, go, help, here, I, in, is, it, jump, little, look, make, me, my, not, one, play, red, run, said, see, the, three, to, two, up, we, where, yellow, you
Primer Sight Words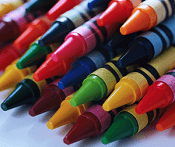 all, am, are, at, ate, be, black, brown, but, came, did, do, eat, four, get, good, have, he, into, like, must, new, no, now, on, our, out, please, pretty, ran, ride, saw, say, she, so, soon, that, there, they, this, too, under, want, was, well, went, what, white, who, will, with, yes
Kindergarten Sight Word Activities
Here are a few ideas that may be helpful in practicing sight words with your preschoolers and kindergartners:

1. Use our Kindergarten Flash cards to practice these words. Make several sets of cards. Assign pairs of students to quiz each other on just 5-10 words at a time.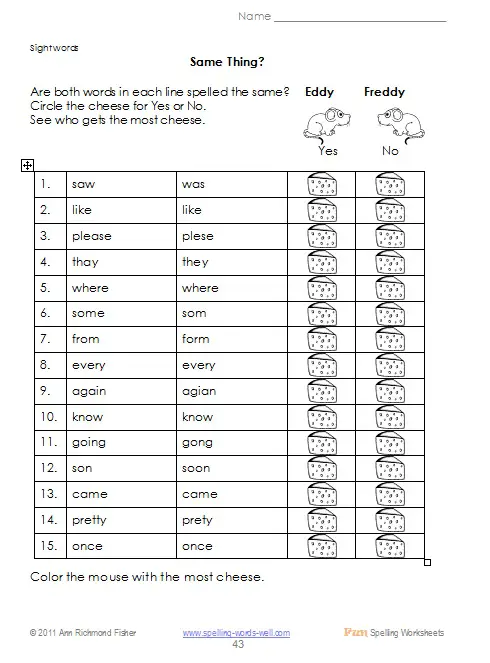 2. Play Same or Different
Show students two words and ask, "Are these the same or different?"  
Examples:   the - they    same - some. 
Here's a worksheet example, using sight words at the pre-primer through first grade level. Get your printable version here.
3. Play more of our Sight Word Games. You'll find something that will be helpful for almost any student!


4. Give students spelling practice with these frequently-used words.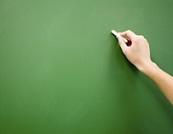 Write a few words on the board, omitting one letter. Ask students to copy the words correctly on paper or come to the board and supply the missing letters.
Examples:  a _ a y       f _ n d       w _ e r e

Use scrambled word exercises in the same way on the board, with magnetic letters or with Scrabble tiles:
Examples:  r b w n o        n o s o      y t e h
Additional Resources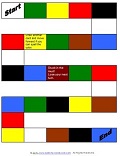 For more ideas, try our spelling worksheets, spelling word games and fun activities!

We also recommend this set of over 300 fun online learning games  offered by one of our affiliates.

Remember, there are many, many ways for early learners to practice kindergarten sight words. Be sure to try lots of them!
---