Writing Prompts for High School
Here are some fresh, new creative writing prompts for high school students! Your students will have to do some ingenious thinking to complete these challenging prompts.  (That means these are perfect for your best students who always fly through their usual assignments!)
Writing Prompts for High School
Here's a peek at the printable page. The full text also appears below for your convenience. 
Students are asked to select one story starter and one set of words. They must use as many words as possible from their word lists in the stories they write. When you see these words, you'll understand the challenge!
Words were taken from several lists of difficult English spelling words which appear on this page. 
Story Starters: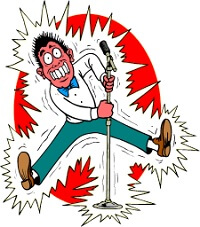 1. I was ready to perform on stage when a shocking thing happened…
2. My best career choice would be…

3. If I could travel to any location on the planet, …

4. The smartest thing I ever did was…

5. Someone needs to invent an object that will…

6. The best-tasting foods in the world are …

7. My most prized possessions are…

8. When I met our new neighbor, I was surprised to learn that…

Word Lists:
1.  committee, handkerchief, difference, eclectic, chasm,  multitudinous, frontier
2.  argument, fallacious, beguiling, citadel, wary, potpourri, picnicking

3.  pneumonia, acquiescence, knickknack, surgeon, finesse, anxiety, efficient

4.  similar, biennial, operetta, indispensable, reek, distinction, briefcase

5.  embarrass, infinitesimal, correspondence, surveillance, dormitory, heirloom,  receipt

6.  mischievous, ichthyosaur, gimmicky, perjury, ubiquitous, impatient, ceiling

7. exaggerate, oxymoron, absenteeism, unforgettable, recipient, weird, notoriety
More Writing Prompts
High School Writing Prompts - Here's an easier set of writing prompts for high school! Do you need a lot of sleep to be a good student? What happens when the absenteeism rate skyrockets? What do you say to your principal at graduation?  Your students will respond to prompts like these while practicing some difficult spelling words!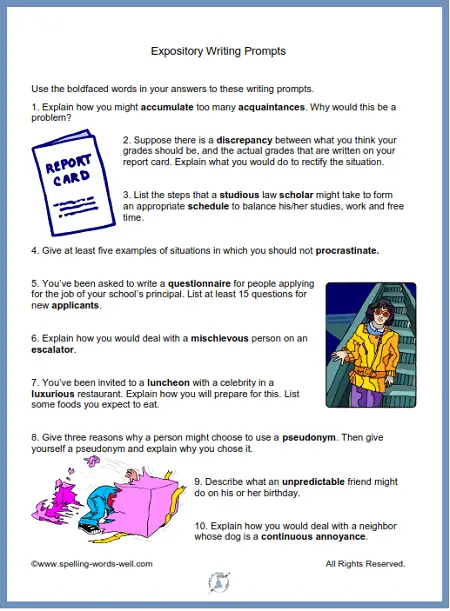 Expository Writing Prompts - New engaging expository prompts to help students reason, explain and make lists. These prompts also provide practice with some challenging 8th grade spelling words.

Fiction Writing Prompts - Your students will love making up some wacky scenarios using some of our 7th grade spelling words!
Middle School Prompts What is the best strategy for teaching your younger sibling to stay out of your bedroom? What would you miss most if you had no electricity for a week, and 10 more writing prompts for middle school. 

We have a wide assortment of writing prompts for kids of all ages. Check it out!
You May Also Enjoy...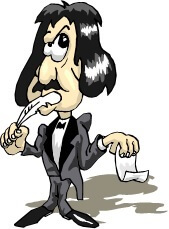 Rhymonyms TM -  Challenging new word play for upper grade students and adults. Think of a pair of rhyming words for each set of synonyms. Printable, free and fun!
Brain Teasers for Adults  & Upper Grade Students - Two REALLY difficult letters with hidden messages. Good spelling skills are the key to uncovering them!

Travel Teaser - One of our most difficult logic brain teasers. Can you figure out who went where and when?  

Here are some helpful lists of difficult spelling words for your high school students: 
---