The Scripps Spelling Bee

The Scripps Spelling Bee, which began in 1925, is the oldest national spelling competition in the United States. It is run as a not-for-profit competition by the E.W. Scripps Company. The purpose of the bee is to promote good spelling and increased vocabulary for all students who participate.
How Does the Scripps Spelling Bee Work?

In order to be eligible to compete in the Scripps National Spelling Bee, schools must follow certain rules and pay an enrollment fee.
Local businesses (often newspapers) pay the fee to become sponsors of the bee. That's a great way to build excitement throughout the community!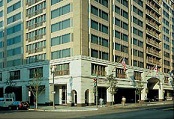 While different regions have different plans, usually the winners of local spelling bees compete at another bee at a higher regional level.
In fact, champions may compete several levels before moving on to the finals which are held at the Grand Hyatt Hotel in Washington, D.C.
How Long Does It Take?

Schools must enroll with the national office from mid-August through mid-October. Local spelling bees are held in the fall and winter.
The final competition takes place the week after Memorial Day.  In 2017, the final spelling bees will be held on June 1. This will be the 90th Annual Competition!

However, if you ask students who are very serious about the spelling competition how long the process takes, they would say it takes all year! Champion spellers usually study all year long, for hours every day.
Who Can Compete?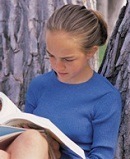 To compete in the Scripps Spelling Bee, students must belong to a school that's officially enrolled in the program. They must be under age 16 and in grades 8 or below.
Participating schools are located in the U.S., Canada, Puerto Rico, New Zealand, South Korea, U.S. Department of Defense schools in Europe, and several other locations.
How Do Students Prepare?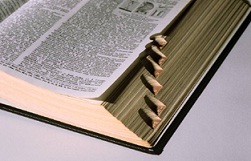 Students in enrolled schools can receive lists of words to study from Scripps. Merriam-Webster also provides study helps. Of course,students must study the spellings of words. But it is also very helpful to learn definitions, pronunciations, parts  of speech and etymologies of words. That's a lot of work!
Many students study straight from the Third New International Dictionary of the English Language, the official dictionary used by Scripps. They also read good books to learn new words. They often keep a special list of their own interesting words to memorize.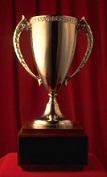 What are the Rewards?

 The champion of the annual Scripps National Spelling Bee receives:

$30,000 in cash

a huge engraved trophy called a loving cup (similar to the one shown here) 

reference books from Merriam-Webster and Encylopaedia Britannica

other monetary prizes. 
As the saying goes, those are no small potatos. (I mean, potatoes!)
All students who participates in any of the spelling bees are rewarded with the experience of being part of a fun, educational competition. They also enjoy the benefits of learning new words and expanding their vocabularies.
---