Free Crossword
Easy for Kids 

and Language Learners of all ages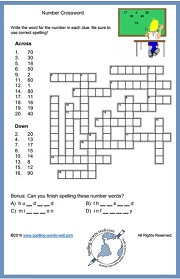 Here's a free crossword easy enough for many kids to complete on their own. Or perhaps they'll need a little help from a family member.
Either way, this is a fun page that provides important practice in writing and spelling number words.

Number Crossword

On the printable page, write the word for the number in each clue. Be sure to use correct spelling. Here's a peek at the printable crossword.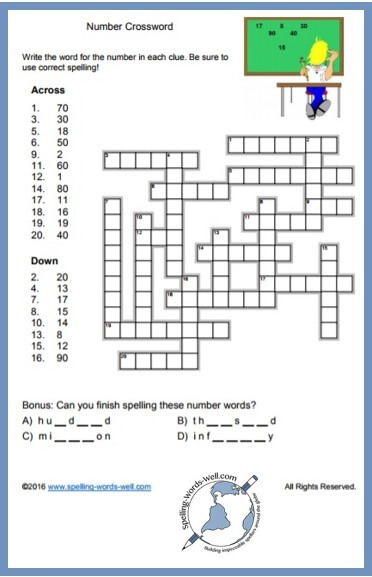 Bonus: Can you finish spelling these number words?
A)  h u __ d __ __ d                           B)  t h __ __ s __ __ d
C)  m i __ __ __ o n                           D)  i n f __ __ __ __ y
Looking for another crossword easy enough for your child or student?

If so, you're in the right place! I've written a whole bunch of these, on two different websites. Use the links here to find a few of them.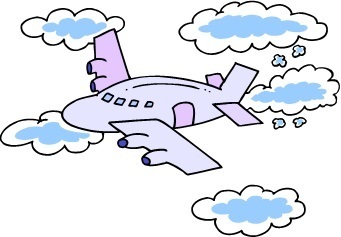 Homophone Crossword - It won't be too/two hard to write/right the correct answers in the puzzle, will it?
Scrambled Animals Crossword - Unscramble the names of 15 well-known animals and write them correctly into the puzzle. It's more fun than a barrel of monkeys!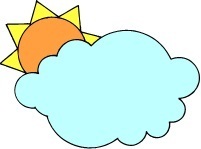 Antonyms (Opposites) Crossword - Write a word that means the opposite of each clue. Just be sure you get the right opposite that fits in the diagram and connects correctly with the other answers!
Find the Misspellings - How quickly can you find the misspelled word and write it correctly in the crossword diagram? Kids love this one!

More Simple Crosswords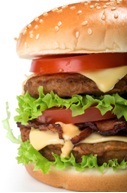 Let's Eat! Can you can figure out the clues to some of these common foods? Can you spell the foods correctly?
Rhyme Time Crossword Puzzle Here's a fun crossword for young children to enjoy as they complete the sentences with words that rhyme.
Disney Crossword Puzzles One of our most popular kids' printable crossword puzzles! Supply the names of some major characters from several Walt Disney stories and movies.
Special Note to Teachers & Parents

Teachers, feel free to use any of my crosswords in your classroom to supplement your usual activities. Parents, print out a crossword anytime for some fun extra practice at home.
You may all be interested in my free spelling worksheets, spelling games, and easy brain teasers. I have LOTS!
---
Home
›
Easy Crosswords
> Number Crossword