List of Suffixes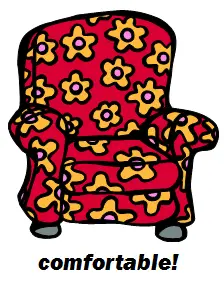 Our list of suffixes contains many of the most-commonly used suffixes in the English language. There are many more. Words are at varying degrees of difficulty.
For your convenience, we've also included a brief meaning and ten example words for each one.  Print the list and keep it has a handy reference tool in your notebook or on the classroom wall.
Here are screenshots of the words on our printable list: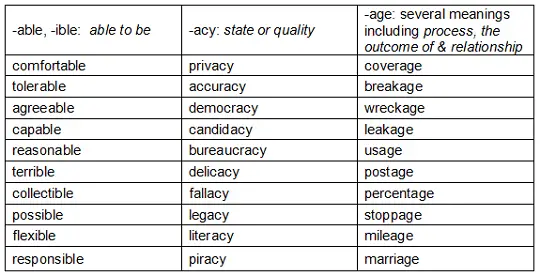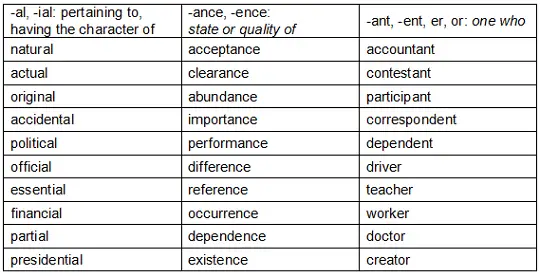 Here's the rest of our printable list of suffixes: 
-ary: pertaining to, connected with
elementary
honorary
dietary
momentary
imaginary
budgetary
summary
dignitary
intermediary
emissary
-en: forms verbs from nouns or adjectives, or adjectives from nouns
lengthen
strengthen
shorten
moisten
sharpen
darken
wooden
woolen
golden
mistaken
-ful: full of
joyful
fearful
thankful
hopeful
forgetful
helpful
playful
useful
watchful
spoonful
-fy: to make
magnify
petrify
qualify
justify
amplify
certify
horrify
classify
unify
signify
-ic, -ac, -il, -ile: of, like pertaining to
comic
historic
elastic
poetic
cardiac
maniac
civil
fragile
agile
docile
-ish: like, pertaining to
English
Spanish
British
selfish
foolish
boorish
childish
bookish
reddish
cultish
-ist: one who makes or does
artist

dentist

realist

motorist

chemist

scientist

jurist

extremist

ophthalmologist

accompanist
-ity: stay or condition
activity
ability
possibility
generosity
formality
hospitality
curiosity
civility
locality
hostility
-ive: having the nature of
active

creative

effective

conclusive

instructive

executive

legislative


consecutive

secretive

aggressive
-ize: to cause to become
capitalize
alphabetize
magnetize
apologize
summarize
generalize
visualize
vitalize
dramatize
energize
-less :without
careless

hopeless

helpless

endless

fearless

worthless

sleepless

nameless

powerless

useless
-ology: study of, science of
geology
biology
technology
ecology
sociology
psychology
terminology
archaeology
theology
mythology
-ly: characteristic of
sadly
gladly 
gradually
timely
cowardly
bravely
justly
secondly
rarely
hourly
-ment: condition of
agreement
enjoyment
argument
retirement
resentment
replacement
amazement
assignment
refinement
embarrassment
-ness: state or condition of 
darkness
eagerness
fairness
sadness
happiness
emptiness
illness
goodness
likeness
heaviness
-ous: having the qualities of
dangerous
humorous
furious
nutritious
spacious
victorious
thunderous
nervous
gracious
courageous
-tion, -sion, -ion: state, condition, action, process or result
revolution
commendation
concession
transition
relation
starvation
description
explanation
temptation
imagination
-y: full of, somewhat, or somewhat like
cloudy
chilly
dusty
oily
touchy
faulty
noisy
cranky
fiery
glossy
Get the complete list of suffixes

Teaching Suggestions

Be sure to add your own suffixes to our lists of examples, especially if you encounter words with certain endings that are difficult for you or your students to spell correctly.

Focus on teaching one suffix at a time, especially with younger students. Ask your learners to list more words throughout the day or week that share the same suffix as you compile longer classroom lists.
As always, be sure to use new words in context. Encourage students to use the new suffix words orally and in written work.

More Resources

If you found our list of suffixes to be helpful, we think you'll also enjoy some of these lessons and teaching tips.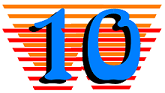 Spelling Strategies - Students who master these ten spelling rules/strategies are sure to become better spellers! We clearly state the "rule" and provide examples of words spelled correctly when following the rule.

102 frequently misspelled words:  Study this list to boost your spelling abilities. Everybody has a few spelling glitches!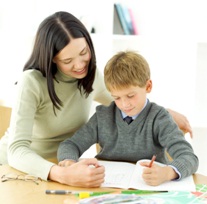 How to Teach Spelling - Teachers, start here! We provide key guidelines for anyone who is trying to teach spelling, regardless the age of the student.  
Here's a  step-by-step free spelling lesson about learning to spell those tricky EI/IE words. We give you lots of practice, and a huge word list to work with. Determine to master these spelling demons!
 Another Step-by-Step Lesson - This one methodically teaches when to double, and when not to double, the final consonant when adding suffixes. Free and printable.
Try our ideas for Spelling Homework -- The more practice the better! Here are 20 fabulous, flexible ideas for any list of weekly spelling words. Several ideas include input from a family helper.
Hard Spelling Words - This list includes words in which it's sometimes hard to remember if the consonants are doubled when suffixes are added. It's a great way to reinforce the Step-By-Step lesson above.
Common Core Standards - Lots of our games, worksheets and lesson plans are aligned to the Common Core State Standards. See our list.
See more pages of tips for the correct spelling of words.
---