Spelling Word Games
Few things are better than Spelling Word Games to add excitement to your spelling class. Use our free, easy-to-use games to make spelling practice FUN!
Letter Lane
- A phomenic awareness board game that features beginning consonant sounds for the letters b,d,f and m. No reading is necessary.
Picture This Phonic Game
- We think your early learners will enjoy this activity featuring short vowel words. Which player can cover the most pictures?
Picture Perfect Game - More engaging pictures on this game board, featuring long vowel words. Fun for everyone!
More Classroom Spelling Word Games
Sight Word Games
- Check out our new collection of sight word games!
Roll It! - Easy-to-make spelling word games. Roll the consonants around the tube to spell new words. Great at home or at school. For grades 1-2
Hands Up and Hop to It!- These simple, fun games will get your kids' attention, and keep it. For grades 1-4.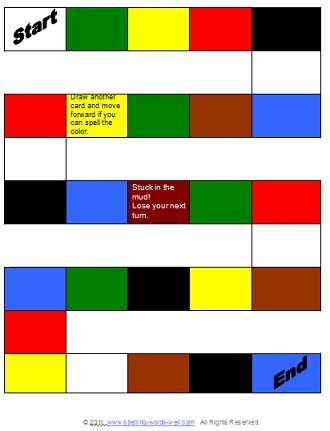 Color Land Game -
Kids practice spelling color words as they try to reach the finish line.

Fun for grades 1 - 2.
Compound Word Wizards - Whole class or large-group activity for practicing compound word. For grades 2 - 4.
Double the Fun - To double or not to double the final consonant when adding a sufix? Another great game for 3rd grade spelling fun! For grades 3 - 5.
We also recommend this set of over 300 fun online learning games offered by one of our affiliates.
Spelling Bee Games - Try one of our new Silent Spelling Bee variations. A fun--and quiet--twist on a classic game! For grades 2-6.
Another Spelling Bee Game - Students step up to victory as they help their team advance in this fun new game. For grades 2-6.
Free spelling activities for two players
- "Shady Spelling" Printable game boards for two players.
Grades 2, 3 and 4.
More Spelling Fun for Kids - New games to play on a Scrabble game board. Mumbo-jumbo, anyone? Grades 2-5.
Fifty-Fifty - Fun word game for kids. Older students earn points as they engage in word play and spelling fun. Grades 4-8.
Our site is bursting with fun new ideas!
Don't miss our spelling worksheets and spelling homework ideas.
---