Free ABC Games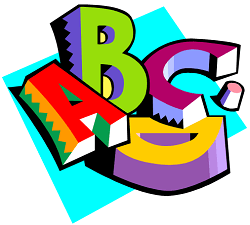 These free ABC games are great fun for early learners, and their families! Our games are easy to make, easy to explain and easy to play! Be sure to check out the links near the bottom of the page for more ABC activities.

Memory Matches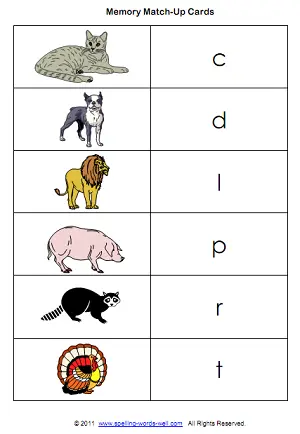 Skills: Matching initial consonant sounds with letters, memory  
Supplies: A set of picture and letter cards like this printable set
Players: 2
Object: Make the most matches
To play:

1. Print out our game cards. Laminate (if desired) and cut apart.

2. Shuffle the cards and place them face down on the table in an arrangement of rows and columns.

3. The first player turns over any two cards. If they match, he keeps both cards and takes another turn. If the cards do not match, he places the cards back in their original positions, face down on the table.

4. The second player turns over two cards, trying to remember the positions of the cards already shown so that she can make matches.

5. Play continues until all the matches have been made. If you like, children can count up their matches to see who found the most.

Variation: Kids like to play free ABC games, like this one, on their own!  Instruct your child to follow the same procedures, turning over cards and finding matches, until he has made every match. That's quite an accomplishment for a very young child!
You can also quiz your child. Show him/her the animal cards. Ask him/her to tell you its beginning letter.


More Free ABC Games & Activities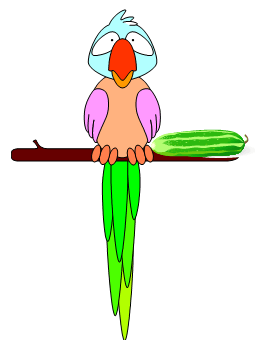 ABC Pop-Up   -   This preschool alphabet game is one of the simplest games around. That makes it perfect for young students and busy preschool teachers! Help students gain practice and confidence SAYING the alphabet quickly in fun group setting.

A Pickle or a Tickle: A super-fun preschool kids  game in which students will need to listen carefully to initial consonant sounds. Begin this way:  Hold up a pickle. Ask students, "Is this a pickle or a tickle?"  After the kids quit laughing, ask one of them to explain the difference in the sounds of the two words. Ask another person to explain the difference in the meanings of the words. Follow the link for more details and word pairs.

Which One and Alphabetical Objects: Two free preschool activities that you can do with your child around the house, in the car, or in the classroom. The only supplies required are a few everyday items.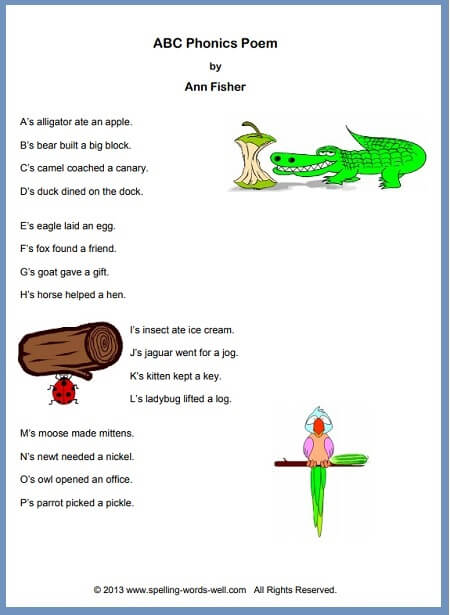 ABC Phonics Poem - This is fun and funny! Goofy pictures and silly phrases will reinforce the sounds for each letter of the alphabet.

Alphabet Phonics Booklet - A printable booklet for each child to customize! Kids will trace letters, color and add their own own pictures for each letter of the alphabet. This is a great activity to complete at home or at school. Follow step-by-step instructions for a great finished project!
Phonics Games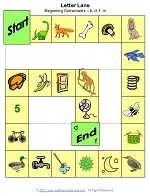 You may also be interested in some of our phonics games and activities. Here are a few from our larger collection:
Letter Lane - A phomenic awareness board game that features beginning consonant sounds for the letters b, d, f and m. No reading is necessary. The first player draws the top card. He moves his marker to the first picture with the same beginning sound. For example, if he draws M, he moves to the mushroom. He puts his card face down in a discard pile. The other players continue in the same manner. It's fun to move around the colorful board.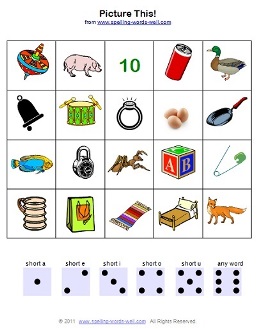 Picture This Phonic Game - We think your early learners will enjoy this activity featuring short vowel words. Which player can cover the most pictures?

Picture Perfect Game - More engaging pictures on this game board, featuring long vowel words. Fun for everyone!

Ann Richmond Fisher is a longtime published educational writer, a former classroom teacher and a former homeschool teacher. Ann's spelling bee resources, graded spelling word lists, spelling games, worksheets, and other language arts resources have become respected around the globe since she launched Spelling-Words-Well in 2010.
Ann is also the creator of www.word-game-world.com.
---