Free Phonics Games
Here's one of our favorite free phonics games. It provides a fun way for your early learners to practice long vowel sounds and spelling, if you like. Read the rules below, then click on the printable link and get started! If you'd rather practice short vowel sounds, we have a game for that, too!
Picture Perfect

Grade level: K-2
Players: 3
Objective: Cover up the most squares
Supplies: Printable game board and answer key, one standard die, markers of two different colors for covering pictures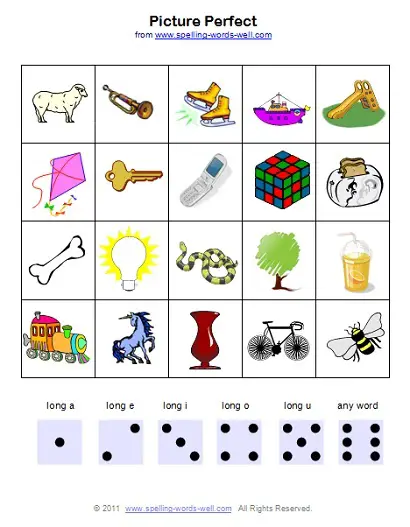 Variation 1: Long Vowel Sounds
To play:
1. Print out the game board and answer key. Laminate, if desired.
2. Players 1 and 2 choose a color. Player 3 is the checker.

3. Player 1 rolls the dice. She looks at the key at the bottom of the game board. She identifies a word with that vowel sound on the game board. For example, if she rolls a 2, she looks for a word with a long e sound (sheep, bee, key, tree). If she correctly identifies the word, she covers it with a marker.
4. Player 2 rolls the dice, finds a new square and proceeds as described above.
5. If a player rolls a 6, he may choose any picture that is not covered and tells its vowel sound. If he is correct, he puts his marker on it.
6. If a player rolls a letter sound for which there are no more pictures, his turn is over.
7. The game ends when all the squares are covered. The winner is the player with the most markers on the board.
 Variation 2: Long Vowel Sounds and Spelling
Play the game as described above, adding that the student must also spell the word correctly after identifying its vowel sound. 
More Free Phonics Games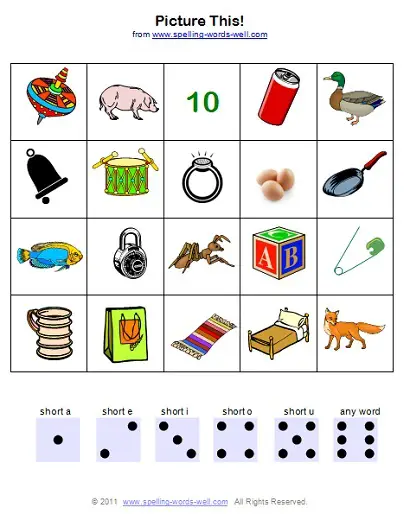 Picture This Phonic Game - Similar to the game above! We think your early learners will enjoy this additional picture-based game that features short vowel words.  Which player can cover the most pictures?

Letter Lane - A phomenic awareness board game that features beginning consonant sounds for the letters b,d,f and m. No reading is necessary. Cmplete instructions and a printable link included for another one of our fun, easy-to-use games.
Memory Matches - Use a familiar format to practice beginning sounds and letters. Free printable game cards included!


A Pickle or a Tickle: A super-fun preschool kids  game in which students will need to listen carefully to initial consonant sounds. Begin this way:  Hold up a pickle. Ask students, "Is this a pickle or a tickle?"  After the kids quit laughing, ask one of them to explain the difference in the sounds of the two words. Ask another person to explain the difference in the meanings of the words. Follow the link for more details and word pairs.
Which One and Alphabetical Objects: Two free preschool activities that you can do with your child around the house, in the car, or in the classroom. The only supplies required are a few everyday items.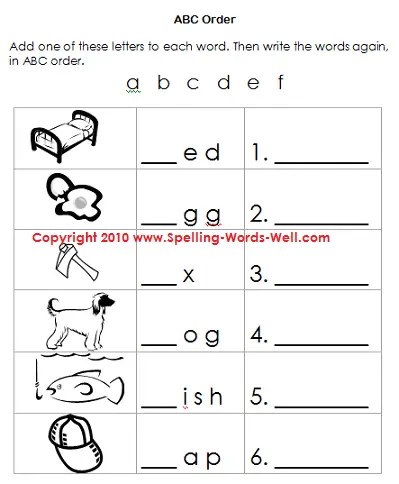 In addition to free phonics games, you may want to use some of these resources for your early learners:

Try a Few ABC Worksheets, Too!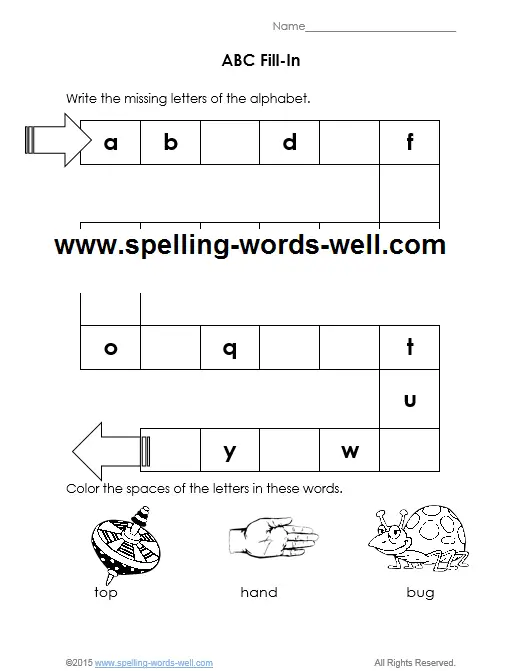 ABC Fill-In On each of these pages, students need to supply the missing letters of the alphabet. Then they will read and spell three kid-friendly words and find those letters in the alphabet path. One page features lowercase letters, the other page, uppercase ones.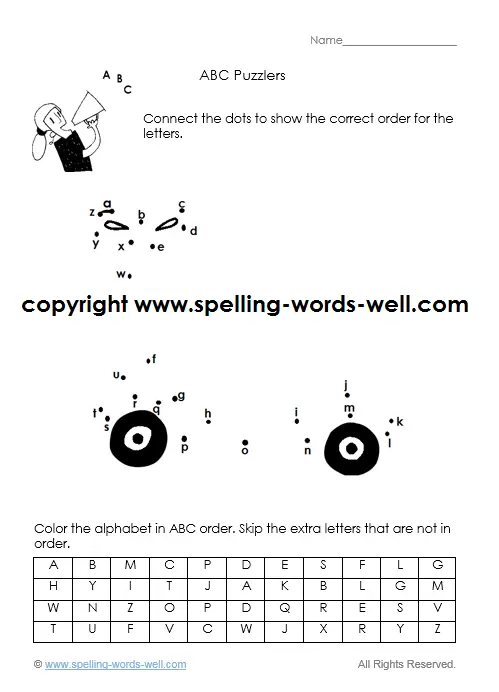 ABC Puzzlers: This free alphabet worksheet asks kids to complete a dot-to-dot and identify the letters of the alphabet in order. At the bottom of the page, they need to color the letters of the alphabet in order, skipping over all the extra letters. Here at Spelling-Words-Well, I love to give your preschoolers LOTS of ways to practice their ABCs!!!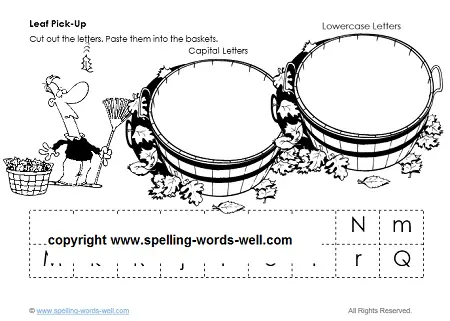 What's Cooking, Leaf Pick-Up, and How Does Your Garden Grow? Three cut-and-paste worksheets require kids to sort capital letters from lower letters. On this page, kid will cut and paste letters into the appropriate cooking pots! If you like, ask the kids to sort the cut out letters and arrange them in alphabetical order before they begin to paste them into the picture.
Is It Too Early for Vocabulary Words?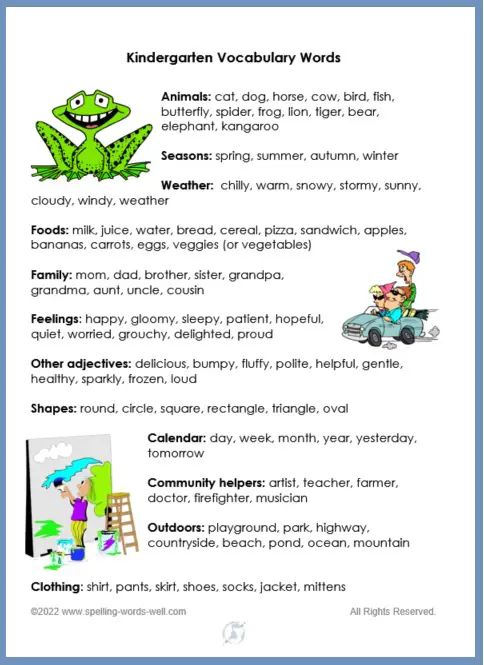 That depends on your students! Remember, vocabulary words with preschoolers mean words that students understand orally. I've compiled a list of 175 kindergarten vocabulary words, many of which are arranged in categories of interest to young learners, such as family, animals, foods, and more. See my list and get the printable page. Use throughout the preschool year with students who are ready, when they are ready!

Ann Richmond Fisher is a longtime published educational writer, a former classroom teacher and a former homeschool teacher. Ann's spelling bee resources, graded spelling word lists, spelling games, worksheets, and other language arts resources have become respected around the globe since she launched Spelling-Words-Well in 2010.
Ann is also the creator of www.word-game-world.com.
---