English Spelling Games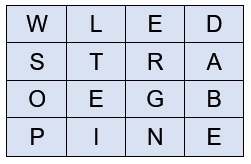 You'll love these ideas for English spelling games, especially if you're fond of the commercial game called Boggle TM. In Boggle TM  , players take turns shaking an assortment of lettered cubes.  After each new "shake" players race to spell the most words by connecting adjacent letters.  (If you're not familiar with Boggle, scroll down to the links at the bottom of the page. )
Here are two simple fun variations to add more challenge and variety in your classroom spelling practice routine.  You do not need a Boggle game to play these versions. 
Variation 1 - Make Your Own Board
Here's a mentally challenging version of this fun English spelling game for upper grades and adults. Instead of each player using the same arrangement of letters, each player arranges the letters in whatever way s/he chooses. Each player will likely end up with a different arrangement.
Here's a peek at the printable version. Alternatively, you may follow the full instructions below.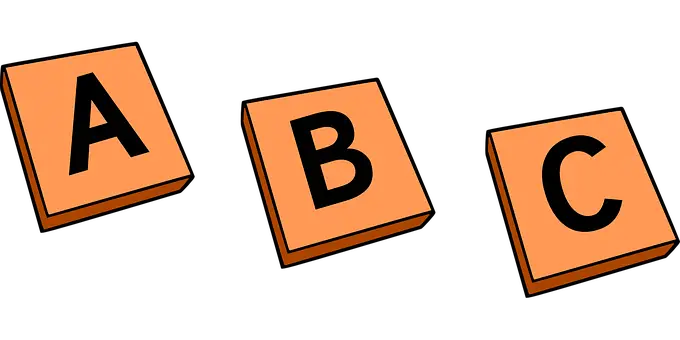 1. Assemble an assortment of letter cubes or tiles from other commercial games, or make your own letter cards. 
Option 1: Make one card for each of the 26 letters of the alphabet. After a letter is drawn, place it back in the back so it may be repeated. 
Option 2: After you make one card for each of the 26 letters, make extras of the most frequently used letters, such as E, T,  A,   I,  N,  O,  S, H and R.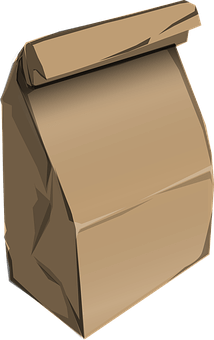 2. Place these letters in a bag.

3. Ask each player to draw a 4 x 4 grid on a piece of paper, or use our printable form.
4. Select one or two players to draw a total of 16 letters from the grab bag. As letters are drawn, players should write the letters above their blank grid.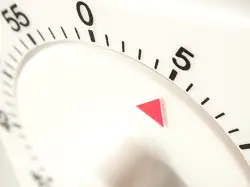 5. Allow one minute for players to place the 16 letters in any arrangement in their grid.
6. When that minute has expired, tell players to immediately start writing any words of three or more letters that appear in their grid.  Allow players three minutes to write their words.
7. Words can be spelled by starting at any letter, then moving to another letter that is next to it, either vertically, horizontally, or diagonally. Words must always be spelled by moving to adjoining letters.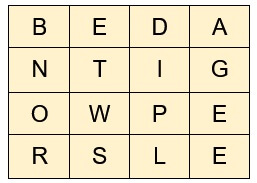 In this example, you may move from the B to the E, T, or N. You cannot move from the B to the I or the O because those letters are not adjoining. 

8. Scoring:  Award 1 point for each 3-letter word and 4-letter word. Give 2 points for each 5-letter word, 3 points for each 6-letter word, 5 points for each 7-letter word and 11 points for each word of 8 or more letters. 

Examples
For this example, suppose these letters were drawn:
E, B, N, D, A, E, O, R, W, S, I, L, E, P, T, G
Player 1 places the letters in this manner.

Player 1's Word List:  bed, bent, bet, ten, net, dip, dig, edit, age, ton, not, tow, tows, two, own, won, wide, wipe, peg, row, rows, sow

(Other words may also be possible.)

SCORE: 22 points

Player 2 forms this arrangement.


Player 2's Word List:  led, lead, read, dear, dare, drab, dab, grab,  grade, get, gene, post, poet, poets, poster, pin, ping, bar, bare, bared, beg

(Other words may also be possible.)

SCORE: 26

Variation 2: Score Four or More
Make just one change to the rules above for an even more difficult English spelling game.  Require that all words are spelled with four or more letters. Award points as described above, except give no points for 3-letter words.
In the examples above, Player 1 would score just 6 points.  Player 2 would score 20 points. 

More English Spelling Games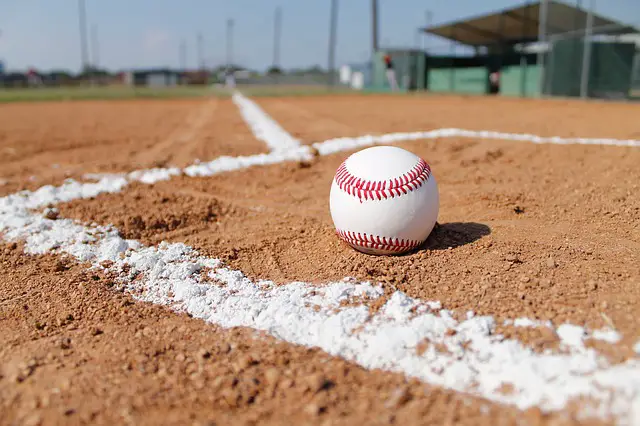 You may also enjoy these games:
Spelling Word Baseball:   Adapt the basic game for the best difficulty level for your students, using the many word lists on this website. Batter Up!
Double the Fun - To double or not to double the final consonant when adding a suffix? It's another one of our great English spelling games!
Spelling Bee Games - Try one of our new Silent Spelling Bee variations. A fun--and quiet--twist on  a classic game!


Ann Richmond Fisher is a longtime published educational writer, a former classroom teacher and a former homeschool teacher. Ann's spelling bee resources, graded spelling word lists, spelling games, worksheets, and other language arts resources have become respected around the globe since she launched Spelling-Words-Well in 2010.
Ann is also the creator of www.word-game-world.com.
---