Fun Spelling Activities
Here are two super-fun spelling activities for elementary grade students. Your kids can play them inside or outside.  What could be better?
Give your students quick -thinking mental spelling practice with the first fun game called, "Hands Up!"  Then check out our indoor/outdoor spelling version of Hopscotch!

Hands Up!
Here's a peek at the printable page. The full text also appears below.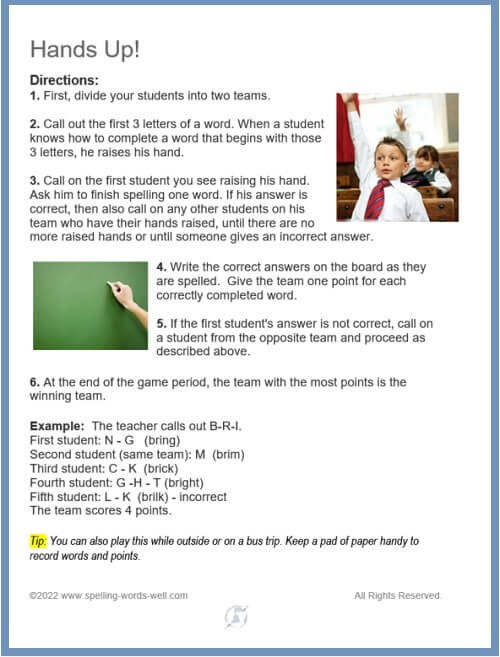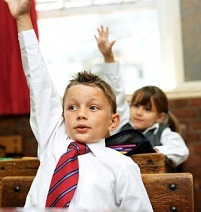 Directions:
1. First, divide your students into two teams.
 
2. Call out the first 3 letters of a word. When a student knows how to complete a word that begins with those 3 letters, he raises his hand.

3. Call on the first student you see raising his hand. Ask him to finish spelling one word. If his answer is correct, then also call on any other students on his team who have their hands raised, until there are no more raised hands or until someone gives an incorrect answer.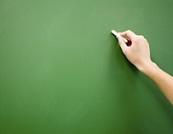 4. Write the correct answers on the board as they are spelled.  Give the team one point for each correctly completed word.

5. If the first student's answer is not correct, call on a student from the opposite team and proceed as described above.

6. At the end of the game period, the team with the most points is the winning team.
You can also play this while outside or on a bus trip. Keep a pad of paper handy to record words and points.

Example:  The teacher calls out B-R-I.
First student: N - G   (bring)
Second student (same team): M  (brim)
Third student: C - K  (brick)
Fourth student: G -H - T (bright)
Fifth student: L - K  (brilk) - incorrect
The team scores 4 points.
Hop To It!
Here's another one of our favorite fun spelling activities. Here's a peek at the printable version. The full text appears below.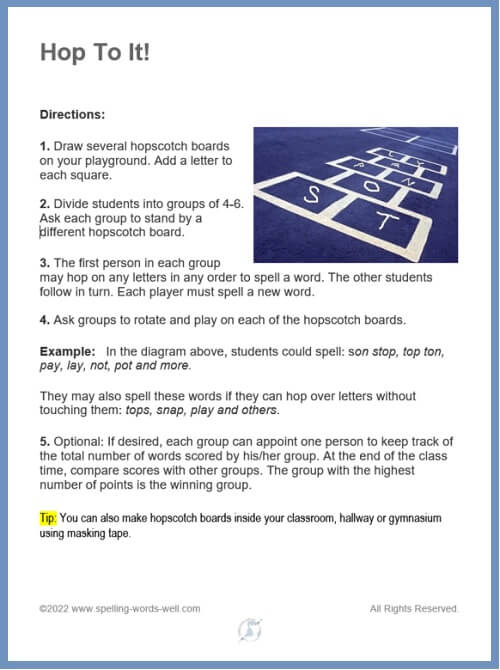 Directions:
1. Draw several hopscotch boards on your playground. Add a letter to each square.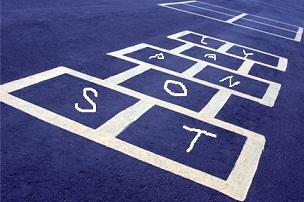 2. Divide students into groups of 4-6. Ask each group to stand by a different hopscotch board.

3. The first person in each group may hop on any letters in any order to spell a word. The other students follow in turn. Each player must spell a new word.

4. Ask groups to rotate and play on each of the hopscotch boards.
Note: You can also make hopscotch boards inside your classroom, hallway or gymnasium using masking tape.

Example:   In the diagram above, students could spell: son stop, top ton, pay, lay, not, pot and more.
They may also spell these words if they can hop over letters without touching them: tops, snap, play and others.
5. Optional: If desired, each group can appoint one person to keep track of the total number of words scored by his/her group. At the end of the class time, compare scores with other groups. The group with the highest number of points is the winning group.

More Fun Spelling Activities

Here are just a few examples of more fun spelling activities on our site: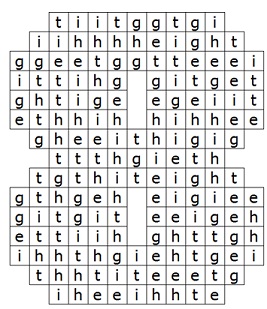 Printable spelling reproducibles - Mini word search puzzles: Students must spot the correct spelling of troublesome words.
Free spelling activities for two players - "Shady Spelling"  Printable game boards for two players.


Double Letter Animal Word Search:  Supply the missing pair of letters, then find each of the 40 animal names in the word search puzzle. Fun spelling practice for any age!
Check out our AnyWord Book Series! Three eBooks of fun worksheets, games and partner activities that you can use with Any Spelling Words!
Sign Up Here for My Free Newsletter

---