1st Grade Spelling Words and Activities

If you're a teacher or parent looking for 1st grade spelling words and activities, you've come to the right place! We've compiled several lists, based on Dolch words, Fry's textbooks, and other resources.
With all these words at your fingertips, it will be easy to know what words to practice. But how should you practice these words? Our activity pages will supply you with many fresh ideas.
Teaching the Common Core? Many of our ideas are aligned here.
Spelling Word Lists
1st grade sight words - These 40 Dolch words are the most important words for first graders to read instantly and spell easily. We also have the complete Dolch Word list for preprimer through 3rd grade levels.

1st grade spelling word list - 200 spelling words of all types for your first grader to learn: short vowels, long vowels, sight words and more
First grade spelling words: Short vowels - 100 Words with short vowel sounds, arranged in word famiies.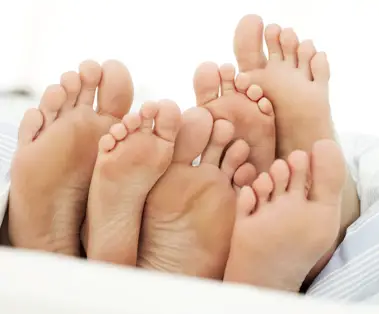 Grade 1 Spelling words: Long vowels - 60 simple words with long vowel sounds, arranged in word families
1st grade spelling lists: Nouns, verbs, colors and numbers - The "extra" words 1st graders need to begin to write.


Spelling Worksheets, Games & Activities
First grade worksheets - Practice all those words with our fun spelling worksheets! Try ours and get ideas for making more of your own.
First grade phonics worksheets - Five fun pages for short vowel words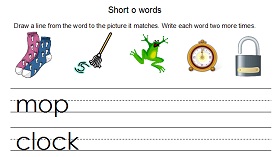 1st grade spelling - Small group activities - Simple ideas to practice those weekly spelling words.
Phonics Activities - See this wide assortment of fun phonics practice.
Sight Word Lists - Crucial words for your early learner to master.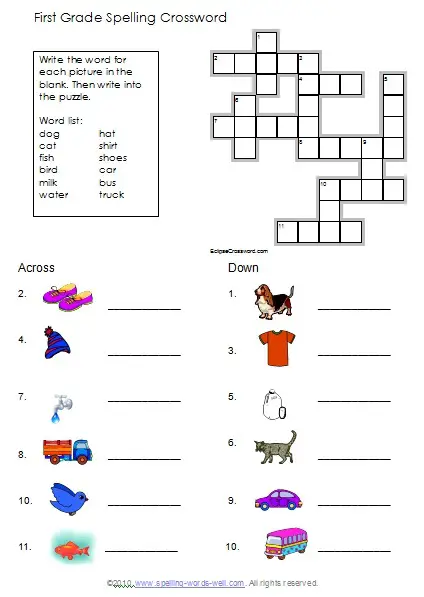 First grade spelling puzzles - Students will love solving these puzzles using first grade spelling words
A Fun Day: 1st grade reading and spelling activity - Give your students reading, writing and spelling practice with this individualized story.
My New Job
: Another reading and spelling worksheet for your students to individualize. What a fun way to gain language skills!
Be sure to check out our collection of
Fun Spelling Worksheets for grades 1 and 2. You'll find lots of all-new pages, not on the website, to help boost your first grader's spelling and phonics skills!
First grade learning activities
- Learning to spell was never so much fun!
No paper and pencil required
for these simple ways to sound out words and practice spelling around the house or at school.
Free Preschool Games & Activities- Many of these fun activities are adaptable for first graders. Try some!
Newsletter Sign-Up
Please sign up to receive our free newsletter. You'll receive a bunch of Spelling Bee helps and other freebies when you sign up. The newsletter includes teaching ideas and free resources for teachers and parents. Learn more!
We promise not to share your information with anyone!
---