1st Grade Reading Worksheets 
(with practice in spelling and writing, too!)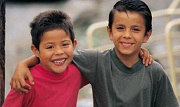 It's great when 1st grade reading worksheets can offer extra practice in spelling and writing skills, too. These worksheets do just that!
Whether you're a teacher or a parent, you can provide your youngsters with solid skill-building while they have fun!  For this activity each child will be writing his own, customized story. 
You'll need to help the students with the directions the first time they complete the page.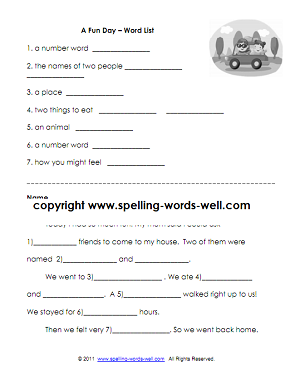 1. Give the student the word list on the top half of the worksheet. Ask him to spell any word that fits the category.
2. Give the student the bottom half, or the story. Ask him to copy each word from his word list into the matching blank in the story.
3. Then ask the student to read his story to himself.
4. Finally, ask the student to read his story to you! If you're working with a large group of students, you may have to spread out the sharing time over the course of the day or week.
Extended activities

For extra writing practice, you may also want to ask the student to copy the entire story in his own handwriting.
Ask the student to add illustrations.
Now that the student has heard the story, give him a fresh copy of the story and ask him to fill in the blanks with new, even funnier words!
You can find another page with a similar format on this
first grade reading worksheet.
More 1st Grade Reading Worksheets
Word family 1st grade worksheets - Worksheet and booklet templates so your 1st graders can practice any word family anytime!
First grade phonics worksheets - 5 free printables provide practice with simple short vowel words.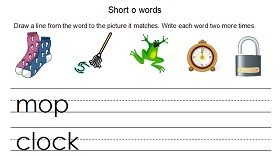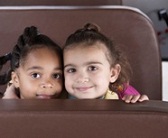 Free Phonics Worksheets - These free 1st grade reading worksheets will grab your students' attention and provide important practice with phonics skills.

Alphabet Phonics Booklet - Students customize their own pages in this A to Z phonics activity.

Phonics Flash Cards - A free printable set for the entire alphabet. Kids can color their own cards.
See our entire collection of Phonics Games & Activities. You're sure to find something just right for the skills your kids need to practice!

Free Alphabet Games - Two easy games to play with a group of early learners!

Sight Word Games - See our entire collection for one that's exactly right for your group!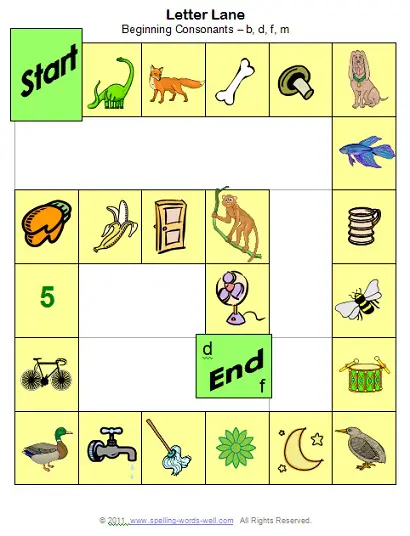 Letter Lane - A phomenic awareness board game that features beginning consonant sounds for the letters b,d,f and m. No reading is necessary.

Picture This Phonic Game - We think your early learners will enjoy this activity featuring short vowel words. Which player can cover the most pictures?
First Grade Word Lists

Make sure your students practice words from all of these lists:
Sign Up Here for My Free Newsletter

---