First Grade Language Arts Worksheets
Word Scrambles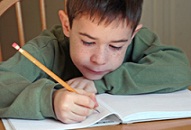 Use these first grade language arts worksheets for vocabulary development, spelling practice and FUN on a theme! First graders need a wide variety ways to learn language. The worksheets found on this page engage student's reading, writing and spelling skills for well rounded language arts practice.
Directions

On each of these worksheets, students must arrange each set of letters in the right order to spell a word on a certain topic. We've chosen words that should be familiar to most first grade students. Each worksheet also comes with an answer key.
Get In Shape!
Unscramble these words that name things you can do to keep in shape. Download the printable worksheet, and the answers.
Set the Table
In this worksheet, students unscramble words that name things that are set on the table before a meal. Download the printable worksheet and the answers.
Teachers & Parents: It's easy to make more of your own worksheets following the pattern of the ones above. Use words from our 1st grade spelling list and some cute clip art. You'll be done in no time!

More First Grade Language Arts Worksheets
You may also find these resources to be helpful for your first grade students: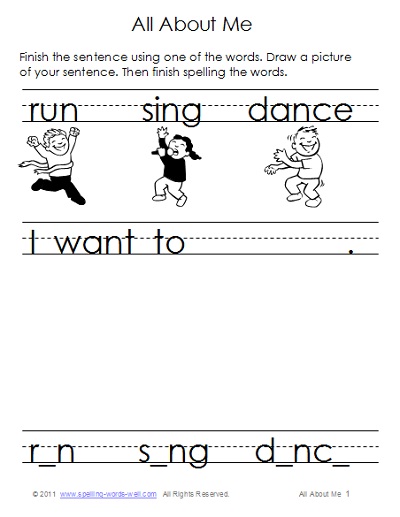 Literacy worksheets - Each child completes his pages his way! Lots of fun in these customizable language arts worksheets
Consonant worksheets for first grade - Beginning consonants and consonant blends are featured on these printables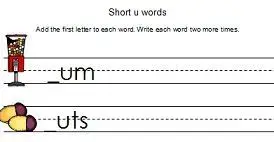 First grade phonics worksheets - 5 free printables provide practice with simple short vowel words.
String Things and Hidden Color Words- Two fun formats for spelling practice with words every first grader needs to know.
If you like word scramble games for kids, check out the collection I wrote for my other website!

Number word practice - 3 printable worksheets to reinforce spelling and simple addition and subtraction facts. The fun twists I've added will make your kids want to finish each page correctly.

A Fun Day: 1st grade reading and spelling worksheet- Give your students reading, writing and spelling practice with this individualized story.
My New Job: Another first grade language arts worksheet for your first grader to individualize. What a fun way to gain language skills! These are also fun to illustrate!
Lots of Leaves - Practice in identifying long and short vowels sounds on this kid-friendly page.
See all of our free phonics worksheets and phonics activities, and our entire collection of free First Grade Worksheets! 
First Grade Word Lists

Make sure your students practice words from all of these lists:
Sign Up Here for My Free Newsletter

---