Spelling Worksheets for First Grade or Kindergarten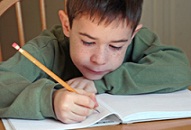 Our worksheets for first grade and kindergarten will help strengthen your child's spelling skills. The two printables on this page feature beginning consonants and beginning consonant blends.  Be sure to try them both, along with many of the other suggested pages below. 
Read the brief descriptions, view the snapshots, then click on the images or text links. You'll be able to open the free pdfs instantly. Then you--and your child--are ready to go!
Start the Picture!

Kids use pictures to figure out the first letters of ten well-known objects.  Beginning consonants used: b, c, h, j, k, l m, n, p, s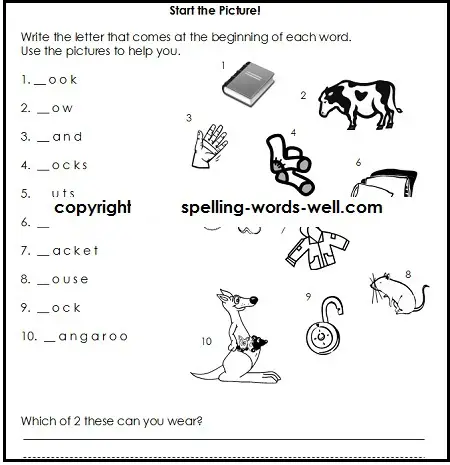 Winter Fun

Students choose the correct consonant blend to finish spelling 10 words in some wintry scenes. Blends used can be seen in the snapshot.
More Worksheets for First Grade

You'll find lots more pages on our site of first grade or kindergarten students. Here are just a few examples: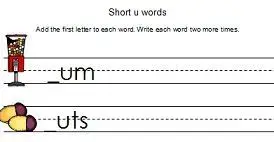 First grade phonics worksheets - Check out the 5 free, full-sized printables that provide practice with simple short vowel words. Give kids solid, basic practice in spelling and writing.
String Things and Hidden Color Words- Two fun formats for spelling practice with words every first grader needs to know. Kids string together frequently used words on one page. They'll find hidden color words on crayons on the other one.


Number word practice - 3 printable worksheets to reinforce spelling and simple addition and subtraction facts. The fun twists I've added will make your kids want to finish each page correctly.

A Fun Day: 1st grade reading and spelling worksheet - Give your students reading, writing and spelling practice with this individualized story. Kids can complete the page several times, each time with a different outcome.
Lots of Leaves - Practice in identifying long and short vowels sounds on this kid-friendly page.
Crazy Quilt - Students will practice the letters p, q, and r as initial sounds, then color a quilt!
NEW! Check out this huge list of 175 First Grade Vocabulary Words! Words are carefully selected and age-appropriate. Link includes teaching suggestions, additional resources, and vocab words for other grade levels.  Don't miss it!
First Grade Writing Prompts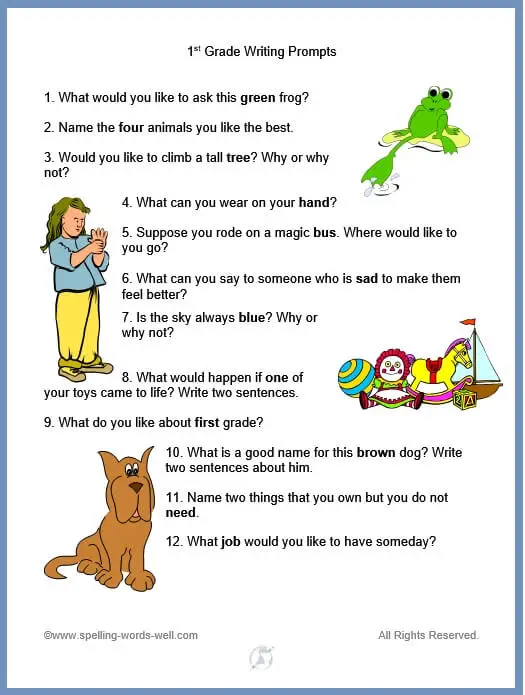 Try Set #1 of my  1st grade writing prompts to get your early learners on the right track for writing! These interesting scenarios include realistic and make-believe events. Fun clip art makes the prompts come alive! Here's the 
Set #2 - What would the cow see if he jumped over the moon? Where will the treasure map lead you? What part of the day do you like best? Find nine more similar writing prompts for kids. 
First Grade Word Lists

Make sure your students practice words from all of these lists. These are some of the most commonly used words in first grade reading and writing exercises. Success with these words is important!
Sign Up Here for My Free Newsletter

---

Ann Richmond Fisher is a longtime published educational writer, a former classroom teacher and a former homeschool teacher. Ann's spelling bee resources, graded spelling word lists, spelling games, worksheets, and other language arts resources have become respected around the globe since she launched Spelling-Words-Well in 2010.
Ann is also the creator of www.word-game-world.com.
Start the Picture & Winter Fun