Spelling Bee Game
Try this new twist on a classroom room spelling bee game. Students will be rooting for their teammates as they inch their way forward to victory.
Your students are sure to love it!
Step Up!
1.
DIvide your students into 3 teams. It's okay if teams do not have the same number of students.
2.
Clear a large space in which students can stand. Each team should stand in a single-file line.
3.
Make 4 lines on the floor with masking tape for each team as shown here. Place the lines about one foot apart.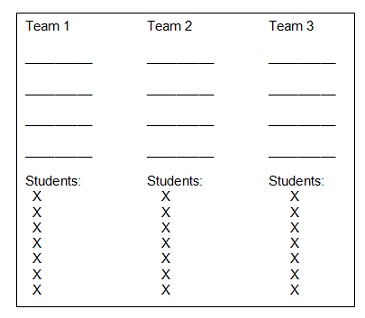 Students stand behind the last line of masking tape.
4. To begin the game, call out the first word for the first player on Team 1 to spell.
5. If the player spells the word correctly, she steps up to stand on the first line of tape, and the entire team moves forward. If she does not spell the word
correctly, she moves to the back of her team, and the team does not move forward.
6. Call out a word for Team 2 and continue in the same manner.
7. Each time a word is spelled correctly, the entire team moves forward one line.
8. The winning team is the first one to reach the last line of tape.
9. Play several rounds as time allows.
We have more
Spelling Bee Games
you may also want to try!
Additional Resources
You'll want to give your students as much practice as possible before big spelling competitions. Here are some resources that can help:
We've compiled a list of
spelling bee practice ideas
for individual students. A printable version is included for your convenience.
Use our basic spelling bee rules to run your next classroom spelling competition. We cover the basics in a concise list.
To conduct your own school spelling bee, consider using our Spelling Bee Toolboxes. They contain all the resources you need for a successful spelling bee!
---