Phonemic Awareness Games
Our phonemic awareness games are simple to use and fun to play.
Just read the rules below, and click on the printable link to get started on one of our fun, easy-to-use games.
Skills: Beginning consonant sounds: b, d, f, m
Grade level: preK-1
Players: 2-3
Objective: Be the first player to reach END
Supplies: Printable game board, answer key, and cards; one marker for each player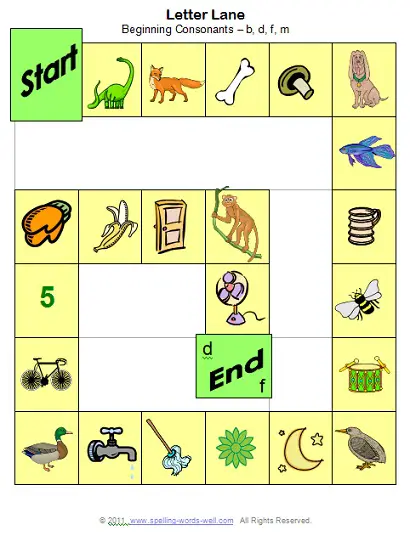 Preparation

: Print the board, key and cards. Laminate and cut apart. Shuffle the cards and place them face down on the table. Review the name for each with the players.

To play:

1. Players put their markers on START.

2. The first player draws the top card. He moves his marker to the first picture with the same beginning sound. For example, if he draws M, he moves to the mushroom. He puts his card face down in a discard pile. The other players continue in the same manner.

3. When a player draws the duck or the fish (the cards with no letters), he moves his marker to that space, even if he must move backwards.

4. If no one has reached END when the game cards run out, shuffle, restack, and reuse them.

5. To move into the END space a player must draw D or F.

6. The first player to END is the winner of the round.

More Fun Games for Early Learners:
We know that the best spellers are usually kids who start early to develop good phonics skills. We have several games on our site to help you help your child develop these skills, including the one on this page. There's no reading required.
---
Go to main page for Free Preschool Games and Activities