First Grade Spelling
Printable Puzzles
First grade spelling should always include some fun puzzles and worksheets. We all know that first graders need lots and lots of practice at mastering all kinds of spelling words. So why not make it fun?
Our spelling puzzles are fun, free and printable. In both of these puzzles, the goal is to get your first grader to spell, spell, spell while having fun!
And speaking of fun, be sure to check out our collection of Fun Spelling Worksheets for grades 1 and 2. You'll find lots of brand-new pages, not found on our site, for your first grader!
Click on the link above each puzzle to get the full-size printable page.
Crossword puzzle
- with first grade
nouns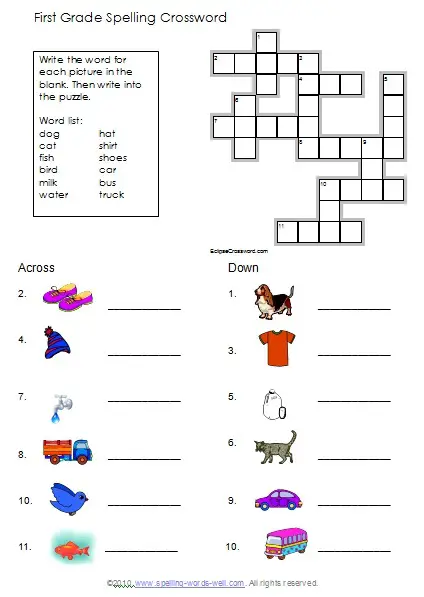 Word search
- with words from our
long vowel word list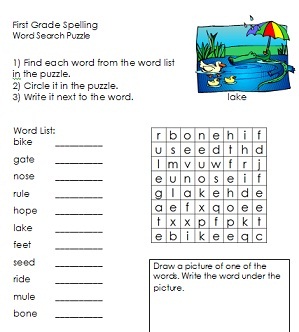 Practice new words with your first graders in as many ways as you can.
Here are a few ideas for parents and teachers:
Look for important first words when you're reading picture books together. After you've finished reading an enjoyable book, go back and look for these sight words. Encourage your first grader to read sentences aloud that contain the words he's learning.
Ask your child to say his spelling words aloud from time to time in spare moments. Choose just one or two words to work on at once. Quiz your child (or students) many, many times but only for a minute or two. Long periods of drill is counter-productive at this age.
Finally, ask your child to write the words. If possible, have manuscript paper available so he can use the lines for guidance.
---