Free Spelling Bee Clip Art
Use free spelling bee clip art to liven up your classroom handouts, parent letters, award certificates and more.
Here are just a few of our exclusive images: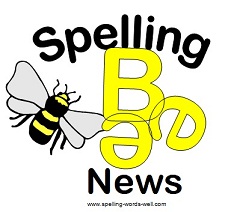 Our clip art collection also includes grade-level images for grades 3, 4, 5 and 6. Here's one example: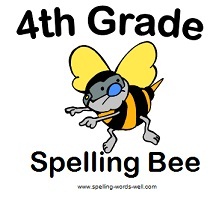 We also have free coordinating spelling bee award certificates for your convenience!


Directions to use our clip art as digital images:
1. Open our pdf.
2. Scroll to the page(s) with the image(s) you wish to use.
3. Press the "print screen" button on your keyboard.
4. Open up a new document in "Paint" or other image-editing program of your choice.
5. Insert the image from "print screen" by using Ctl + V or "insert"
6. Crop the image(s) you want. Resize as necessary.
7. In the file menu, click on "Save as." Name the file, save as a .jpg or .png in your documents or picture files in a location you can find later.
8. Open up a word document, then Insert --> Picture --> from file. Go to the saved location of your clip art image.
9. Adjust the image size as necessary as well as its layout properties. Complete your letter, announcement or other document.
10. Enjoy!
Planning a spelling bee can be a lot of work!
Let us help! You'll find a comprehensive set of spelling bee helps in our
Spelling Bee Toolbox eBooks. Each one contains 600 words and sentences, rules, organizational helps, worksheets, student tips, award certificates, and more spelling bee clip art!
You'll find all the resources you need for a successfull spelling bee in one affordable product. We offer Toolboxes for grades 3-5 and grades 6-8.
---
Newsletter Sign-Up
Please sign up to receive our

free
newsletter.

You'll receive a bunch of Spelling Bee helps and other freebies when you sign up. The newsletter includes teaching ideas and free resources for teachers and parents. Learn more!
We promise not to share your information with anyone!
---
Go to main page for Spelling Bee Resources
Go to main page for Spelling Bee Word Lists