Free Spelling Bee Certificates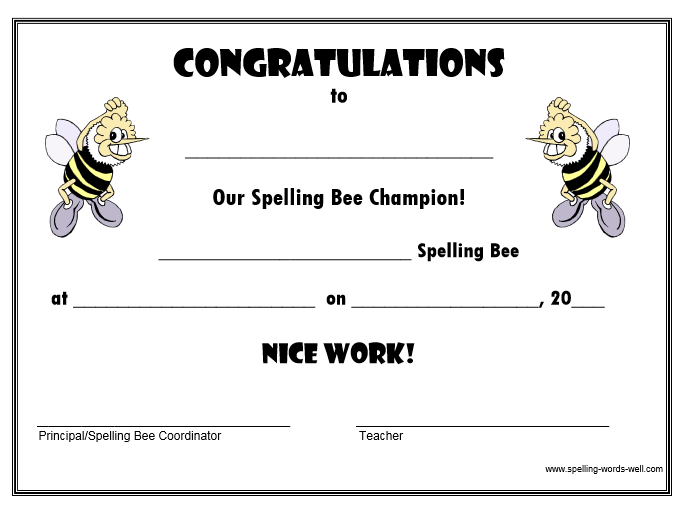 These spelling bee certificates are the perfect way to reward your spellers! After all the hours and hours your students spend preparing for a spelling bee, why not "bee" sure each one is rewarded with a special certificate?

You'll find 5 designs here in all, featuring either a whimsical bee or a more classic design.  The awards are this page are for champions, runners-up, and participants. We also have certificates for specific grades.
Just choose the one(s) you like best, click on the printable file and print. Then fill in the blanks with the correct information. So simple!
Spelling Bee Certificates

This design shows two bees raising their hands in pride and victory!
Printable version of Champion's Certificate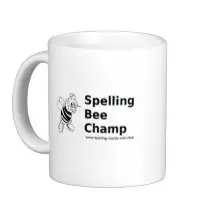 We've designed a matching mug, found at our SpellingWordsWell store on Zazzle. You'll also find other mug designs, buttons and T-shirts.

Here's a simple design with a happy bee, great for runners-up in early grades.
Printable version of Certificate 1 for students who placed
Here's a second award for runners-up, suitable for almost any age.

Printable version of Certificate 2 for students who placed
Here's that plain, classic look for those who are serious about spelling!
Printable version of Certificate 1 for participants
Now we're back to the happy, fluttering bees, as seen on
the second runner's up award above.

Printable version of Certificate 2 for participants

Do you want even more, even snazzier certificates? Check out our Spelling Bee Toolbox eBooks! Each one contains rules, words, sentences, study helps and oodles of Spelling Bee Certificates. We're sure you'll find several designs that are just right for your spellers.

Available for grades 3-5 and grades 6-8.
Spelling Bee Prizes

Reward your best spellers with one of these fantastic prizes!

These make a great prizes for spelling bee winners or any good spellers!  Prices vary by style and quantity. Products often go on sale, and I sometimes add new products, so check back often at my Zazzle store.

More Helpful Spelling Bee Resources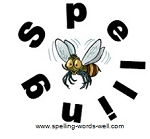 We've designed some coordinating  Spelling Bee Clip Art to dress up your parent letters and student handouts.  
If you're planning a full-scale spelling bee, you'll find our Spelling Bee organizational tips to be helpful. We'll show you what needs to be done and when!

We've compiled a list of spelling bee practice ideas for individual students. A printable version is included for your convenience.
Use our basic spelling bee rules to run your next classroom spelling competition. We cover the basics in a concise list. 
More Spelling Resources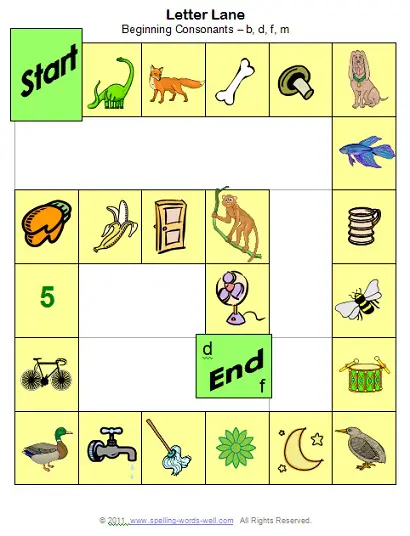 Keep your students learning to spell all year long with our spelling word games, spelling worksheets and these spelling lessons!

Here at Spelling Words Well, we know that Spelling Bees are important to you and your students. So we're trying to make your job a little bit easier!

---
Spelling Bee Certificates