Kindergarten & First Grade Phonics Worksheets
Our kindergarten and first grade phonics worksheets will provide your students with fun, worthwhile practice on their 1st grade spelling words.
Worksheets offer your students a nice change from workbook pages. They're also perfect to send home with students so that parents can also be involved in their child's learning.
Shown here is just a portion of each of our first grade phonics worksheets. Click on each link to get the printable, full-sized worksheet.
Short a words - Match each word to the right picture. Practice writing the word.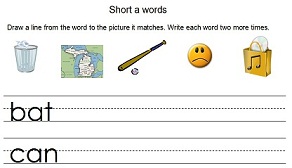 Short e words - Supply the first letter of common words. Practice writing the words.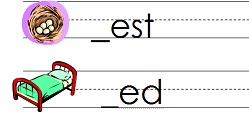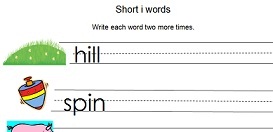 Short o words - Match the pictures to the correct word. Practice writing the words.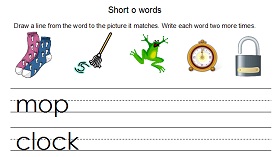 Short u words
- Supply the first letter of common words. Practice writing the words.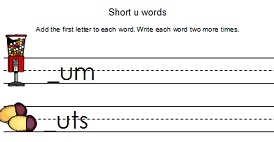 We've also added some fabulous literacy worksheets we know you won't want to miss. Each child can "customize" his own page!
Tips for Making Your Own Worksheets:
Our simple worksheets can give you ideas for making your own activity pages. Here are a few tips:
1. Choose the words your want your child to practice. We have these first grade word lists:
2. Find free clip art to match at least some of the words. This can be done through many free websites or from inside Word.
3. Decide on a format. Copy one of ours. (That's right, we said, "Go ahead! Use it! We want your child to succeed!) Or use a different format of your own.
4. Put the clip art, words, and instructions together. Don't forget to add lines in which the student can write his answers.
5. Print it out and review it carefully for spacing, etc. Then duplicate it for your students.
6. Watch the learning take place!
---
More ready-to-go worksheets:
Word Scrambles - 2 worksheets with sets of familiar words to boost kids' vocabulary and spelling skills
Number word practice - 3 printable worksheets to reinforce spelling and simple addition and subtraction facts. The fun twists I've added will make your kids want to finish each page correctly.
---
Teachers and parents, sign up to receive our free
newsletter!
You'll receive free worksheets, games, tips and more throughout the year.
Just for signing up, you'll receive lots of freebies.
Click here to learn more.