Try some of our printable brain teasers for challenging, fun spelling practice! If you can spot
spelling mistakes
, this brain teaser won't be too hard at all. Find the spelling errors and follow the clues to find out which student wrote which spelling test.
Spelling Tests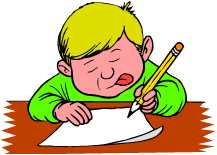 For best results, use the
printable version
of this brain teaser. See the
answers
here.
Look at the spelling tests and decide which words are spelled correctly. Then use the clues below to learn which test belongs to which student.
Names
Boys: Mike, Dion, Pete Girls: Fiona, Lisa, Megan
Clues
1. Pete had the most words spelled correctly.
2. Fiona had every word spelled correctly.
3. Students whose names begin with M spelled 9 words correctly.
4. The boys' papers are in the top row.
Do you know?
Which words are misspelled in each test?
Which student wrote which test? Check your answers here.
More Printable Brain Teasers
We think you'll also like our
printable brain teasers - Mystery Words
as well as our
Picture Puzzles and Letter Logic
worksheets.
Our growing collection of online and printable brain teasers includes puzzles at two different difficulty levels. Be sure to try them all!
Here's a Tip:
Always
carefully read and solve any brain teasers first before assigning them to your students
. If you think a particular puzzler is a wee bit too hard, consider assigning students to work in pairs. If you're a parent, sit with your child as he begins to solve a puzzle. If he gets "stuck," allow him to think about things on his first, then offer small hints along the way.
---