Holiday Word Scramble
This fun holiday word scramble is one of our newest holiday puzzles. It makes a great addition to any classroom or office party. After you've solved this one, why not try out the rest of our fun holiday word games? They're listed below. 
Holiday Word Scramble
Who is ready for some holiday fun? Unscramble each set of letters to spell a holiday word. Write your word in the puzzle on the printable page.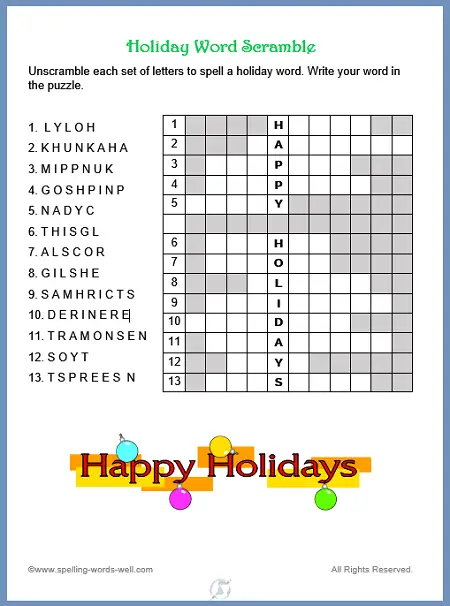 Extend the Fun!
After you've played the holiday word scramble with a group, you may want to extend the fun with this additional activity, "Pass the Scrambled Words."
Give these instructions to the group:
Turn your paper over and fold it in half the long way.
On the left side of the page, list five more holiday words that were not listed on the front. Leave spaces under each word.
Under each word, write a scrambled form of the word. Double-check your work.
Copy only the scrambled words to the right side of the page. Again, leave space below each item. Make sure your page is folded back so that only the scrambled words are visible.
Pass your paper to the person on the left. 
Try to be the first in your group to unscramble all five words that were handed to you. NO PEEKING AT THE ANSWERS!
More Holiday Word Games  & Puzzles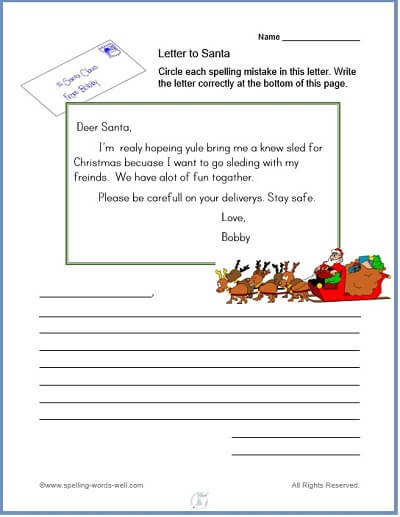 Letter to Santa - Find all the mistakes in Bobby's heartfelt letter to Santa Claus in this free Christmas worksheet. Great for the classroom!
Printable Christmas Brain Teasers - Two super-fun, challenging holiday cryptograms for upper grade students. The first puzzle is a Christmas quotation from a well-known song. The second is a list of popular fictional Christmas characters. It's fun all the way around!
My Joyous Christmas Word Play Puzzles is a short collection puzzles about the true meaning of Christmas. I've used a variety of puzzle formats, so that no two puzzles are the same. 
I had SO MUCH fun putting this eBook together. I'm sure you'll also have a lot of fun solving these pages and sharing them with your family, friends and church groups! Download yours today for just $4.95!

Don't miss these favorites from my site, www.word-game-world.com!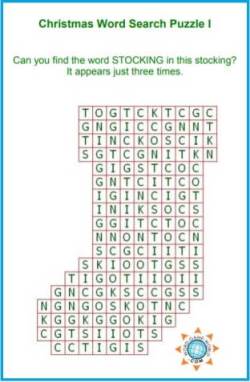 Christmas Word Searches - Two very non-traditional word search puzzles that you're sure to love. Look closely for special words hidden inside Christmas stockings.  The first puzzle, you'll try to find out how many times STOCKING is spelled. In the second, you'll do the same for TOYS. These puzzles are a bit tricky, and oh, so much fun! 
The Birth of Jesus Crossword - Celebrate the true meaning of Christmas with this engaging crossword puzzle. The clues come from the Gospels of Matthew and Luke in the New Testament. Use this at home, while traveling or in church programs. It's appropriate for all ages. 

---